For a country with 80 million people, 85% of whom are employed in agriculture, Ethiopia is ahead of the game when it comes to making market information instantly available to the country's smallholder farmers. The Ethiopia Commodity Exchange (ECX), set up in 2008, has a mobile market information service (MIS) that receives 1.1 million calls from farmers every month and already has over 256,000 people subscribing to receive market information via SMS.
I visited the headquarters of the Ethiopia Commodity Exchange while I was in Addis Ababa for the recent conference "Making the Connection: Value Chains for Transforming Smallholder Agriculture." During the conference, I joined a panel to discuss how mobile services, such as those we are supporting under the mFarmer Initiative, are playing a role in strengthening value chains.  One of the main takeaways from the conference was the consensus that working with smallholder farmers can be challenging and in order to increase their participation in the value chain, smallholder farmers need to be organised, with leaders of cooperatives seeing farmers as shareholders of a business. The Ethiopia Commodity Exchange is a great example of this in action.
During my visit to the ECX we watched as buyers and sellers on the trading floor exchanged 'high fives' once they'd agreed on a price for the commodity. We were treated to a strong cup of Ethiopia's finest coffee while we heard from the team behind the idea and the hard work that brought the ECX to what it is today. Below is snapshot of its history and how it works.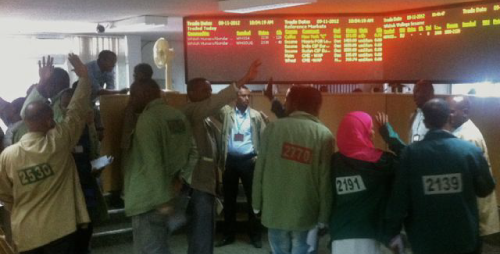 The ECX was started 5 years ago with support from the Ethiopian government, as well as donors including USAID, SIDA and the EU. It was set up to help counter some of the challenges faced by the Ethiopian agriculture sector including a lack of reliable market information, unreliable supply of produce, unreliable trading partners, very high transaction costs and efficiencies along the value chain (for example, grain typically exchanged hands 8 times, this has now been reduced to 2 or 3 exchanges).
The market information service developed by ECX is proving to be extremely popular. Farmers access live market information from the ECX via 4 different channels: by using their mobile phone to call a toll free number and listen to the prices in local languages (using IVR), by subscribing to receive the prices on their mobiles via SMS, from one of the 82 electronic ticker boards in rural areas which are customised into local languages, or via the ECX website. We didn't hear how many farmers access the information via the ticker boards, but we did learn that the IVR channel receives 61,000 calls a day (or 1.1million a month) and the website gets 2000 hits a day- 50% of which come from outside Addis Ababa.
With number like this, the mobile component represents a big revenue opportunity for ECX. Currently the MIS is sustained through revenue generated from trading fees but they plan to make it self-sufficient.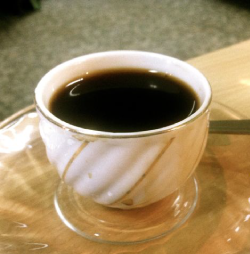 Some of the other successes that the ECX can be proud of include a "T +1" clearing and settling time which means due to the partnerships in place with 10 local banks, farmers receive payment by 11am the day after a sale is agreed. This compares to a "T+3" time in Chicago or South Africa's exchanges. Between 2011 and 2012, 109,500 transactions were made, with the value of commodities (coffee, sesame, pea beans and maize) traded totalling US $1.5 billion. During this time there were no defaults on payments or deliveries, no trading order errors and the system did not go down once.
When it comes to impact, there is plenty of evidence:
2.4 million smallholder farmers are connected via the ECX and have access to national markets
Farmers have access to reliable and live market information which allows them to decide when to sell
Coffee farmers are producing better quality coffee: the volume of top 3 grades has tripled in 18 months
There is greater market transparency- farmers' share of the final price has risen from 38% to 65%
Convergence of local and national prices
We look forward to seeing the ECX grow and hopefully more African countries following suit. In the next phase of the ECX developments look out for a new training and advisory arm to be called the ECX Institute, warehouse receipt financing and futures trading.