A few months ago I was asked to become involved with an interesting competition run by USAID in Thailand called "Students for Solutions". The competition challenged universities and colleges in Thailand to create mobile-based applications that could help in the areas of deforestation, human trafficking and Disaster Response. The winners of the competition were team "Optimo", five computer engineering students from King Mongkuts University of Technology, Thonburi. They developed an innovative solution using a smartphone to measure the flood levels. We wanted to ask team Optimo to describe their award-winning solution. Below is a guest post written by the team.
–Justin Waller
For many years our region, Southeast Asia, has faced numerous flood disasters. Seven countries experienced flooding in 2011 resulting in the loss of lives and assets. One hundred twenty four people died and 137,000 homes were flooded in Vietnam.  In Cambodia, 250 people died and 196,600 houses were flooded, not including 600 more houses that were completely wiped out by the water. Our home country Thailand also faced a huge flood last year. Seven hundred thirty people died and 766,267 houses were flooded. This fact demonstrates that whenever there is a flood in Southeast Asia, it can bring about a massive loss.
We wanted to help reduce this loss if possible and our team began discussion with many victims, experts and people working in this field. From these discussions and our own experiences, we learned that a major problem is that currently most people have little, up to date and accurate information. They didn't know what was actually going on in with the flood levels in other areas so it was hard for them to decide what action to take, for instance, whether to evacuate or to increase food stocks. Thus it was hard to prepare themselves, their families and their homes.
We originally thought that such information would be available on the internet, but although some data was available, it was very hard to find specific data for the required locations. In addition even if the required level data could be found, there seemed to be no guarantee as to the integrity of the source of the data, its accuracy, or if it was up to date.
For a solution to the problem we looked at harnessing the power of current mobile phones. Phones that contain high resolution cameras, high speed internet via Wi-Fi and mobile broadband, and the ability to determine location using the GPS.
We created our application, FloodFinder, to use these functions so that the public could measure the water level at their current location and then easily share that information with others, thus enabling the public to get accurate, up to date water level information on which to base their decisions.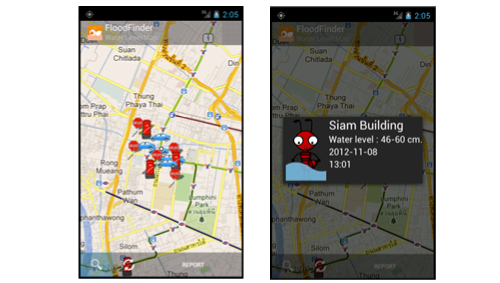 Our application was designed to be easy to use and has three main functions:
Measuring function, which will automatically gather information about the current water level by processing photos taken by the phone's camera.
Sharing function, which will upload a geotagged water level measurement to a central server
Searching function, which will allow users to query and display, on a map or in list form, water level information from the server filtering by location and time
Users can measure the water level by just taking a single photo. The application then automatically calculates the water level at that location. This is calculated by taking a photo of the water level against a known reference object, in this case a post box.
Using a common reference object provides an easy way for the user to measure the water height, as there are no other instruments needed and they do not even have to touch the water to measure its height. Once the level has been calculated, the application will show the result to the user and ask whether the user wants to share this water level or not. If the user chooses to share it then the application will send the result to the server, but if not, the result will be deleted.
The main advantage of FloodFinder is that all of the water level data gathered by the application is guaranteed to have a consistent accuracy. We achieve this accuracy because all of the water level data comes from an automatic measurement [1]. FloodFinder also promotes user participation at a local level, where information on the ground may be more accurate and up to date than other sources. Therefore using this application people can easily find real time flood information, anywhere and anytime that will help them to prepare themselves for flooding in advance.
Mobile phone penetration in South East Asia is very high and if this application is freely available, people will be able to access an accurate source of water level data anywhere and anytime they need it. We hope that by using FloodFinder as a reliable information source, people will be able to prepare themselves more effectively for the incoming floods and thereby reduce losses in our region. This is why our team developed this application, to help improve preparedness and save people's lives.
Many thanks to: Team Optimo from King Mongkut's University of Technology, Thonburi and to Teresa Leonardo from USAID.
---
[1] Optimo claim the current accuracy is within 10cm.