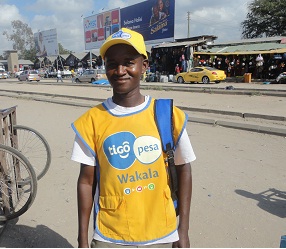 As I discussed in a recent blog post, what makes the economics of mobile money so different from the economics of traditional banking is the reduction in costs for cash in, cash out, and transaction processing. The lower these costs are, the lower fees for customers can be—making financial services affordable in a way that they never have been before.
The use of independent retail agents is what, in the first wave of mobile money, has dramatically reduced the cost of cash-in and cash-out compared to doing so in bank branches. Recently, TigoPesa in Tanzania has taken this one step further.  They have begun to appoint roving agents, who aren't confined to a single retail shop but who can, as the name implies, perform cash-in and cash-out transactions anywhere. They carry a handset with a merchant SIM that is loaded with e- float and cash, and they wear eye-catching aprons which distinguish them from the more common roving airtime resellers.
This is great for customers. Roving agents make "doorstep service" possible—serving customers where they live and work, rather than making them find the nearest retail agent. This makes it more convenient for customers to use the service. In Indonesia, several banks have introduced "smiling ATMs," bank employees who are armed with a mobile POS device and who can process deposits and withdrawals. This level of service may also make it more likely that customers will take advantage of the ability to store value in their account as a simple way to save. Ghana is famous for its susu collectors, who visit clients regularly (typically daily) at their home or business to collect small amounts to save. Roving agents can allow customers to build up the same habit with mobile money.
Roving agents can make a meaningful difference to the business case, too. Roving agents will have a lower cost structure than retail agents. There's no rent or other overheads to pay; instead, the roving agent just needs to earn a decent wage. If they are able to perform as many or more transactions as a retail agent, then significant cost savings are possible without eroding the agent's value proposition. One possible implication of this is that roving agents may someday be able to facilitate very small value cash-in and cash-out transactions that are uneconomical at retail agents.
Why don't we see roving agents in more markets? One reason is that regulators are concerned about their reliability. But because mobile money services post transactions in real time and require agents to trade on their own account, cashing in or cashing out with a roving agent is really no less safe than buying a physical good (like batteries or an airtime scratch card) from a roving salesman. Roving agents may be at greater risk of theft than retail agents, and operators may choose to limit the amount of float that they can carry in cash. But since that cash belongs to the roving agent, he has every incentive to make prudent decisions for himself about how much to carry.
Tigo has been pushing the innovation frontier outside of Tanzania, too: you can download MMU's recent case study about Giros Tigo in Paraguay here.