The GSMA mHealth team has published an infographic that presents Global Overview of mHealth services with a deep dive in mHealth services in Africa addressing Millennium Development Goal 6 and showcasing three mHealth services in Africa addressing MDG6.  If interested in other mHealth services, have a look at mHealth Tracker.
Millennium Development Goal 6: Combat HIV/AIDS, Malaria and Other Diseases
There are three years to go to achieve MDG6! So many things are happening in working to address the goal, and yet more people than ever live with HIV. In 2011, 34.2 million people were living with HIV/AIDS and 1.7 million people died of AIDS-related causes.
I had interesting conversation with a group of young people few weeks ago in South Africa, a country where the percentage of HIV infected is among the highest in the world. Six of us, originally from South Africa, Nigeria, Colombia, Germany, Slovenia and USA, started discussing why men in South Africa don't use condoms. It was shocking to hear how many do not use protection. Why? Is it a problem in awareness? Ignorance? A lack of responsibility? Or is it a lack of caring about the long term, when you are not sure whether you will still be alive next month?
With most of HIV infected people based in the rural areas, my concern is that this lack of caring is actually one of the main reasons for high number of HIV infected people. Do awareness campaigns help? Various mHealth services are focusing on prevention and promotion and with it trying to impact participation. The YoungAfricaLive service has reached over 1,262,000 people. Mother2Mother, through its Mentor Mothers service, is reaching 300,000 women living with HIV. There are 64 mHealth services in Africa addressing HIV/AIDS, but great impact is yet to be seen.
Click here to view infographic in a separate window and please share!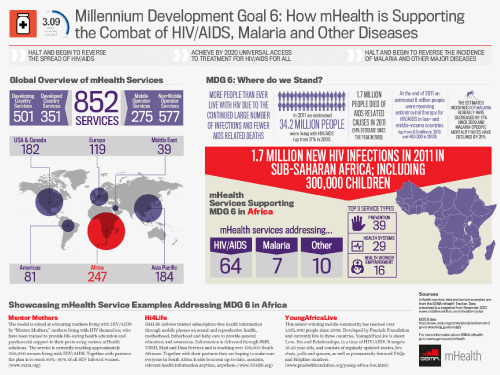 We hope this infographic highlights how mHealth services are supporting the combat of HIV/AIDS, malaria and other diseases, especially in Sub-Saharan Africa. We invite you to share this infographic, and if you have any comments, email mHealth@gsm.org.