Mobile for Development Intelligence (MDI) recently published an mHealth Interactive Impact Pathway, a logical framework used to measure inputs, outputs, and outcomes against stated activities or occurrences.
This impact pathway highlights focus areas across a sample of literature, and suggests that collectively these indicators represent a set of actions to which development outcomes are being achieved. Collecting and organising information in this way shows which indicators are being used, which areas are receiving attention within the selected research, and the theory of change for impact. Conversely, it also serves as a gap analysis by showing which areas have less attention in the literature and may need further investigation.
In particular, Impact Pathways illustrate a 'theory of change', demonstrating how access to mobile services for development can bring about short, medium, and long term change that improves lives.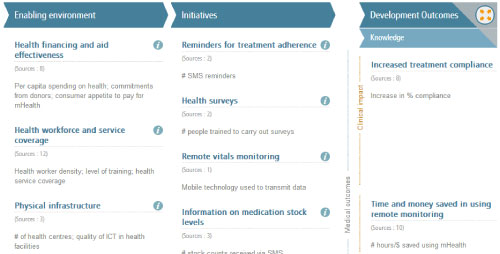 Populating Impact Pathway
Develop Draft Pathway: The MDI team and PWC designed a blueprint pathway and identified key indicators related to international development outcomes.
Define literature: The GSMA mHealth team identified key literature to use to catalogue quantitative and qualitative development results to be populated in the impact pathway.
Review literature: A team of researchers from PwC undertook a review of the literature provided to extract and tag all relevant data points and categorise according to the agreed development outcome indicators.
Summarise results: The results communicate concentrations of outcome results as well as gaps.
Impact pathway for mHealth and Monitoring
Disease and the lack of adequate preventative care have a significant effect on emerging markets and their populations.
Evidence shows that strict adherence to a medication regime is essential for effective treatment of a variety of health conditions, from HIV/AIDS to diabetes. In addition, monitoring patients at home for chronic conditions dramatically improves survival rates.
However, many patients in emerging markets do not have access to local healthcare services.
The impact pathway for mHealth and Monitoring focuses specifically on mHealth remote monitoring applications, including services to improve treatment compliance and appointment attendance, remote monitoring of vital signs, and provision of medical advice via call centres/health hotlines.
View the mHealth Interactive Impact Pathway
The GSMA mHealth team would like to encourage everybody to contribute to the Impact Pathway by sending research, reports, or other forms of evidence to mdi@gsma.com