The Green Power for Mobile (GPM) programme develops business models to bring clarity on financial benefits of implementing green power solutions. The business models are based on:
Different technologies
Various financial models
Various geographical locations
The aim is to provide the industry with the appropriate direction to identify the best solutions, best business model and best partner.
The GPM programme mainly promotes two types of business models:
The CAPEX model is the most widely used model in the telecoms industry thus far. Here the capital investment for renewable energy equipment is made by the mobile operators. The ROI (Return on Investment) and OPEX saving is higher in a CAPEX model. As the mobile operator has to invest the entire CAPEX for this model, scalability is heavily dependent on the funds available to an operator to purchase the renewable power equipment. Additionally, the operator has to be an expert on technology selection and proper utilisation of the technology.
In the OPEX model, a 3rd party Energy Service Company (ESCO) invests the entire CAPEX for the green solution and operates it, whereas a network operator pays for the energy usage only. There are 3 active OPEX based business models available in the industry:
Operating lease or monthly flat fee outsourcing model
Power Purchase Agreement (PPA) model
OPEX saving recovery or Energy Savings Agreement (ESA) model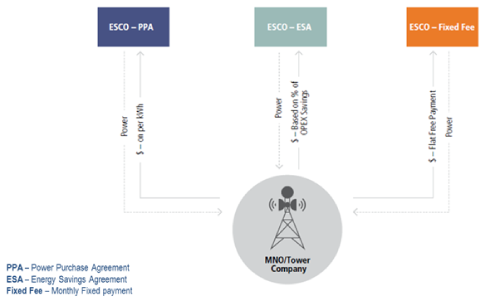 In an operating lease or monthly flat fixed fee model, the ESCO would own, install, operate and maintain the renewable energy equipment and provide power to the operator's site for a fixed monthly cost.
In a PPA Model, the ESCO owns, installs and maintains the renewable energy power system and sells power to the mobile operators at an agreed per kilowatt-hour rate.
In OPEX saving recovery or ESA, an ESCO installs the renewable energy system and operators pay based on a portion of verified energy cost "savings".
The Green Power for Mobile programme has produced many reports to help the industry stakeholder identify the right solution, right business models and best processes. Please visit our resource section for further information on the work that we do.