GSMA Mobile for Development launched the Green Power for Mobile Programme in September 2008 and with the support of the International Finance Corporation, aims to extend mobile network coverage beyond the reach of electricity grid simultaneously reducing energy costs and minimising environmental impacts.
The mobile network deployments, both existing and planned, in the developing regions of the world face various challenges in terms of powering up the networks due to limited reach of grid power infrastructure and lack of reliable power supply where there is grid. There are about 640,000 off-grid sites globally, primarily powered by diesel generators.
The goal of GPM is to assist the mobile industry in adopting renewable energy sources, such as solar, wind, biomass, fuel cell or sustainable biofuels and hybrid power systems, in order to power an estimated 118,000 new or existing off-grid base station sites in the developing regions of the world. Reaching this target will reduce an estimated 2.5 billion litres of diesel consumption per annum and up to 6.8 million tonnes carbon emissions annually. GPM has catalysed the adoption of green power at over 40,000 live and planned green sites, details of which can be found on the Green Deployment Tracker.
What we do
Our commitment is to promote the adoption of green power alternatives for powering mobile telecom networks in a commercially sustainable business model and minimize environmental impact by reducing the use of diesel based power solutions.
GPM aims to assist the industry through three broad work streams including market clarification, technical assistance and business model development.
Market Clarification
As the diagram below illustrates, GPM engages in Market Clarification through:
Convening of industry-wide working groups
Dissemination of market insights
One-to-one stakeholder engagement
Technical Assistance
GPM aims to fill the technical gap by engaging with MNOs and Tower Companies at various levels throughout the deployment process including right technology selection, right solution dimensioning, right supply chain integration and developing a best practice approach to procurement and operations.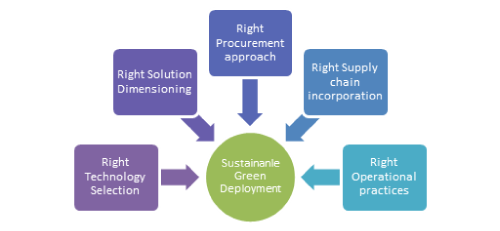 GPM assists operators in internal capacity building through training on technical design and evaluation of green power alternatives. This training will help the operator in the establishment of a Centre of Excellent for taking up green power deployments.
GPM also offers an end-to-end technical assistance through its comprehensive Green Power Feasibility Study offering to analyse, evaluate and recommend possible strategies and technical advice on possible powering alternatives including green power and hybrid power solutions.
The team is also involved in identifying new technologies, services or trends that could impact the energy component of telecom networks in order to reduce greenhouse gas emissions and optimise mobile operators' business models. This information is then disseminated to the industry through knowledge sharing and convening sessions, reports, blog and our social media networks.
Business Model Development
GPM actively engages with the industry stakeholders to identify and develop emerging business models enabling the adoption of green power by the industry. The diagram below illustrates how business models have evolved since the beginning of the programme.
Current Activities
We continue to work with our partner, the International Finance Corporation (IFC) who awarded us with another grant for Phase 2 of the programme. Whilst we continue to serve mobile network operators globally, the programme will place key focus on a number of target markets in Africa and Asia including Indonesia, Bangladesh, Pakistan, Afghanistan, Nigeria, Ghana, Kenya, Tanzania, Uganda, Senegal and Cameroon. With Project Managers based in each of these regions, GPM is well positioned to engage with the industry and address the requirements of these markets.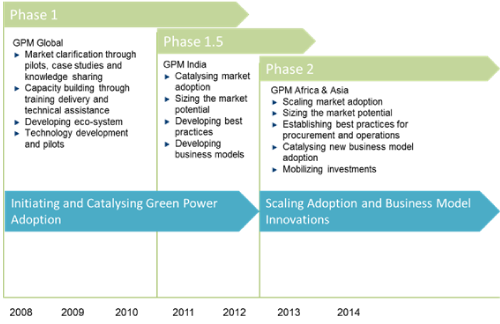 Overall impact
Green Deployments
Over 40,000 live and planned green deployments across the globe.
Knowledge Contribution
Bi-annual reports: 8 Bi-annual reports published with a direct distribution list of over 2,000 recipient
Market insights, Case studies and Technology white papers: Over 50 reports published for knowledge dissemination, covering a range of issues related to Asia, Africa and Latin America
Industry Engagement
Working groups: 15 Working Groups conducted in 10 different countries with over 700 delegates in attendance from over 300 organisations.
Trainings: HOMER training provided to over 250 individuals from 67 organisations globally.
Feasibility Studies: 27 Green Power Feasibility Studies conducted, with operators in 23 countries.