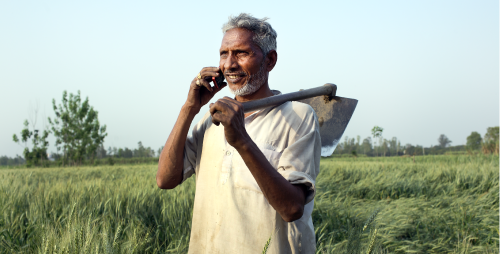 The GSMA mAgri Programme launched the mFarmer Initiative in June 2011 to support mobile network operators and service providers in launching agricultural value added services (Agri VAS) for smallholder farmers in emerging markets. The mFarmer Initiative is a partnership between the GSMA, the Bill and Melinda Gates Foundation and USAID.
The aim of the mFarmer Initiative is to provide two million smallholder farmers with access to actionable, high quality, relevant and timely information and advice delivered via mobile. The purpose of these mobile services is to bridge the information gap faced by smallholder farmers and to improve poor farming households' resilience and decision-making as a result of better access to relevant agricultural information.
Through the mFarmer Initiative, we bring together different partners including mobile operators, the development community and private and public agricultural organisations to create scalable, replicable and commercially sustainable mobile agricultural information services. The mFarmer Initiative includes challenge fund grants, technical assistance, sharing of best practice and impact evaluation framework and tools.
mFarmer Initiative Objectives:
• To drive scalable, replicable and commercially successful Agri VAS
• To build services that increase poor farmers' income and productivity
• To reduce the barriers for mobile operators to launch or improve existing Agri VAS
• To test and prove models for delivering Agri VAS
• To share best practice and catalyse the growth of the Agri VAS industry
• To promote a culture of knowledge sharing in the wider Agri VAS ecosystem
mFarmer Initiative Current Projects:
The mFarmer Initiative is providing technical assistance and seed funding to four projects as they develop and roll out Agricultural Value Added Services (Agri VAS) for smallholder farmers. These projects are led by Tigo Tanzania, Airtel Kenya, Handygo Technologies Ltd (India) and Orange Mali and work in partnership with agricultural organisations including CABI and the International Livestock Research Institute (ILRI).
The Agri VAS supported by the mFarmer Initiative provide smallholder farmers with access to information including weather forecasts, market prices, agronomy tips and advice on dealing with pests and diseases. The services utilize different mobile channels including SMS (Short Message Service), USSD (Unstructured Supplementary Service Data) and IVR (Interactive Voice Response). In addition, farmers can call a helpline to speak directly with an agricultural expert.
mFarmer Initiative Timeline: June 2011 – September 2014
The mFarmer Initiative is sponsored by the Bill & Melinda Gates Foundation and USAID.