The GSMA's mAgri Programme catalyzes scalable, commercial mobile services that improve the productivity and incomes of smallholder farmers and benefit the agriculture sector in emerging markets.
Over 2.3 billion people in the world live in poverty and depend on smallholder farms for their livelihoods. Many of the 500 million underserved, smallholder farmers worldwide lack access to relevant, timely information such as planting techniques, crop management and pesticide use, weather forecasts, leaving them vulnerable to factors such as harsh weather conditions and pests and diseases, which can destroy their crops and harm their livestock.
Smallholders' progress is further hampered lack of access to affordable finance and inefficient supply chains. Smallholder farmers in the developing world often lack efficient ways to manage relationships with suppliers and have to rely on cash for payments, as well as pay high fees for financial services, making it difficult for them to invest in their farms.
Addressing the challenges of these farmers is important not only for their own livelihoods and quality of life, but also to help tackle the growing undernourishment problem in developing countries. FAO has estimated that the number of undernourished people in Sub-Saharan Africa has grown from 175 million to 239 million in the last 20 years, with 20 million added in the last 2 years. The problem is expected to worsen due to increases in global food demand, scarcity of resources and climate change.
The mAgri Opportunity
With mobile phone penetration in the developing world now exceeding 70% and continuing to grow rapidly, the mobile channel enables a level of scale that is not possible with traditional initiatives addressing smallholder farmers in developing countries such as face-to-face training and extension.
Future mobile subscriber growth will be driven by demand among currently 'unconnected' populations in developing countries, particularly those in rural areas, which GSMA research estimates to be 1.8 billion people throughout the next five years.
The GSMA mAgri Programme is in a unique position to bring together mobile operators, the agricultural organisations and the development community to foster sustainable and scalable mobile services that improve the livelihoods of smallholder farmers.
mAgri Programme Activities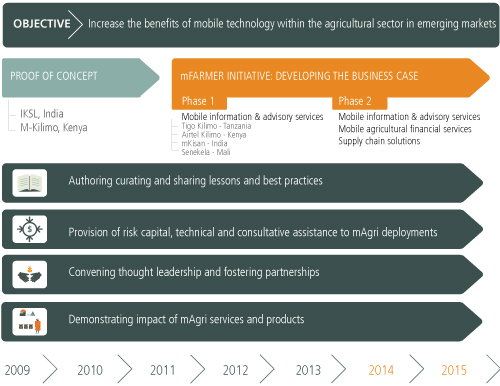 Since its inception in 2009, the GSMA mAgri Programme has supported 2 projects in India (IFFCO Kisan Sanchar Limited) and Kenya (M-Kilimo), benefitting over 1.5 million farmers in the two countries. Case studies of the projects are available on our website under Resources.
For more information on the mFarmer Initiative, please click here.
Working with us
Mobile Operators:
We provide mobile operators with relevant tools, forums, and information to identify opportunities and implement mAgri services.
Development Community:
We help the development community understand and partner with our mobile operator members to leverage mobile to deliver agricultural services sustainably, efficiently and at scale. We also develop tools and frameworks to measure the impact of mobile services on farmers.
Agricultural Organisations:
We help agricultural organisations understand, partner with and leverage the mobile channel.