The GSMA's Mobile for Development mHealth programme brings together the mobile industry and health stakeholders to improve health outcomes in emerging markets, with initial focus on Millennium Development Goals 4, 5 and 6 across Africa.
There are a number mHealth services in the market today, but few currently demonstrate scale, replication or significant impact. A study conducted by the GSMA, reviewing almost 700 mHealth services, showed that less than 1% are significantly impacting health outcomes.
In order to unlock the latent potential of mHealth, the GSMA has identified four key barriers that need to be addressed. The main barriers are fragmentation of service delivery, lack of scale across the full reach of mobile networks, limited replication, and misalignment of the value proposition between mobile and health stakeholders.
To address these barriers the GSMA is bringing together its mobile industry members and health stakeholders to collaborate to enable scaled integration of mobile and ICT into health systems. The initial focus is on Africa where mobile and ICT can play a big role in helping to fast track Millennium Development Goals 4, 5 and 6. In June 2012, the GSMA's Pan-African mHealth Initiative was launched with the aim of creating a sustainable public-private partnership to deliver a reference implementation for scaled mHealth services that can be replicated across disease portfolios and countries. 
A scalable, long term value proposition benefits all stakeholders
Sustainable public-private partnerships to deliver scale of mHealth services through collaboration benefit all stakeholders.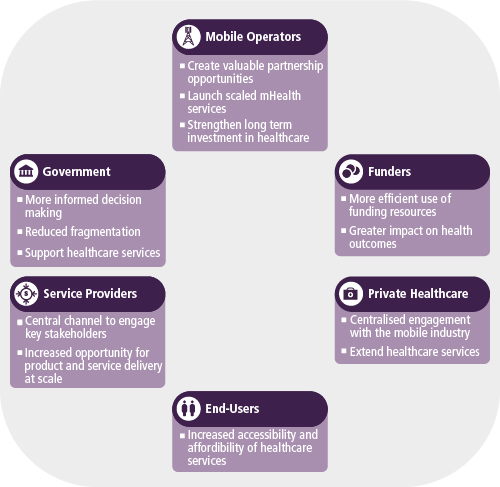 How we work
We bring the key stakeholders together through various forums such as working groups and workshops, as well as provide resources and support to identify and diagnose opportunities and bring solutions to scale.
Available resources include:
Contact Us
Contact us to learn more about the Mobile for Development mHealth programme and how your organisation can get involved.