Why mobile money?
In developing countries, 2.5 billion people are 'unbanked' and have to rely on cash or informal financial services which are typically unsafe, inconvenient and expensive. However, over one billion of these people have access to a mobile phone. This provides the basis for mobile money, whereby mobile technology is used to deliver convenient and affordable financial services to the underserved.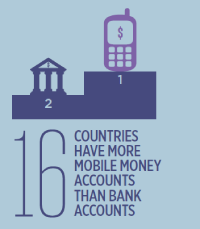 With mobile money, customers can convert cash to and from electronic value ("e-money"), and they can use mobile money to perform transfers or make payments. Traditional "bricks and mortar" banking infrastructure struggles to make the business model work to serve low-income customers, particularly in rural areas. However, mobile operators already have large airtime distribution networks which can be used to provide customers with a network of mobile money agents where they can perform cash-in and cash-out transactions. Large mobile operators in developing countries typically have 100 to 500 times more airtime reseller outlets than all of the banks' branches put together. In addition, several mobile operators have strong brands which are recognised even in rural areas. Mobile operators can use their existing brand strength to establish trust with customers, which is important for driving adoption of financial services.
As well as enabling payments, mobile technology can be used to extend the reach of financial services such as insurance, credit and savings. Through effective relationships with banks and other financial institutions, mobile operators can meet a broader range of customers' financial needs and thereby deepen financial inclusion.
Mobile money has already proven to be viable and sustainable, with mobile money services such as Safaricom's M-Pesa (Kenya) and many other deployments from mobile operators such as MTN, Telenor, Orange and Tigo, which are growing rapidly and achieving significant scale.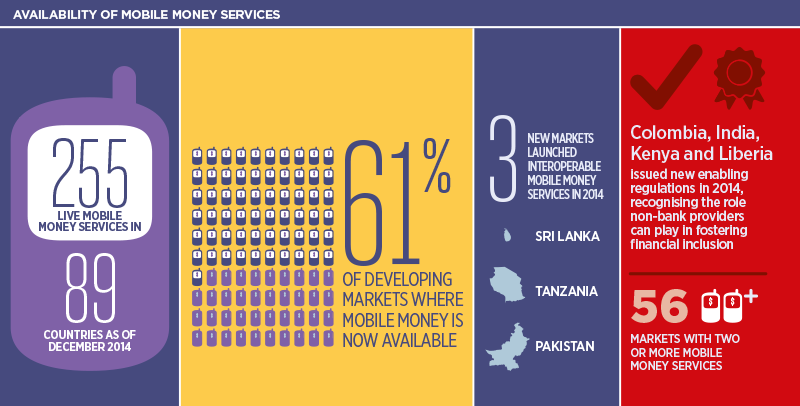 About the MMU Programme
The Mobile Money for the Unbanked (MMU) programme supports mobile money services to reach scale. Through close engagement with mobile money providers, we identify and share benchmark data, operational best practices, and commercially-viable interoperability approaches, as well as cultivate enabling regulatory environments MMU has the following objectives:
ACCELERATE TO SCALE – Engage, learn and share with the industry around how to scale mobile money deployments and sustainably serve more poor and unbanked customers
EXTEND THE DIGITAL ECOSYSTEM – Determine how mobile money providers can integrate with each other and with other external partners to create more value for customers and commercial players
CREATE ENABLING REGULATION – Build capacity among mobile operators to engage with regulators, and advocate at the global and local level, to create regulatory environments that enable digital financial inclusion
BUILD INDUSTRY INTELLIGENCE – Provide the mobile industry with data, tools and insights to better understand the performance of mobile money, both globally and locally
The MMU Programme is supported by the Bill & Melinda Gates Foundation, The MasterCard Foundation and Omidyar Network.