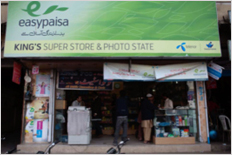 Telenor Pakistan and Tameer Microfinance Bank launched easypaisa in 2009. They created a network of over 11,000 agents, each processing bill payments and money transfers. Easypaisa is unique in that customers do not need to have a mobile account with Telenor (or even a mobile phone) to pay their bill at an easypaisa shop – they simply present their cash and bill to an agent who completes the payment on a mobile phone.
Today, easypaisa conducts over 1 million transactions every month.  In 2010, GSMA made a grant to Telenor to design and deploy a microinsurance product over the mobile money platform.
This section has articles, blog posts and other resources you will find useful when researching this topic.
1. HOW DOES EASYPAISA WORK?
2. WHAT KIND OF PARTNERSHIP DO TELENOR AND TAMEER MICROFINANCE BANK HAVE?
3. OTHER RESOURCES
Related BLOG POSTS
Mobile Money for the Unbanked

On 26 February 2014 the Governor of the Bank of Tanzania (BOT) released Circular n. NPF/MFS/01/2014 "on utilisation of interest from the trust accounts." The Circular states that interest accrued on the trust accounts should directly benefit mobile money custo...

Mobile Money for the Unbanked

There's an estimated 2.5 billion unbanked people in low and middle-income countries, with many living in rural areas . For rural populations, financial inclusion isn't the only disparity that exists – often limited or no access to reliable energy and ...

Mobile Money for the Unbanked

Both for commercial reasons and also to achieve greater financial inclusion, mobile money providers would like to see subscribers maintain balances in their mobile wallets. Storing funds electronically rather than immediately withdrawing the full amount in cas...

Mobile Money for the Unbanked

In the early days of mobile money, MNOs launched mobile money services to differentiate themselves from their competitors, hoping both to increase the loyalty of their customers and to attract new ones. As the number of mobile money services continues to grow,...

Mobile Money for the Unbanked

Pakistan is facing an enormous humanitarian crisis in the aftermath of the country's worst flooding in its history—indeed, a crisis in terms of victims that is now larger than the last three devastating natural disasters combined (the Asian Tsunami, the 20...

Mobile Money for the Unbanked

Telenor Pakistan and Tameer Microfinance Bank yesterday announced the launch of 'easypaisa', described as 'a uniquely convenient and safe way for the people of Pakistan to carry out financial transactions.' This is the latest chapter in Telenor's str...