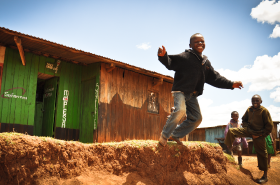 M-PESA is a mobile payments system based on accounts held by a mobile operator and accessible from subscribers' mobile phones. The conversion of cash into electronic value (and vice versa) happens at retail stores (or agents). All transactions are authorised and recorded in real-time using secure SMS.
In 2009, GSMA made a grant to Safaricom to support the development of a social transfer payment project via M-PESA.
M-PESA was developed by Vodafone and first deployed by its Kenyan affiliate Safaricom. In May 2012, there were over 15 million customers of M-PESA in Kenya.
Below are articles, blog posts and other resources that operators may find useful when researching this topic.
1. WHAT IS M-PESA?
Designing Mobile Money Transfer Services: Lessons from M-PESA
Author: GSMA
Here you'll find ten key service features that have allowed the rapid uptake of M-PESA in Kenya. These include branding and messaging, ease of use, customer experience, agent monitoring, instant registration, free deposits, ability to send money to non-registered customers, and agent channel growth.
CGAP Video How M-PESA Works
Author: CGAP
This CGAP video explains In 3½ minutes how M-PESA reached 13 million Kenyans in just 3 years.
2. WHAT MADE M-PESA SUCCESSFUL?
Three Keys to M-PESA's Success: Branding, Channel Management and Pricing
Author: Ignacio Mas and Amolo Ng'weno, The Bill & Melinda Gates Foundation
How did M-PESA get so big? It defeated the scepticism, network effects and customer- agent interdependencies that affect all new payment systems. This account complements the earlier paper in Innovations by exploring branding, channel management and pricing in more detail.
Seeking Fertile Grounds for Mobile Money
Author: Ignacio Mas, The Bill & Melinda Gates Foundation and Amrik Hayer
The difficulty of replicating M-PESA's success – even in neighbouring countries – suggests some may be more receptive to the idea of mobile money than others. This study tries to understand the variables affecting its popularity.
3. HOW IS M-PESA REGULATED?
4. WHAT HAS BEEN THE IMPACT OF M-PESA?
Mobile Money: The Economics of M-PESA
Author: William Jack, Georgetown University and Tavneet Suri, MIT, 2009
This article discusses M-PESA's adoption across households according to income, wealth, location, gender, and other socio‐economic characteristics, as well as the purposes for which the technology is used.
Community-Level Economic Effects of M-PESA in Kenya
Author: Megan Plyler, Sherri Haas, and Geetha Nagarajan. FSA, 2010
This study describes how M-PESA affects community members, both users and non-users of M-PESA, and identifies 11 economic effects after 2 ½  years of M-PESA's use in these communities.
5. OTHER RESOURCES:
Visit Safaricom's site to find M-PESA press releases, presentations and adverts.