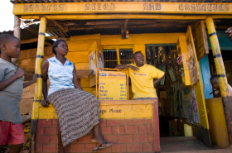 MTN MobileMoney is a mobile payment service deployed by MTN group across several of their African operating companies, including Uganda, Ghana, Cameroon, Cote D'Ivoire, Rwanda, Benin and others. MTN works in partnership with various companies: Fundamo provides the m-wallet technology, Gemalto provides its SIM solution, and specific bank partner(s) in each country are also involved. In 2009, GSMA made a grant to MTN MobileMoney in Uganda to support the development of its agent network.
Some key resources on MTN MobileMoney, including a comprehensive financial analysis and interviews with deployment leaders, can be found here.
1. WHAT IS MTN MOBILEMONEY?
MobileMoney launches in Central Africa: an interview with MTN Cameroon
Author : Camilo Tellez, GSMA
In this interview, Peter Ndongla, Director of MTN Cameroon's MobileMoney, provides an overview of the service, makes a projection for customer adoption, and shares his experience engaging with prospective bank partners and BEAC, the Central African financial services regulator.
2. OTHER RESOURCES
MTN MobileMoney Official Websites:
Related BLOG POSTS
Mobile Money for the Unbanked

There's an estimated 2.5 billion unbanked people in low and middle-income countries, with many living in rural areas . For rural populations, financial inclusion isn't the only disparity that exists – often limited or no access to reliable energy and ...

Mobile Money for the Unbanked

In April, I wrote about 'The State of Mobile Money Revenues' and a year ago, Phil Levin wrote about Mobile money making its mark with major groups: Millicom, MTN, Vodafone and Orange. Today I will look at the recent financial results released by Orange, Sa...

Mobile Money for the Unbanked

In the early days of mobile money, MNOs launched mobile money services to differentiate themselves from their competitors, hoping both to increase the loyalty of their customers and to attract new ones. As the number of mobile money services continues to grow,...

Mobile Money for the Unbanked

The 2011 Global Mobile Money Adoption Survey allowed us to identify 8 fast-growing mobile money services that are following the path of M-PESA in Kenya. Six of these 8 services are in East Africa, and after Kenya, Tanzania, and Uganda, the mobile money wave is...

Mobile Money for the Unbanked

Mobile money line managers cannot bring about success on their own; they need support from senior manage­ment. But, where does mobile money sit among the competing priorities of MNO executives? Watch the interview with Maarten Boute, CEO of Digicel Haiti a...

Mobile Money for the Unbanked

Paying into a pension plan is an important part of financial planning for any of us.  In developing countries where social safety nets are less developed, and in some cases do not exist, mobile money can be used as a  tool for governments  or the informal s...

Mobile Money for the Unbanked

Mobile money platforms that rely on networks of cash-in/cash-out agents to take in and pay out cash need that network to be healthy in order to offer customers a compelling value proposition.  The lynchpin of channel health is liquidity, but compliance with c...

Mobile Money for the Unbanked

Driving customer activation has become one of the prominent challenges facing mobile money programmes. In this video filmed last month during MMU's Working Group in Singapore, Yasmina McCarty discusses the key challenges that operators have faced when it com...

Mobile Money for the Unbanked

A recent study conducted by researchers from Uganda and Sweden, attempts to identify new ways of using mobile money to help the poor. The team studied mobile money users across three MNOs in Uganda: MTN's MobileMoney, Uganda Telecom's M-Sente, and Airte...

Mobile Money for the Unbanked

In February 2010, GSMA hosted the Central African Mobile Money Roundtable. The Focus of this event was to share information and experiences regulating mobile money with the Banque des États de l'Afrique centrale (BEAC), which is the financial services regu...

Mobile Money for the Unbanked

The Mobile Money for the Unbanked Programme has awarded grants to AKTEL in Bangladesh, Dialog Telekom PLC in Sri Lanka, Grameenphone Ltd in Bangladesh, MTN Cameroon, MTN Uganda and Vodacom Tanzania. This is in addition to the grants that were already announced...

Mobile Money for the Unbanked

Earlier this week I spoke with Bruno Akpaka from MTN Mobile Money in Ghana. MTN have rapidly grown the network of MTN Mobile Money merchants using a unique approach that is closely linked to their partnership with 9 banks in Ghana. Similarly exciting is the...