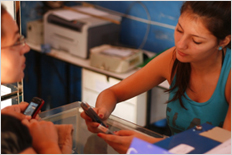 Tigo Millicom is a telecommunications group operating in 13 countries across Latin America and Africa.  It offers mobile financial services in 7 of these countries: Tigo Pesa (Tanzania), Tigo Cash (Ghana and Rwanda), Tigo Money (Honduras, Guatemala and El Salvador) and Giros Tigo (Paraguay).  Tigo's products provide an affordable, fast, convenient and safe way to send and receive money, buy airtime credit, and pay for goods and services using a mobile phone.
However, the service varies from country to country according to local context and regulatory conditions.  In 2010, GSMA made a grant to Tigo Ghana to help roll-out a greenfield mobilemoney deployment by recruiting informal financial service providers as agents.
You'll find useful articles, blog posts and resources about the topic below.
1. CASE STUDIES
How does Tigo Money Work and what makes it different?
Author: Tigo Millicom
This short video explains how Tigo's customers send and receive money through its network of agents.
2. OTHER RESOURCES
Tigo Official Websites:
Related Blog Posts
Mobile Money for the Unbanked

The opportunity to increase financial access in Paraguay is massive. Paraguay has one of the lowest rates of banking penetration in Latin America: only 22% of adults in Paraguay have an account at a formal financial institution, on par with banking penetration...

Mobile Money for the Unbanked

Marketing mobile money presents many challenges to mobile operators who are used to marketing airtime. The customer journey from unawareness to regular use presents many obstacles not least because there can be a complete lack of knowledge of the service and i...

Mobile Money for the Unbanked

Insurance is a complicated product but one where mobile distribution methods hold some promise. MMU's latest paper on mobile microinsurance tries to lay out some of the options and complexities.  The obvious question becomes: What works and what doesn't? ...

Mobile Money for the Unbanked

In the early days of mobile money, MNOs launched mobile money services to differentiate themselves from their competitors, hoping both to increase the loyalty of their customers and to attract new ones. As the number of mobile money services continues to grow,...

Mobile Money for the Unbanked

As I discussed in a recent blog post, what makes the economics of mobile money so different from the economics of traditional banking is the reduction in costs for cash in, cash out, and transaction processing. The lower these costs are, the lower fees for cus...

Mobile Money for the Unbanked

Today GSMA is publishing a case study on 'Giros Tigo', Tigo's mobile money service in Paraguay.  With over 100 live deployments around the world, Mobile Money continues to emerge as a must-have service for operators in emerging markets. However, there h...

Mobile Money for the Unbanked

Last month, Tigo Money launched in Guatemala and Honduras. The MMU team had a chance to catch up with Juan Carlos Arriaga, Head of Mobile Financial Services in Guatemala to discuss about their new product and the challenges and opportunities in rolling out...