THE CASE FOR MOBILE MONEY
Mobile money is a sustainable, scalable approach to providing convenient and affordable financial services to the unbanked. More than one billion customers in developing markets have access to a mobile phone, but do not have a formal bank account.
We believe that having access to financial services, and somewhere safe to save, greatly improves the lives of the poor. It's true that, historically, financial institutions have been unable to reach low-income customers adequately, especially in remote areas, given the cost of bricks-and-mortar branches.
Through mobile money, customers can perform financial transactions where they buy airtime. How? Because typically, the largest MNO in a developing country has 100-500 times more airtime reseller outlets than banks have branches.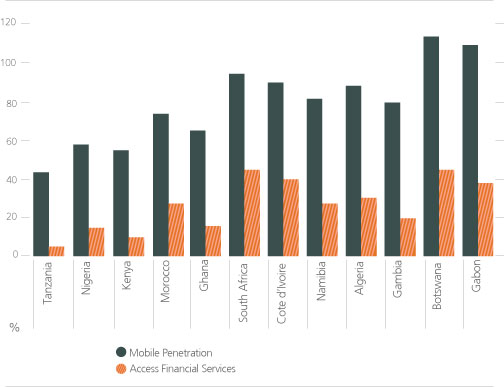 The Mobile Money for the Unbanked Programme sees a huge opportunity to impact the lives of millions of financially excluded people through leveraging mobile network operators' expansive distribution networks and trusted brands to deliver financial services.
RESULTS TO DATE
Since the Mobile Money for the Unbanked Programme launched in 2009, it has achieved results across three areas:
The rapid growth of mobile money: The Mobile Money for the Unbanked Programme championed the commercial and social benefits of mobile money with the operator community. At launch, there were fewer than 20 mobile money deployments in the world. In just two years, the industry has grown fivefold, with over 100 live deployments in existence today across Africa, Asia and Latin America.
Thought leadership in the Industry:The Mobile Money for the Unbanked Programme has worked with mobile operators to identify the principle challenges to scaling mobile money deployments and has built a rich library of knowledge for the industry.
Driving scale & innovation:The Mobile Money for the Unbanked Programme has allocated $5 million of funding across 19 operators for mobile money pilots, innovations and scaling. These grants have supported the growth of the sector and built a deep repository of mobile money knowledge which is available to everyone.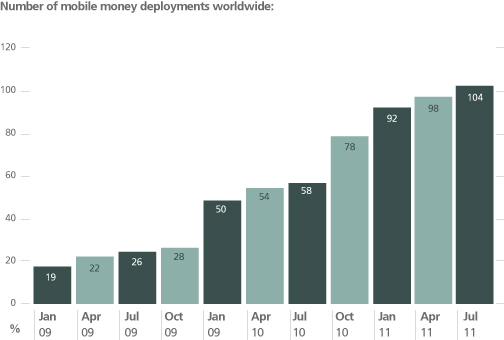 VISION FOR GROWTH
The mobile money industry has grown rapidly but the full benefits of mobile money for financial inclusion are not yet realised.
Mobile money is still absent from some markets with large unbanked populations. In developing markets where services do exist, further work is needed to help scale them. There are still a number of challenges to be overcome:
Regulatory barriers in some markets mean it is difficult for deployments to launch or scale.
Best practices are not fully embedded in mobile money deployments.
Further innovation is required within the industry.
With mobile money deployments (live or planned) in almost every major market, Mobile Money for the Unbanked's attention is shifting away from advocating operators to launch mobile money and towards helping them to scale services they have already introduced.
The MMU Programme is supported by The Bill & Melinda Gates Foundation, The MasterCard Foundation, and Omidyar Network.