The Mobile Money programme accelerates the development of the mobile money ecosystem for the underserved. Through close engagement with mobile money providers, we structure activities under five areas of focus:
Accelerate scale of mobile money services via Account-to-Account (A2A) Interoperability: Accelerate the successful scaling of mobile money services through effective implementation of A2A interoperability and capture best practices and evidence of accelerated growth due to positive network effect.
Accelerate scale of the mobile financial ecosystem (e.g. G2P, P2G, salary payments, etc.): Accelerate ecosystem use cases to scale through industry collaboration and increase industry knowledge around how to make new mobile money products and models successful.
Strengthen foundations to stabilise and enable ecosystem development: Strengthen foundations of mobile money services which stabilise and enable ecosystem development and advance the industry learning agenda.
Advocate with key stakeholders for enabling regulation: Advocate for the promotion of conditions under which mobile operators can sustainably offer financial services, in a policy environment that promotes fair competition and allows innovation and collaboration.
Share data and insights: Collect, aggregate and share mobile money data and performance benchmarks, to help mobile money providers make informed decisions to improve operational efficiency.
The Mobile Money ecosystem opportunity
The mobile money industry continues to expand globally, with more than 250 live mobile money services in nearly 90 countries and an increasing number of deployments at scale: more than 20 deployments have at least one million active mobile money customers. In addition, there are now 16 markets with more mobile money accounts than bank accounts, indicating that mobile money remains a key enabler of financial inclusion.
However, mobile money usage continues to be dominated by two use cases: person-to-person (P2P) transfers and airtime top-ups. To increase sustainability, mobile money providers are exploring new models and products – such as account-to-account (A2A) interoperability, international remittances, merchant payments, salary disbursements and government-to-person (G2P) transfers – but the volumes and values of these represent only a minority of overall transactions (87.4% of all transacted volume in December 2014 was for domestic P2P transfers and airtime top-ups).
Greater progress on financial inclusion and the creation of a successful mobile money ecosystem can only be achieved by developing use cases beyond transfers and airtime top-ups. Embracing the mobile money ecosystem brings major benefits to customers and to providers:
More services for customers which better address their financial needs: With new services being enabled via mobile money, new customer segments will be served (e.g. women, or farmers). Mobile money enables cost-efficient, secure and reliable payments to and from financially excluded and underserved populations.
Increased profitability for providers: Deployments that build a mature ecosystem can expect healthy profit margins of more than 20% and cash flow margins in excess of 15%.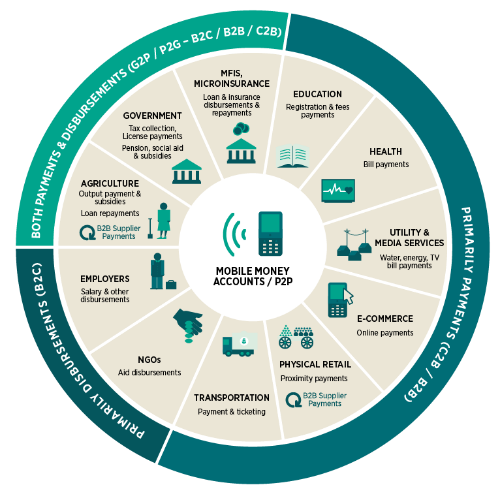 Promoting greater financial inclusion for women:
The Mobile Money programme also works in collaboration with the GSMA Connected Women initiative to promote greater financial inclusion for women. Ensuring that women are accessing and using financial services is not only a significant commercial opportunity for mobile operators but can deliver substantial socio-economic benefits for women and the economy. For more information on GSMA Connected Women, visit their website.
The GSMA Mobile Money Programme is supported by the Bill & Melinda Gates Foundation, The MasterCard Foundation and Omidyar Network.
This case study explores how the market context in each country influenced the rationale for A2A ...

Read more

This paper focuses on how regulators can effectively safeguard customer funds when a nonbank issues mobile ...

Read more

This publication traces the different stages of the mobile money regulation in Paraguay, from its inception ...

Read more

Although mobile money services have extended further into rural areas than more traditional financial ...

Read more

This case study highlights the success of the school registration fees payment initiative in Côte ...

Read more
Account-to-account (A2A) interoperability between mobile money services is now real, with at least five ...

Read more

Allowing both banks and nonbanks to issue mobile money is fostering financial inclusion. Like all financial ...

Read more

This blog post was co-written by Arunjay Katakam and Ben Lyon, a board member of Kopo Kopo. The opportunity ...

Read more

Smartphones will play an increasingly important role in the next generation of digital financial inclusion. ...

Read more

It has been a busy year for the GSMA Mobile Money programme, and we're pleased to share some of our key ...

Read more