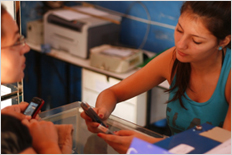 Tigo Millicom is a telecommunications group operating in 13 countries across Latin America and Africa.  It offers mobile financial services in 7 of these countries: Tigo Pesa (Tanzania), Tigo Cash (Ghana and Rwanda), Tigo Money (Honduras, Guatemala and El Salvador) and Giros Tigo (Paraguay).  Tigo's products provide an affordable, fast, convenient and safe way to send and receive money, buy airtime credit, and pay for goods and services using a mobile phone.
However, the service varies from country to country according to local context and regulatory conditions.  In 2010, GSMA made a grant to Tigo Ghana to help roll-out a greenfield mobilemoney deployment by recruiting informal financial service providers as agents.
You'll find useful articles, blog posts and resources about the topic below.
1. CASE STUDIES
How does Tigo Money Work and what makes it different?
Author: Tigo Millicom
This short video explains how Tigo's customers send and receive money through its network of agents.
2. OTHER RESOURCES
Tigo Official Websites:
Related Blog Posts