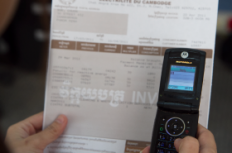 Bill payments are used by lots of mobile operators. The service is usually employed as an 'over-the-counter' service where agents process transactions on a handset, or as an 'm-wallet' service in which the customer performs the transactions on his handset.
In this section you'll find articles, blog posts and other resources that you may find useful when researching this topic.
1. CASE STUDIES
True Money and M-PESA: Two Unique Paths to Scale
Author : Paul Leishman, GSMA
This case study compares Thailand's True Money with the industry's best known success story, M-PESA. True Money has grown on the back of its bill payment service since launching in 2005. This case study examines how True's scratch cards, e-wallet and 8,000 agents are used to process bill payments, third party bills, and prepaid bills from issuers.
Three Keys to M-PESA's Success: Branding, Channel Management and Pricing
Author : Ignacio Mas and Amolo NgWeno, The Bill and Melinda Gates Foundation
Page 3 of this document – a case study on Safaricom's M-PESA – the authors discuss Safaricom's bill payment service, including fees, customer process and limitations. Page 18 provides a comparison to Airtel's Zap.
Bill Payments: A conversation with True Money, Grameenphone, and easypaisa
Author : Seema Desai, GSMA
In this panel session, Seema Desai interviews representatives from Grameenphone (Bangladesh), True Money (Thailand), and Telenor (Pakistan) to uncover insights on each of their bill payment services.
Q1. Why did you decide to go to market with Bill Payments rather than some other service like P2P?
Q2. What are the pros and cons of OTC bill payment transactions?
Q3. Do you charge your customers to pay bills?
2. Other Resources
Mobile Water Payment Innovations in Urban Africa
Author : Rob Hope, Tim Foster, Aaron Krolikowski & Ilana Cohen
Africa's mobile revolution can help address one of its oldest challenges – sustainable water services. Mobile money is a key driver in this innovative landscape expanding access to financial services to the poor and unbanked.
Water Delivery through Payment Platform – M-PESA Pushes the Rural Frontier
Author : Sherri Haas & Geetha Nagarajan
This report explains how population and location limit where M-PESA agent shops can successfully operate, and how the Katitika Water Project is an example of using the M-PESA system as a platform for service provision with very limited agent intermediation.
Related BLOG POSTS
Mobile Money

There's an estimated 2.5 billion unbanked people in low and middle-income countries, with many living in rural areas . For rural populations, financial inclusion isn't the only disparity that exists – often limited or no access to reliable energy and ...

Mobile Money

This is a guest post written by Ignacio Mas, a consultant on mobile money and technology-enabled models for financial inclusion. In a recent study of business uses of M-PESA in Kenya funded by the Financial Sector Deepening Trust of Kenya, my former colleag...

Mobile Money

This is the second post of a two-part series looking at an Oxford University study on the use of mobile money to pay for water services in Africa. This guest post is written by by Ilana Cohen, Tim Foster, Aaron Krolikowski and Rob Hope from the Water Scienc...

Mobile Money

The following is a guest post we're pleased to share by Ilana Cohen, Tim Foster, Aaron Krolikowski and Rob Hope from the Water Science, Policy and Management programme at Oxford University. Mobile money in Africa offers a promising tool for one of the mo...