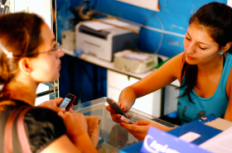 One of the most difficult – and strategically important – issues that a mobile operator must tackle is developing an agent network. The network serves as the customer's bridge between cash and e-money; it represents the human face of a service, and the vehicle for boosting product awareness, customer education and registration.
Below are articles, case studies, blog posts and other resources that operators will find useful for researching this topic.
1. WHAT ARE MOBILE MONEY AGENTS?
What are mobile money agents and what functions do they perform?
Author: GSMA
This video provides basic background information on mobile money agents, their responsibilities and the functions they perform.
2. HOW CAN OPERATORS BUILD A NETWORK OF MOBILE MONEY AGENTS?
Building a Network of Mobile Money Agents
Author: Neil Davidson and Paul Leishman, GSMA
This article explores issues operators face as they build an agent network. It discusses what agents do, how big an agent network should be, how agents are recruited, and other important questions.
What should operators look for in a prospective agent?
Author : GSMA
What qualities should an agent have? This video highlights what operators need in a mobile money agent including proper liquidity management, a good location, and community trust.
3. HOW CAN OPERATORS INCENTIVISE A NETWORK OF MOBILE MONEY AGENTS?
Incentivising a Network of Mobile Money Agents
Author : Neil Davidson and Paul Leishman, GSMA
How can mobile operators encourage agents to become active and productive in mobile money distribution? Learn what transactions agents are paid for and how commissions get paid out.
GSMA Webinar on Mobile Money Pricing and Commissions
Author: Paul Leishman and Camilo Tellez, GSMA
These videos are designed to provide mobile operators with a clear understanding of the process that's used to develop mobile money prices and commissions. It covers a mix of theory and real world examples, and simulates the development process for an imaginary service. (Available in Spanish).
Commissions
4. How can operators manage a network of mobile money agents?
Managing a Network of Mobile Money Agents
Author : Neil Davidson and Paul Leishman, GSMA
This article explores how to manage and motivate an agent network, answering questions such as 'How do operators ensure agents are liquid?' and demonstrating options for selling electronic value to the channel.
Three Keys to M-PESA's Success: Branding, Channel Management and Pricing
Author : Ignacio Mas and Amolo Ng'weno, The Bill & Melinda Gates Foundation
On pages 7-11 of this case study on Safaricom's M-PESA, the authors explain how Safaricom's channel management strategy contributed to their success. It describes the options stores have for rebalancing liquidity, including through master-agents and super-agents.
Ensuring Quality Customer Experiences at Agents
Author : Paul Leishman, GSMA
This video explores the role that Top Image – a field-marketing agency – plays in Safaricom's successful M-PESA agent network. Top Image performs several key functions, including training agents, monitoring float, and supervising activations.
5. OTHER RESOURCES
Bridges to Cash: The retail end of M-PESA
Author : Frederik Eijkman, Jake Kendall, & Ignacio Mas, The Bill and Melinda Gates Foundation
This case study analyses 20 M-PESA retail outlets managed by an aggregator, PEP Intermedius. It presents observations on the complexities of managing agents, including how often (and why) stores rebalance liquidity, differences between urban and rural agents, and more.
Related BLOG POSTS
This case study explores how the market context in each country influenced the rationale for A2A ...

Read more

This paper focuses on how regulators can effectively safeguard customer funds when a nonbank issues mobile ...

Read more

This publication traces the different stages of the mobile money regulation in Paraguay, from its inception ...

Read more

Although mobile money services have extended further into rural areas than more traditional financial ...

Read more

This case study highlights the success of the school registration fees payment initiative in Côte ...

Read more
Account-to-account (A2A) interoperability between mobile money services is now real, with at least five ...

Read more

Allowing both banks and nonbanks to issue mobile money is fostering financial inclusion. Like all financial ...

Read more

This blog post was co-written by Arunjay Katakam and Ben Lyon, a board member of Kopo Kopo. The opportunity ...

Read more

Smartphones will play an increasingly important role in the next generation of digital financial inclusion. ...

Read more

It has been a busy year for the GSMA Mobile Money programme, and we're pleased to share some of our key ...

Read more