The GSMA mWomen Programme is a partnership with high ambitions, as closing the mobile gender gap will require large-scale action on the part of a diverse set of stakeholders.
Mobile operators must understand the women in their markets, incorporate women into their strategies, design appropriate products and services, and monitor success.
Value-added service providers must understand women's wants and needs, design appropriate services, and connect with distribution channels to reach women.
Mobile handset and operating system providers must include resource-poor women's wants and needs into their designs, including innovation around cost and user experience.
Government policymakers must create enabling regulatory frameworks and incentives that enable resource-poor women to catch-up to other mobile users.
Development partners must refine their capacity to serve women with mobile for development purposes and leverage the distribution and technical capacity the industry offers.
GSMA mWomen serves a catalytic function, convening these stakeholders, illuminating the issues, making the case for action, building evidence of what works, and supporting others to act.
Given its large-scale objectives, the programme focuses where we believe we can add the most value, at strategic steps along the pathway to closing the gender gap. The logic of our approach lies below.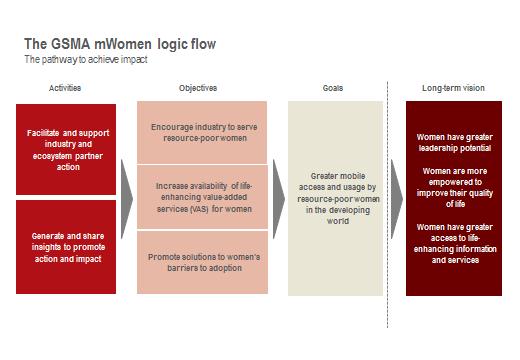 To achieve our objectives and goals, the programme focuses its services in two key areas:
Facilitating and supporting industry and other ecosystem partners' investments on the ground to stimulate innovation.
Generating and sharing insights from this ground-level innovation, research and other work so as to continue to build the case for action and to equip ecosystem partners to act.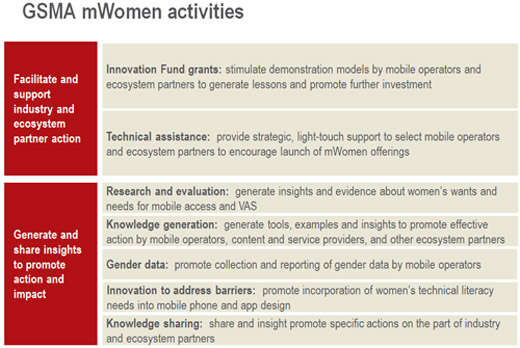 The mWomen programme has awarded 11 Innovation Grants to operators and NGOs. The grants provide seed funding for the design and launch of economically sustainable products and services which increase women's access to and use of mobile phones and value-added services. Click here for a summary of the 11 different services currently being developed, the commercial and social impact we expect to see and the insights we hope to be able to share with the wider mobile industry.