The GSMA mWomen Programme aims to increase women's access to and use of mobile phones and life-enhancing mobile services in developing markets.
Launched by U.S. Secretary of State Hillary Rodham Clinton in October 2010, the GSMA mWomen Global Development Alliance is a programme in partnership with USAID, Australian Department of Foreign Affairs and Trade, GSMA and Visa.
GSMA mWomen's objectives are to:
Encourage industry to serve resource-poor women
Increase availability of life-enhancing value-added services
Promote solutions to women's barriers to usage.
The programme aims to achieve these objectives by working with mobile operators, value-added service providers, and other mobile industry members, as well as non-governmental organisations (NGOs) and other international development partners. Its activities are designed to:
Promote and support industry and development partner action to serve women
Generate and share insights to encourage and equip partners to reduce the global mobile gender gap.
Focus end-users:
The programme particularly focuses on resource-poor women1. In the context of the GSMA mWomen programme, this term includes women who tend to experience some of the following:
Low income
Low level of empowerment
Limited access to education
Social isolation due to limited mobility or remote locations.
Focus geographies:
GSMA mWomen focuses its operations in Africa, Asia Pacific and the Middle East, regions historically experiencing more significant mobile gender gaps. Programme events, findings, tools and other resources are available and easily adaptable for mobile ecosystem partners to serve resource-poor women in all other geographies.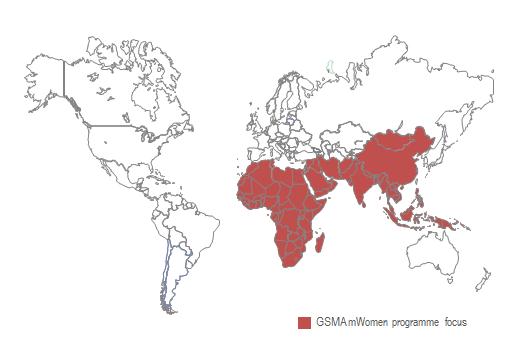 1 Note that 'resource-poor' is not a measurable or universally used term; the programme has identified the definition above to help clarify the focus of its work