The Mobile Phone Gender Gap
Mobile phone use in the developing world is exploding, yet women risk being left behind.
As of 2010, 21% fewer women than men owned a mobile phone in low- to middle-income countries. This suggests a gender gap of 300 million women without access to this potentially life-enhancing tool.
By overlooking the women's market, the mobile industry faced an estimated $13 billion revenue opportunity.
This gap also suggests a lost opportunity for women, particularly resource-poor women who have the most to gain from mobile's potential benefits.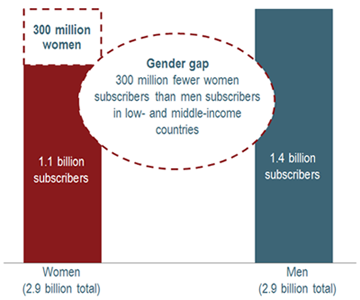 "I always have to go to school a week before we open to find out about the next term's requirements… other students whose parents have phones do not waste time and bus fare like I do." – Female Student, Uganda
Women and Mobile: A Global Opportunity for details
Increasing women's access to and use of mobile technology can have a powerful impact on improving lives, as described in Women & Mobile. For example, mobile phones offer women security and peace of mind, such as the ability to call a doctor during a time of need when hospitals are not nearby. Mobile access led 93% of women to feel safer and 85% to feel more independent.
In addition to enabling a sense of security and empowerment, mobile phones can support large-scale social and economic benefits. In one study, a 10% increase in mobile phone penetration was linked to a 1.2% increase in GDP in low- and middle-income countries.
Women play a key role in this development, as they often are responsible for the health, education, economic stability and well-being of their families and communities. Mobile phones offer women access to health services and information, education, banking services, and tools for managing small businesses. For example, mobile access provided 41% of women access to greater income generation opportunities, according to research.
"I wait for people who need women to work on their farms to call me, and feel extremely thankful that I am reachable." – Woman Farmer, Egypt
Barriers to Women's Ownership and Use of Mobile Phones
Despite these benefits, GSMA mWomen research has found several barriers that stand in the way of equitable ownership and use of mobile phones. While serious, these barriers are addressable though the design of the mobile products and services, as well as through thoughtful public-private partnerships.
Cost:
Resource-poor women face constraints to meeting the total cost of mobile usage, including the purchase of devices, airtime top-ups and charging. Mobile data can seem out of reach, as it is charged on a per megabyte rate, leading low-income households to monitor and limit usage. The perceived cost of mobile, of course, may seem even higher if the benefits aren't clear. However, women in these settings are savvy financial managers, and are willing to pay for services they value.
Limited understanding of the full potential of mobile services:
Many resource-poor women lack awareness of features beyond voice and SMS. For example, just 2% of resource-poor women report having used the mobile internet.
Cultural barriers to women's use of mobile phones:
In some settings, husbands and fathers consider mobile phones to be inappropriate or unnecessary for their wives or daughters. GSMA's research found that 64% of resource-poor women report that their mobile phone makes their husband suspicious. 74% of married women who did not want a mobile phone said it was because their husband wouldn't allow it.
Limited technical literacy:
In many settings, women and girls in particular have limited access to education and may be illiterate, complicating navigation of even basic SMS features. Mobile interfaces have not been designed for such users, who may not have much experience with technology of any kind. 22% of resource-poor women who did not want a mobile phone said it was because they "wouldn't know how to use it".
"I consider myself blind because I can't write or read." – Woman, Egypt
Limited access to charging sources:
Many resource-poor women struggle with limited or inconsistent access to electricity. GSMA research found that 38% of surveyed women lived off-grid, requiring that they pay a local vendor to charge a phone or travel many miles to the nearest power source.
"Though I have electricity in my house, I often have to charge my mobile phone at those shops that offer the service as we experience constant blackouts."
– Woman, Uganda