The case for Mobile for Development Utilities

In 2013, there remain 1.3 billion people without access to energy and 783 million without access to "improved" water resources.  As demand grows in urban centres, emerging markets face significant obstacles channelling future investment to rural and peri-urban communities where the challenges of delivering basic water and energy services are numerous.
The GSMA sees an opportunity for the mobile industry to help solve these challenges in emerging markets. How? As mobile connectivity extends beyond the reach of the electricity grid and central water utilities more people now have access to the mobile network than to energy and water.
Globally, it is estimated that 411 million people have access to the mobile network before they have access to energy and 165 million people have access to the mobile network before they have access to an "improved" water source.
The size and the reach of the industry's infrastructure, distribution channels, mobile payments and technologies, offer new pathways to achieve reliable energy access and increased water access for underserved communities.
Illustrating the opportunity

The graph below highlights the current situation as although mobile networks have become increasingly ubiquitous in Sub Saharan Africa, access to "improved" water and energy remains low.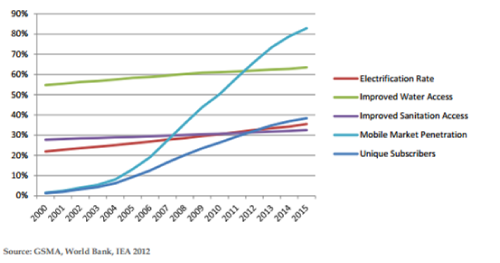 The Mobile for Development Utilities Programme

Mobile for Development Utilities encompasses any energy and water service provided to a community which includes a mobile component, whether it is voice, SMS, USSD, Machine2Machine, NFC, a mobile operator's agent network or tower infrastructure.
Objectives and Activities
The Programme aims to seize the opportunity, leveraging mobile technology and infrastructure to enhance access to affordable and reliable energy and clean water in underserved communities.
The team seeks to accomplish this goal by achieving the following objectives:
Raise awareness through knowledge sharing and convening, publication of case studies and business case development
Partner with mobile network operators and tower companies to conduct feasibility studies and establish trials
Develop a network of energy and water service providers, academics, NGOs, governments, mobile industry players, donors and investors working in the Mobile for Development Utilities sector
Accelerate innovation and development of promising technologies and business models through the Mobile for Development Utilities Innovation Fund
 Develop relationships with private investors and provide technical assistance for due diligence to interested investors with the aim to support longer term rural  success of Mobile for Development Utilities pioneers
How did the Mobile for Development Utilities Programme come about?
The Mobile for Development Utilities programme builds from the strong foundations of its predecessor, Community Power from Mobile (CPM) and its sister programme, Green Power for Mobile. The team leverages the lessons learned from CPM, the technical strengths of the GPM team, relationships of the GSMA members and contacts within energy, water, social impact and entrepreneurship space.  
Get in touch with the team