How 5G and IoT tech will transform healthcare
This virtual event will bring together mobile, healthcare and technologies specialists from various industries including mobile network operators, regulators, and healthcare enterprises across the APAC 5G Industry ecosystem.
Topics include:
Overview of healthcare in the post-pandemic era
How 5G and IoT tech will transform healthcare
Innovative healthcare examples
How we can accelerate digital transformation with policy, technology, ecosystem and
partnership
Opening – Overview of healthcare in the post-pandemic era
Terence Wong, Head of APAC 5G Industry Community, GSMA
Keynote – How 5G and IoT tech will transform healthcare
Prof Shafi Ahmed, Chief Medical Officer, Medical Realities; Consultant Colorectal Surgeon at Barts Health NHS Trust and Member of the NHS Assembly
Fireside chat: Partner working closely for digital healthcare with 5G
Katrina Lowes, Head of Vodafone Centre for Health with Deloitte
Helena Lisachuk, Vodafone Centre for Health with Deloitte, Deloitte Lead
Improving Healthcare with Continuous, Contact Free RHR + RR + Motion Monitoring
Sam Yang, CEO, Xandar Kardian
Smart Hospital with Unmanned Pharmacy
Prof. Dr. Torin Fung, Founder and CEO, Leap Flash Technology Ltd.; Vice Chairman of Expert Committee of Shenzhen International Health and Senior Care Industry Research Center
Panel with Q&A – Discuss how we can accelerate the digital transformation with policy, technology, ecosystem and partnerships
Moderator: James Lai, Chairman, MyIoTA
Panellists:
Jesse Chooi, Senior Manager, Digital Industry Cluster, Digital Industry Development, MDEC
Brian Bong, CEO, Smartoptz
Viva Shaik, Assistant Director, Ucrest
Hudson Lee, Founder, IMEUS
Closing
Terence Wong, Head of APAC 5G Industry Community, GSMA
Helena Lisachuk
Vodafone Centre for Health with Deloitte, Deloitte Lead
Helena Lisachuk is a Partner at Deloitte Consulting. She leads the IoT practice globally and looks after the strategic alliance, Vodafone Centre for Health with Deloitte. She has 20+ years of experience in strategy definition / roadmap development, digital transformation, technology delivery, change management, and program / portfolio management for Fortuna500 companies in Healthcare & Life Sciences, Telco and High Tech. She is particularly passionate about driving transformations in the industries leveraging latest technologies such as Cloud, IOT, Edge AI, and 5G.
Terence Wong
Market Development Director, Head of APAC 5G Industry & IoT Community, APAC, GSMA
Terence serves as the Market Development Director at APAC Technology team in GSMA. The key focus is on 5G, IoT, eSIM. He establishes the APAC IoT partnership programme and the APAC 5G Industry Community that accelerates the 5G and IoT ecosystem development and innovation in the APAC region. The IoT partnership programme accumulates 60+ MNOs, 500+ innovators and ecosystem members in 20+ APAC countries, jointly drive the digital transformation in various sector including manufacturing, transportation, logistics & port, healthcare, smarty city, agriculture and environment protection etc.
Worked for IT/Telco industry for over twenty years, Terence has strong and broad experiences in telecom industries on infrastructure, product development and management, consultancy, sales and marketing. He has worked for multinational companies such as Fujitsu, Nokia, and served as the architect, consultant, product lead and pre-sales head of BSS/OSS in the Asia region.
Terence has Bachelor of Engineering (Electronic Engineering) in Hong Kong University of Science and Technology and Master of Business Administration (Information Technology Management) in Hong Kong Polytechnics University, previously certified as Project Management Professional (Project Management Institute).
Hudson Lee
Founder, IMEUS
Hudson Lee comes from a background of connected healthcare and is founder of IMEUS, a healthtech company. He is devoted to the development and promotion of reimagined health ecosystem connected singularity solutions for the health consumer, provider, and payor in facilitating new value healthcare expressions by caregivers collaborating the latest in Internet of Things, Artificial Intelligence, and 5G technologies.
Partnering and collectively evolving healthcare aligning the Web 3.0 realm in addressing healthcare costs, safety, clinical outcomes, generational health, longevity, and happiness; motivating and facilitating as easy access, the next new level of healthcare for everyone.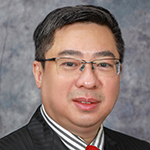 Professor Torin Fung
Founder and CEO, Leapflash Technology Ltd.
Professor Torin Fung is a Hong Kong entrepreneur, leads the national level project of 5G Smart Hospital with Unmanned Pharmacy in Guangdong-Hong Kong-Macao Greater Bay Area (GBA). In 2019 to 2021, his project won over 32 technology competition awards in China. Torin has over 25-year working experience of R&D, manufacturing automation, marketing and technology investments in Artificial Intelligence and Robotic fields.
Torin is currently the President of Hong Kong Association for the Advancement of Science and Technology (HKAAST) and Vice Chairman of Expert Committee of China Shenzhen International Health and Pension Industry Research Center (IHPI).
He is a graduate of Engineering Doctorate (Artificial Intelligence) in The Hong Kong Polytechnic University, Master of Science (Information Engineering) in The Chinese University of Hong Kong and Bachelor (Hons) of Engineering (Computer Engineering) in City University of Hong Kong.
James Lai
Chairman, Malaysia IoT Association
With 20 years of experience in Test & Measurement, software development / simulation / design tools, Industrial Automation & IoT (Internet of Things), James held various technical roles as Applications Engineer & later Field Support Engineer at National Instruments & Agilent Technologies. During his career, James had conducted various technical training, workshops and appeared as speaker at conferences such as TEDx. He is the founder & principal consultant for IoT Labs – an IoT consultancy & integration services firm. James is also the current president of MyIoTA (Malaysia Internet-of-Things Association), that was established in 2016 to drive the growth of the IoT eco-system in the region, and to promote IoT applications as solutions to problems by both enterprises and public at large. MyIoTA is a permanent member of the National 5G Taskforce Working Group, contributor to the National Industry 4.0 Policy Framework, and a member of the National eCommerce Roadmap Technology Adoption.
Jesse Chooi
Senior Manager, Digital Industry Cluster, Digital Industry Development, MDEC
Jesse Chooi Tze Kheong is an experienced professional in the ICT industry with a career spanning over 25 years in the areas of market research, industry analysis and forecasting, growth funding and business development. In his current role at MDEC, Jesse supports the growth of high potential Malaysian digital technology companies through the provision of market access, funding facilitation, mentoring, and visibility platforms. Prior to MDEC, he was attached with Nielsen, IDC and IBM.
He was a Member of National Key Economic Area Labs (Electrical and Electronics) (June 2010 – July 2010) where 400 individuals were selected from industry and government of Malaysia as members of the National Key Economic Area Labs. The E&E lab developed 15 Entry Point Projects in LEDs, Semiconductors, Solar and Industrial Electronics estimated to enhance Gross National Income by RM15.3b.
Jesse holds an MBA from University of Dubuque, Iowa, USA, as well as a Diploma in Marketing from the Chartered Institute of Marketing, UK.
Brian Bong
Co-founder and CEO, SmartOptz PLT
Brian Bong is the co-founder and CEO of Smartoptz PLT that specializes in connecting smart medical IoTs. Trained as a hospitality and IT professional, he has over 25 years' experience in providing Hospital IT project management and consultancy services.
Viva Shaik Farid
Assistant Director, UCrest Berhad
Viva Shaik has more than two decades of diverse experience in the healthcare industry. She has led strategic engagements with internal and external key stakeholders to develop and drive collaborative initiatives in the areas of training, patient education, service provision, operations excellence and digitisation.
Her current role as Assistant Director in UCrest Berhad, Viva is a key-role person of liaising with the Ministry of Health (MOH) of Singapore in Covid19 Home Recovery Management. She is also shaping the strategy to enhance company's presence in the Malaysia and Singapore market to achieve an excellence global growth.
Professor Shafi Ahmed
Vodafone UK Connected Health Ambassador, Member of the NHS Assembly
Professor Shafi Ahmed is a multi-award winning surgeon, teacher, futurist, innovator and. entrepreneur. He is a 3x TEDx and an international keynote speaker and is faculty at Harvard Medical School, Bart's Medical School, Imperial College London, Queen Mary University, Bradford University and Singularity University where he teaches on medicine, innovation and digital transformation. He is an honorary visiting professor at Imperial College, London, The University of Bradford and in 2020 he was awarded the Spinoza visiting Professorship at the University of Amsterdam
He is currently a member of the NHS Assembly advising on the long-term plan and the Vodafone UK Connected Health Ambassador. He was previously an advisor to the Abu Dhabi Ministry of Health to help deliver innovation and digital Health.
In 2018 he was awarded the Future NHS award for NHS70 by Members of Parliament. In 2017 he was the top British Asian star in Tec. He was also the British Bangladeshi of the Year 2017. He has delivered over 250 international keynotes on the future of healthcare, digital transformation and his work has been featured in over 400 newspapers, tech journals and mainstream TV news channels including Sky, BBC, CNN, ABC, Al Jazeera, CNBC, Time, Forbes, Bloomberg.
He chairs the Webit Health summit in Spain bringing together 15000+ innovators across all tech verticals and also co-founded the GIANT health summit in London. He is one of the top 20 global influencers in digital health and innovation and was a HIMSS Future50 clinical leader 2020.
Katrina Lowes
Head of Vodafone Centre for Health with Deloitte, Vodafone Business
Katrina leads the Vodafone Centre for Health with Deloitte. She works with some of the world's most innovative organisations bringing together technology and humans to create new health outcomes and build a better future for all. With more than 25 years' experience as a global marketing leader in the communications, technology and healthcare industries, Katrina has worked in Europe, USA, Africa and Asia. She is a passionate diversity champion and lives in London, UK.
Sam Yang
CEO, Xandar Kardian
Sam Yang has been a serial entrepreneur for over 23 years. He founded or co-founded 8 start-ups to date including a wearable company and a radar-based medical device which he serves as CEO currently. His latest start-up, Xandar Kardian made history by becoming the first and only company to obtain FDA 510(k) clearance for A-CFCM (autonomous, contact-free, continuous monitoring) of RHR + RR + motion using radar technology. Xandar Kardian is US-venture backed and has already commercialized its products in over 16 countries.