Do we sell too many phones? How to create more value out of fewer devices and hit net zero targets.
80% of the climate impact of a mobile phone has happened before it's taken out of the box. This presents one of the biggest environmental impacts of the mobile industry – what to do with mobile devices? It also presents a great opportunity – to create a circular economy and turn waste into value. 
The GSMA working with a project group of 28 mobile operators from around the globe produced a vision for this circular economy for 2050 to help drive the industry towards a sustainable future. A future where devices have as long a life as possible, where they are made with 100% recyclable and recycled content using 100% renewable energy and where no device ends up as waste. 
This session covered:
What it means to have a sustainable mobile device

 

How to move to a more circular economy for devices, where the impacts are minimised

 

How manufacturers, network operators, policymakers and recyclers/ refurbishers can best collaborate to accelerate the transition

 

Data needed for the transition, and data gaps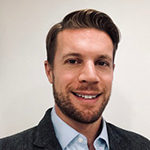 Steven Moore
Head of Climate, GSMA
Steven Moore is responsible for Climate Action at the GSMA, the mobile industry association.
His role is to provide leadership to support and accelerate the industry transition to Net Zero by 2050. The success of the programme has led to the mobile industry being recognised by the UN as the first breakthrough sector in the Race to Zero and the GSMA as a UN Race to Zero Accelerator.
Steven chairs the GSMA Climate Action Taskforce, which has more than 60 mobile operator members globally. He works with the industry on climate policy, strategy and research covering energy efficiency, renewables, supply chain engagement, connectivity to reduce emissions, and climate adaptation and resilience.
Steven holds an MSc in Environmental Technology and is an experienced environmental professional having worked on climate action for the past 15 years, at BT, as a consultant at Deloitte, and for the innovative start-up, dcarbon8.
Twitter: @mooresteven
Hastings Singh
Chief Customer Officer, Kingfisher
Hastings co-founded Kingfisher in 2016 to revolutionize mobile device ownership experiences and drive sustainable industry solutions.
Kingfisher is a next-gen mobile experience company delighting customers, delivering growth for mobile carriers, and creating second, third and fourth lifetimes for connected devices. Kingfisher have proven that customer experience, industry profitability and sustainability are not trade-offs, and rather can be achieved together.
 By bringing a diverse set of capabilities and deep expertise together, Kingfisher is pioneering and innovating for the industry's future, designing smart new ways to deliver more value to carriers, their customers, and the planet.
 With nearly 20+ years of driving innovation for in the mobile industry, Hastings prior experience spans Australia and South Asia where he previously led and grew the region for Apple and BlackBerry, partnering with more than 50 carriers across 18 countries; as well as driving innovation and growth into new strategic areas and segments for Vodafone. 
 Hastings is a passionate advocate of products and solutions that truly inspire customers, and is looking forward to engaging on mobile experience, circularity, and carrier growth priorities at this year's Mobile World Congress.
Maya Ormazabal Herrero
Environment and Human Rights Director, Telefonica
Maya Ormazabal is Telefónica's Director of Environment and Human Rights, she leads the company's strategy on issues such as climate change, circular economy, human rights and the sustainable supply chain. She has worked on environmental topic at Telefónica for 20 years and is currently participating in the company's sustainable financing initiatives. She is also part of the board of directors of organizations such as the Spanish Green Growth Group and the international sector initiative JAC and collaborates in international working groups on environment and sustainability in the ICT sector.
She has a degree in Environmental Sciences and a Master in protected areas.