Eight months ago the WHO declared a global pandemic. Now, COVID-19 continues to challenge citizens, governments and economies around the world, with many countries now approaching, or currently experiencing, a second wave of infections.  The GSMA AI for Impact (AI4I) Mobile Big Data Analytics webinar series has, to date, covered in detail the key considerations for mobile operators and governments interested in developing new capabilities to respond to COVID-19 and other challenges.
Additionally, the GSMA AI4I initiative continues to explore how insights derived from the mobile big data generated by cellular networks can be utilised across a broad range of use cases. For example, implementing and evaluating lockdowns, predicting the spread of the virus in epidemiological models, estimating volumes of medical staff, hospital beds and test kits required, the placement of WASH facilities and transport infrastructure, through to the provision of social and financial support for citizens.
Why stakeholders in the ecosystem need to come together
One common element in all these use cases is that multiple stakeholders within the ecosystem come together to realise these solutions. Experience acquired from current and past implementations has demonstrated that when the right stakeholders participate from the outset, these partnerships often achieve accelerated learnings and better outcomes. We should not, however, underestimate the complexity and time required to bring together the right stakeholders in a geography to realise a solution. These factors and the significance they carry will, of course, vary by geography, but may include the following:
Level of awareness and preparedness within a country – for technical and structural integration of insights
Experience in delivering mobile big data (MBD) products within the supply side (MNO)
Experience in implementation and adoption of MBD products within the demand side (government officials)
The need to ensure compliance with local legal and regulatory conditions
Application of appropriate privacy protections
Giving due consideration to the value in line with the sustainability and funding needs of the project
Therefore having an understanding of the roles and responsibilities of participants, as well as their respective capabilities and relevant data assets they bring, can be invaluable.
Who are the main stakeholders in the mobile big data ecosystem?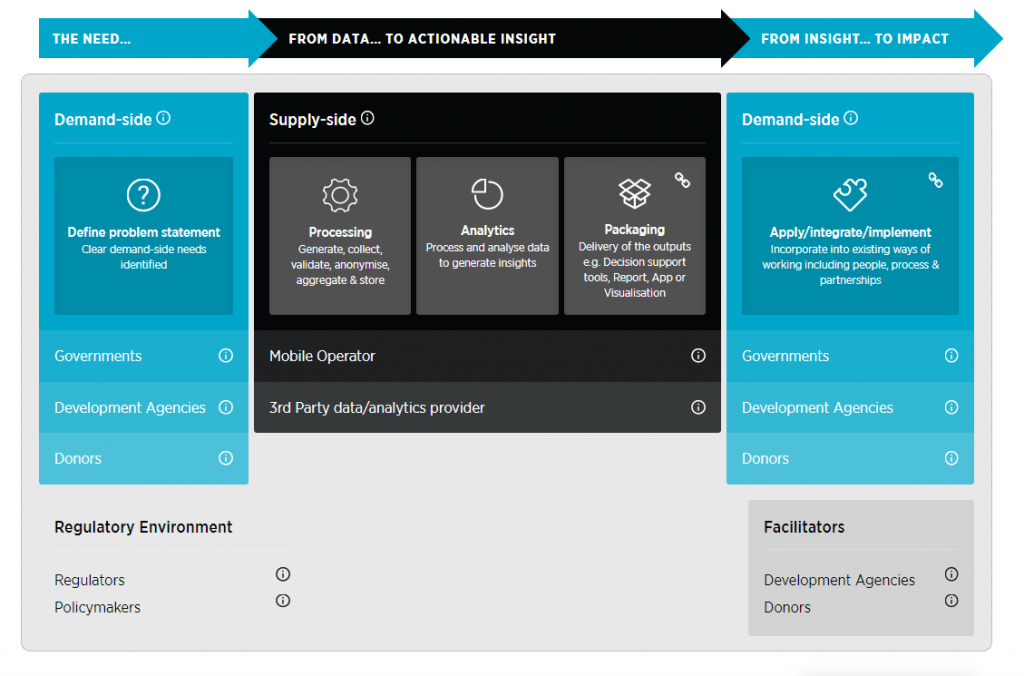 Source: GSMA AI4I Digital Toolkit
Broadly, participants can be split into two main groups; Supply Side and Demand Side. As the diagram shows, the remit and responsibilities of these groups are inherently interlinked – together they combine to realise the process of identifying the need, and using aggregated and anonymised data to derive actionable insights, before applying insights to realise impact.
The diagram also reminds us the regulatory environment often provides a framework for the use of mobile big data and the actions of participants. Therefore, an understanding and awareness of these elements is vital to realise successful, sustainable mobile big data analytics services.
How do these stakeholders contribute and what are their main responsibilities?
Demand Side: Demand-side agencies (DSAs) are institutions and organisations that use insights from the analysis of mobile big data for their activities. They may include government departments and agencies, research institutions, social impact organisations, data analytics providers, development agencies and NGOs, which use data to plan interventions, programmes, policies and strategies. As they have specialised knowledge of the challenges they are trying to address, DSAs play an important role in articulating the problem statement to enable the identification of the relevant indicators and solutions to address it.
Note, demand-side agencies can also be third-party data providers, thereby also positioning them as supply-side agencies in the AI4I ecosystem.
Supply Side: Supply-side agencies (SSAs) include institutions and organisations like mobile operators and third-party data providers/aggregators. They can process, analyse and package mobile big data into powerful products and services for the benefit of DSAs. When informed by a clearly articulated demand-side need, SSAs can impart their unique knowledge of their datasets to transform the raw data into actionable insights.
Facilitators: Whilst not required to realise a solution in every instance, these are mostly international organisations and/or NGOs.  They explore opportunities to address environmental, social and governance challenges with big data, and aim to broker data, skills and funding relationships between other stakeholders in the ecosystem.
Highlighting the value of ecosystem engagement in COVID-19 response
Undoubtedly there has been an increased expectation on governments (DSAs) to address the challenge of COVID-19. Several governments have approached operators for assistance, while on the supply-side MNOs have proactively sought to support government response. As a result, there have been several new engagements between operators and governments around the world, and the AI4I team has been actively leading engagement across several countries supported by funding from the UK Foreign, Commonwealth and Development Office. For example, in Democratic Republic of Congo (DRC), the GSMA is driving collaboration across government, operators and partners to create dashboards to help the Ministry of Health evaluate the effectiveness of lockdown measures and monitor health infrastructure capacity for Kinshasa. This ongoing engagement illustrates how several ecosystem actors have come together and are working to deliver positive outcomes for citizens. More will be shared from this engagement in the upcoming webinar, details below.
Where can I learn more about engagement with ecosystem stakeholders and their outcomes, in the context of mobile big data analytics?
The AI4I Webinar Series, 'Using Mobile Big Data Analytics to combat challenges including COVID-19', provides a platform for a deeper level of understanding for mobile operators and governments who wish to develop and adopt impactful products and services to aid decision making.
This session will serve to highlight the roles played by key stakeholders that are necessary to realise impactful and valued mobile analytics services. Showcasing the insights and impact that can be realised, via real world engagement experiences, the GSMA will be joined by Orange to demonstrate the importance of identifying and engaging with relevant stakeholders from the outset of solution development. It will also highlight how synergies from collaborative efforts can contribute to accelerated uptake.
This initiative has been funded by UK aid from the UK government and is supported by the GSMA and its members. The views expressed do not necessarily reflect the UK government's official policies.