Mobile networks are used by over five billion people globally and generate huge volumes of data about people's geographic locations, movement patterns, communications and connectivity. This mobile 'big data' – when aggregated, anonymised and analysed – can provide valuable and actionable products and insights across a wide variety of use cases.
Pre-COVID-19, the majority of mobile big data services addressed commercial use cases, providing insights for transport planning, tourism and retail. Research and collaborative projects have demonstrated that mobile big data can also add value when addressing environmental and social challenges, including city air pollution modelling, tracking disease outbreaks, and responding to disasters.
The COVID-19 context
In 2020, the COVID-19 pandemic has generated considerable interest in timely information about the way the population is distributed and the general patterns of population movement. These behaviours are critical to understanding the spread of a communicable disease, and to gauge the effectiveness of policies designed to reduce people's movement, mixing and risk of transmitting the disease. Mobile network operators are well placed to provide data analytics revealing patterns of movements of groups of people, providing graphs and visualisations explaining how these patterns change over time and by geography. Unlike a snapshot of the population obtained from a census or household survey, mobile big data can capture an almost continuous record of population location and movement, at a low level of granularity. In addition, this analysis can be done rapidly, providing a near real time view of the way mobility changes, including fast feedback on the impact of policies such as lockdowns and curfews deliberately aimed at limiting movement. Mobile data analytics also provide insights that can inform logistical healthcare decisions, such as where large volumes of test kits may be required, where to increase hospital beds or where to ship PPE.
Mobile operators have been engaged with many governments around the world, supplying analytics products and services to assist with policymaking and disease modelling during the emergency response to the COVID-19 pandemic. The mobile operator response has been rapid but reactive due to the general global lack of preparedness for this type of emergency. Many have pulled upon analysis capabilities and data products developed for other commercial applications and worked flexibly with governments to adapt these tools to address the COVID-19 situation. The period of initial activity has been intense, with MNOs prioritising allocation of data analysis expertise to the global emergency rather than core business.
This is not a sustainable position – and prompts the need to find a sustainable way forward.
What does 'sustainable' mean? And why is a business model required?
When talking about sustainability in this context, it means a data analytics product or service provided over a long timeframe, on an ongoing basis, and frequently also in multiple locations. It means being able to fund expert resource, analytical tools, data storage and product development – so the analytics products and services supplied can be delivered and supported for as long as is necessary. And the analytical products can be enhanced, scaled up and replicated to the customers' requirements.
Therefore, a source of sustained funding, via a suitable business model, is required to finance the ongoing investment in data experts' time and the analytical tools and processes. (See the Technical Considerations blog & webinar for a detailed explanation of the activities undertaken by an MNO).
Data science and AI are emerging disciplines in which techniques and tools are rapidly developing. To drive this innovation and deliver solutions that are more effective over time requires investment in innovation. Therefore, the business model funding mechanism also needs to include this important dimension if the products and services are to harness the latest techniques and deliver maximum benefit and impact.
What are the benefits of a sustainable business model?
Applicable to both COVID-19 and non-COVID-19 solutions, once an appropriate sustainable business model is in place, long-term investment decisions can be made. Proven solutions can be scaled up meaning more deployments of mobile big data, in more places, with more beneficiaries. Stakeholders have an incentive to invest in new technical capabilities that otherwise may not be viable to develop for a lone pilot project. In addition, data-driven solutions can be enhanced over time enabling better, faster insights, resulting in more benefit to the social challenge being tackled.
A sustainable business model also encourages closer, long-term working relationships between the mobile operator and the demand-side customers, resulting in better knowledge sharing, improved efficiencies, and a positive net economic value. This, in turn, can deliver better outcomes for beneficiaries, whilst also enhancing the social and reputational value of all parties involved.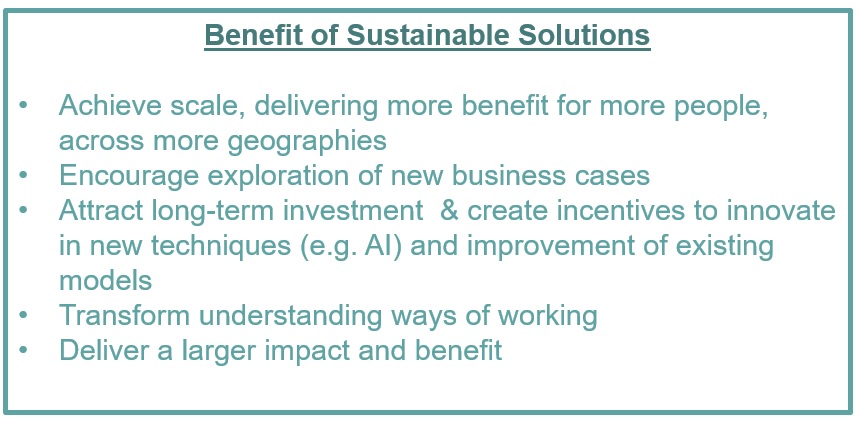 The ultimate benefit of having a sustainable business model in place is that greater impact can be delivered. Without a sustainable model as a foundation, analytical work is likely to be confined to one-off projects and pilots with time-bound funding and deliverables, in restricted geographies – limiting impact. Whereas with a sustainable solution, the incentives and investment exist for both the demand and the supply side to scale up promising results and therefore deliver benefits to more places and over a longer period.
More than one type of impact can be realised from the information and insights mobile data analytics delivers:
Social impact – for example, improved availability of healthcare, pollution and environmental benefits and lives saved through more effective responses to epidemics and disasters.
Financial impact – analytics can be used to optimise investment spend (to deliver public services such as healthcare and education facilities to the where the population is, as efficiently as possible), and can complement existing statistical information sources, such as census survey data, with a more dynamic view of the population and mobility patterns (efficiencies in planning public transport for instance)
Therefore, for a government to reap these positive impacts, budget and funding need to be allocated to both internal investment (in skills, talent and systems within the government itself); and to external expenditure, in order to procure these analytical products and services.
Where can I learn more about sustainability in the context of mobile big data analytics?
The AI4I Webinar Series, 'Using Mobile Big Data Analytics to combat challenges including COVID-19', provides a platform for a deeper level of understanding for mobile operators and governments who wish to develop and adopt impactful products and services to aid decision making.
Watch the video of the latest webinar on Sustainability & Funding to learn more.
For further information on the AI4I Webinar Series, please go to https://www.gsma.com/betterfuture/resources/ai4iwebinarseries
The AI4I Global Insights are funded by the UK Foreign, Commonwealth & Development Office (FCDO), and supported by the GSMA and its members.