The days in which businesses were judged only on the profits they deliver to investors are fading fast. Far-sighted companies now pursue a triple bottom line, in which profits sit alongside people and the planet.
The mobile industry is in the vanguard of this profound shift in business priorities. As they enhance their existing infrastructure and roll out 5G networks, mobile operators are exploring how intelligent connectivity can curb climate change and improve people's lives, as well as generate a return on their investment.
Tellingly, four years ago, the mobile sector became the first industry to fully commit to the UN Sustainable Development Goals (SDGs). Driving sustainable development makes good business sense on multiple levels. As well as strengthening the socio-economic environment in which business operates, doing good is good for individual companies, their partners, their employees and their customers.
A growing body of evidence suggests both consumers and employees are loyal to visionary businesses that are aligned with their values and are responding to the challenges facing the world. Responding to a survey by Deloitte, 63 per cent of millennials said the primary purpose of business should be 'improving society' rather than 'generating profit'.
Vision at the top
Visionary businesses don't magically appear. They need visionary leadership: it's important to remember that companies are made up of individuals – and the pursuit of the triple bottom line must start at the very top of any organisation. Recognising that, the GSMA is seeking to equip mobile industry CEOs and their teams with the tools [1] and skills they need to advance sustainable and responsible business models, without compromising long-term commercial returns.
Led by a new breed of CEOs, mobile operators are increasingly championing sustainable and responsible business practices, safeguarding consumer trust and reducing inequalities through digital inclusion. The GSMA is inspiring joint commitment and direct action; uniting private and public sectors to improve the lives of billions of people by driving progress towards the SDGs.
The GSMA's Director General, Mats Granryd, is personally committed to this holistic agenda. He is a founding member of Nordic CEOs for a Sustainable Future, a cross-industry group created in 2018 to inspire joint leadership and action towards the delivery of the SDGs in the Nordic region. Leading GSMA Members, such as Telenor and Telia, are among the companies represented in the group, which together employ more than 290,000 people across 119 countries. In August 2019, the Nordic CEOs for a Sustainable Future met with the Prime Ministers of the five Nordic countries to discuss a collaborative approach to addressing sustainability challenges.
Talking the talk, while walking the walk
At the same time, individual mobile industry leaders are dedicating time and resources to explain why understanding and responding to social, environmental and ethical issues is good for business. Coordinated by the GSMA's 'Champions for a Better Future' initiative, industry leaders are engaging with governments, international institutions and humanitarian organisations to highlight the importance of the SDGs to the business community. Words are being backed by deeds: Telefónica and Verizon have issued green bonds designed to fund projects that have positive environmental benefits, while MTN's new "We're good together" initiative is driving financial and digital inclusion. In Kenya, Safaricom has gone as far as integrating the pursuit of the SDGs into its core business and corporate strategy.
Other industries are following in the mobile industry's footsteps. In the U.S., for example, the Business Roundtable has released a new "Statement on the Purpose of a Corporation", which commits the 181 CEO signatories to leading their companies for the benefit of all stakeholders – customers, employees, suppliers, communities and shareholders. That statement marks a significant shift: the Business Roundtable, which represents American companies with more than 15 million employees and more than $7 trillion in annual revenues, has long been anchored around the concept of shareholder primacy.
Crucially, shareholders themselves are also supporting a more holistic agenda. In an open letter to corporate leaders the world over, Larry Fink, the CEO of BlackRock, the world's largest asset management firm, made it clear that BlackRock wants to invest in companies that are doing the right thing.
With investors and consumers now buying into a broader business agenda, the mobile industry and its partners have an unprecedented opportunity to bring about a better future for everyone.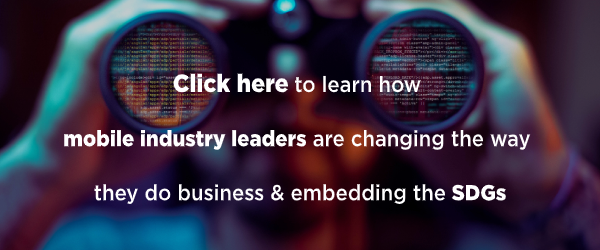 [1] Sustainability Assessment Framework, Guide to Operating Responsibly & Using Socio-Economic Impact Assessments