At a two-day Hackathon held on 8 and 9 July as part of a three-year capacity building project funded by the EU Horizon 2020 programme called "EQUALS EU", GSMA brought together 19 participants with diverse skillsets and professional and educational background to hack for digital and financial literacy with a particular focus on empowering women and girls.
The goal of the hackathon was to invent and develop an open-source tool, platform or app which enhances financial and digital literacy for women across low- and middle-income countries (LMICs) in particular. Participants were encouraged to address barriers in financial and digital literacy amongst women users and non-users for mobile financial services and leverage the power of mobile money where relevant in their solutions.
Participants were encouraged to develop online mobile solutions which allow for women users to do one or more of the following:
Balance their income and expenses;
Build and maintain financial reserves;
Manage existing debts and have access to potential financial resources;
Plan and prioritize their expenditure;
Manage and recover from financial shocks; and
Use an effective range of financial tools.
The participants were briefed by Dominica Lindsey, Senior Director for Connected Women and Saad Farooq, Director of Public Policy and Advocacy, Mobile Money as GSMA subject matter experts who spoke about the importance of closing the digital and financial literacy gaps for women and the power of mobile technology to overcome barriers.
The Hackathon also benefited from expert views provided by members of the EY Women in Tech Network and the Commonwealth Businesswomen's Network.
The winning team consisted of four women (three representatives of the Iraqi diaspora in London and one female expat from Ghana) who presented their concept for an educational mobile application called "Amwali" which aims to serve women in post-conflict regions in the Middle East by educating them on income, enabling access to emergency funding and rebuilding communities. The app consists of three unique elements: animated videos to educate women about finances, access to a community digital savings pot and a diaspora mentoring and investment network (please see diagram below).
The winning team's prize included free leaders passes to MWC Barcelona 2023 and an enrolment into a 6 months virtual business incubation programme run by the Global Universal Design Commission Europe: one of the 19 EQUALS-EU partners alongside GSMA.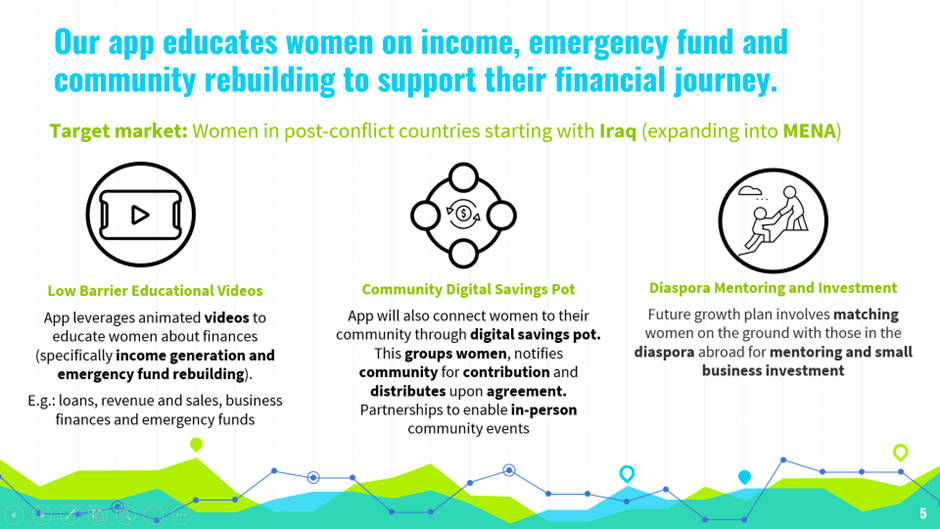 The Hackathon was co-hosted by EY, Bloomsbury Institute, and the Commonwealth Businesswomen's Network and it was held within the framework of the EQUALS Global Partnership for Gender Equality in the Digital Age which GSMA co-founded in 2016.