Each year, the mobile industry connects hundreds of millions of people to the internet for the first time. Yet, about half of the world's population remains unconnected, effectively excluding them from the fast-growing digital economy and a host of life-enriching services.
One of the biggest challenges is how to bring mobile coverage to communities in remote rural areas, where the cost of deploying infrastructure can be prohibitive. Worldwide, 750 million people, mostly in Africa, South Asia and other developing regions, lack coverage. But mobile operators and their partners are finding ways to plug these coverage gaps.
One approach is for mobile operators to come together and share the cost of deploying new base stations in locations that wouldn't be economic otherwise. In rural areas, with low population densities, low income levels and minimal infrastructure, it can cost up to two times as much to deploy new base stations and they can be three times more expensive to run, whereas the likely revenues may be 10 times less than in the urban equivalent. To overcome this economic challenge in Tanzania, Airtel, Tigo and Vodacom have built out shared infrastructure to serve 73,000 people living in rural areas. Facilitated by the GSMA, this initiative established six new 3G base stations, which are now used by more than 41,000 people to connect to the internet.
In some cases, mobile operators and equipment vendors have joined forces to bring excluded communities online. A great example is Ericsson's Technology for Good @ Roraima project in Brazil, which extended Vivo's mobile network to bring better coverage to a state experiencing a major influx of refugees from Venezuela [1].
Expanding coverage
On the other side of the world, a sustained effort by China's three mobile operators, supported by the government, has brought mobile coverage to virtually the entire population of 1.4 billion people. Almost every community is now covered by mobile networks offering throughput speeds of at least 4Mbps, and the vast majority can get online at speeds of 20Mbps or more.
For example, China Unicom has extended coverage of fibre broadband and 4G networks to 16,000 villages in remote and western regions of the country since 2016. In 2018 alone, it invested 1.9 billion yuan ($270 million) to expand network coverage in "impoverished areas", according to Unicom's corporate social responsibility report [2].
In neighbouring Mongolia, telecoms operator Unitel is working with its equipment supplier Huawei to bring wireless broadband coverage to the country's highly dispersed population – three quarters of the country's three million people are semi-nomadic and are scattered across the countryside. Using a combination of spectrum bands made available by the government, Unitel is offering families fixed-line style broadband packages through a service it calls Ger Internet (named after a circular tent used in Mongolia).
Launched in January 2017, Ger Internet has since brought more than 50,000 households, 200,000 individuals and 1,200 businesses online. Now 1,800 herders can receive up-to-the-minute weather forecasts, while 35 rural public schools can access videos and other educational materials. Moreover, 74 hospitals are using the Ger Internet service for online consultations, and almost 35,000 rural medical personnel have received continued education courses via the new connectivity [3].
To help operators increase the efficiency of their infrastructure investments, the GSMA has developed a new mapping tool that can pinpoint uncovered areas with sufficient economic potential to deploy profitable cell sites. Governments and regulators can also play a key role by delivering pro-investment and pro-innovation policies that reduce the costs and uncertainty around spectrum allocation and assignments, and remove obstacles to network deployment.
In Mongolia, China, Brazil, Tanzania and many other countries, mobile operators, their partners and governments are going the extra mile to bring the enormous benefits of digital connectivity to as many people as possible. In this way, the mobile industry can fulfil its vision of connecting everyone, no matter where they live, to a better future.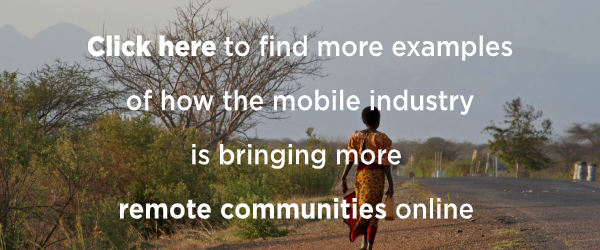 Resources
[1] : https://www.ericsson.com/en/blog/2018/10/digital-inclusion-for-refugees-technology-for-good–roraima
[2] : https://www.chinaunicom.com.hk/en/csr/reports/csr2018.pdf
[3] : https://www.developingtelecoms.com/tech/wireless-networks/7518-connecting-the-unconnected-in-mongolia-case-study.html