Building thriving societies
With 5.3 billion mobile subscribers globally, mobile connectivity has changed the way we live, work, and interact with each other. Shaping our world for the better. Changing our world for good – across society, business and the environment.
In 2016, the mobile industry became the first to commit to the United Nations Sustainable Development Goals, and through our Mobile for Development programme, we have positively impacted the lives of 126 million people.
In low- and middle-income countries, mobile has a significant enablement effect, connecting people and giving them access to information and services they might otherwise not have had, empowering them to transform their lives and communities.
Mobile connectivity driving financial inclusion
Mobile money is a key example of this. Over two billion people around the world remain unbanked, without access to affordable and secure financial services. But over the past 10 years, mobile money has scaled rapidly, connecting over a billion people to the formal economy, offering diverse services and improving lives and financial security. In 2021, the industry surpassed the milestone of $1 trillion in annual transactions globally, and it continues to grow, driving financial inclusion and creating opportunities for individuals and small business owners across the globe.
For many people in low- and middle-income countries, mobile is the primary, and sometimes only way in which people can access the internet. Across the world, 55% of people are now using mobile internet, with much of the growth in the past year driven by people in low- and middle-income countries. In a survey across six countries between 2019 and 2021, our research shows, 38% of mobile internet users reported using mobile to support their education (or that of their children or relatives) at least once a week, compared to 27% in 2019. Similarly, on average in 2021, 21% of mobile internet users said they went online for managing their health at least once a week compared to 16% in 2020 and 15% in 2019. The proportion of mobile internet users who order goods or services online at least once a week increased from 8% in 2019 to 14% in 2021. This data shows that activities traditionally done face-to-face have increasingly moved online and highlights the importance of closing the usage gap globally.
Activities mobile internet users report having done at least once on a mobile phone, 2021 (percentage of mobile internet users)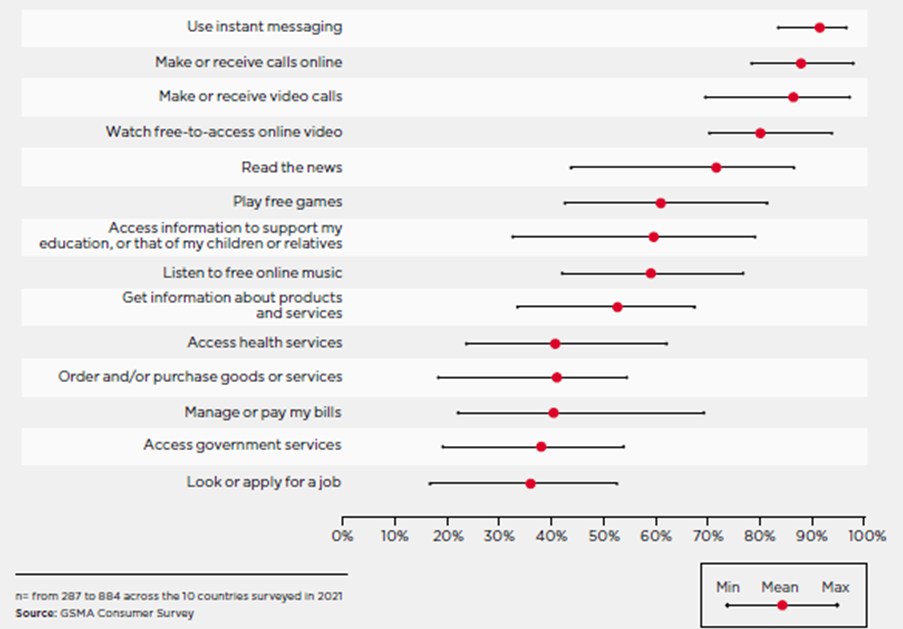 Mobile connectivity driving digital inclusion
One of the biggest barriers people face in accessing mobile internet is a lack of digital skills and literacy. The GSMA Mobile Internet Skills Training Toolkit (MISTT) is working to address this. The toolkit is a set of free resources to teach people the basic skills they need to access and use the mobile internet. Using a 'train the trainer' approach, the short lessons, available in pdf and video format, can easily be adapted to local needs and languages. Since its launch, the MISTT has supported the training of over 50 million people, driving digital inclusion across the world.
---
---
The Connected Women Commitment Initiative is also working to drive digital inclusion for women in low- and middle-income countries. The initiative is made up of over 40 mobile operators who have made formal commitments to increase the proportion of women in their mobile internet and/or mobile money customer service base, and since 2016 they have reached over 55 million additional women with these essential services.
Watch the Connected Women video
---
Mobile connectivity keeps us safe in times of crisis
Over the years, mobile connectivity has also proved crucial in keeping people connected and helping to rebuild communities in times of humanitarian crisis. This was perhaps most clear following the Ukraine crisis this year, where mobile operators were quick to respond with mobile and digital assistance, including free mobile services such as SIMs, roaming, calls and texts, as well as charitable donations.
On a more global scale, the GSMA Mobile for Humanitarian Innovation programme works to build partnerships to deliver safe, efficient and dignified humanitarian assistance to people and invests in innovation to target humanitarian challenges. To date, their work has reached over 9 million people with access to life-saving information and services.
As the world faces increasingly complex challenges, the mobile industry remains committed to leading the way in unlocking solutions that will build a thriving society that is affordable, accessible and sustainable for everyone.