Author: Iain Maxwell
GSMA's second Live Interoperability Test Event (LITE2) took place over 4 days at UL IMS' European headquarters in Leiden, the Netherlands. As per the initial event the focus was again on the interoperability testing of eSIM profiles against eUICCs in real devices or using Local Profile Assistant device (LPAd) simulators, to discover if there were any interoperability issues between the profile suppliers, the eUICC manufacturers (EUMs) during the eSIM profile's journey from the SMDP+ to the eSIM itself.
There were 24 companies consisting of MNOs and MVNOs (assisted remotely by their SM-DP+ vendors), device OEMs, EUMs and test companies who all worked tirelessly together to ensure that as many different combinations of MNO/MVNO profiles and SM-DP+s and eSIMs were tested using both real devices/LPAd simulators to perform the download and installation.

Where it got really interesting this time around was the scope of the testing performed after the profile download and installation was performed. The advantage of having the ASN.1 profile available meant that MNOs, MVNOs or EUMs could use the test tool vendor's profile verification tools at the event to quickly determine if the profile was installed correctly on the eSIM. Once the profile was enabled and acting like a UICC, the test tools verified that the eSIM built the file system correctly including MF, DFs, EFs their attributes and contents. In addition to that it was also possible to check that any additional applications which make up the profile were installed including verification of any SCP keys associated to the applications or the Security Domains.
Not everyone had access to the ASN.1, but a flexible approach to the testing defined by GSMA allowed as much testing to be performed as possible even in this case, using third-party tools. For those that did have the ASN.1 profile to test against it was great to see them being able to analyze, debug and identify issues using the testing and spy tools available at the event.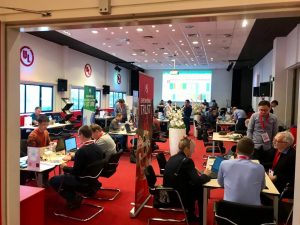 It was great to see so many different companies and competitors working together to achieve the common goal of end to end profile download and usage. It will be interesting to digest the latest
findings from the report of the testing performed at the event to see if the number of successful profile downloads and enabled profiles were increased from the first event.
The eSIM ecosystem is still maturing, so events like this really help to build and underpin a foundation for global interoperability. The lessons learnt benefit the whole eSIM community and you can see how attending really helped resolve issues and provide confidence to all those contributing at the event.
The technical discussions continued long after the event finished each day and well into beer drinking time!
Discover UL's solutions for eSIM interoperability here.