GSMA Fintech Foundry is our Innovation Accelerator where we spin up fixed-term projects supporting new ideas, trials and POCs, through to solving industry problems.
This is the go-to place for cross-industry collaboration and business development, where GSMA members and industry players come together to rapidly develop real-world solutions to industry challenges, nurture new ideas through initial commercial trials and scale proven solutions at a regional and global level to forge our digital future.
Our vision is to unlock the full power of connectivity so that people, industry and society thrive. This enables the mobile industry's mission: to connect everyone and everything to a better future.
Our first wave of projects were anchored in supporting 5G connectivity use cases and now we are exploring opportunities to support key verticals including Fintech. 
The goal is to leverage the reach of the GSMA channels into the mobile eco-system to help drive awareness and scale existing solutions.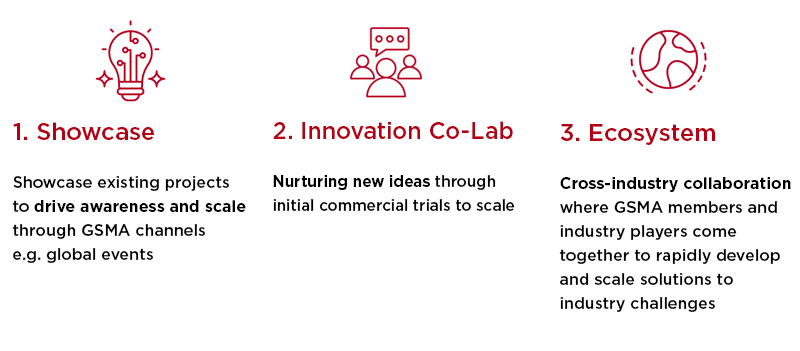 GSMA Foundry Innovation Accelerator was created at the request of GSMA members to help support innovation – nurture and scale. Whether it's an MNO, or one of our partners, we are happy to have a call to discuss and explore how we can support new ideas.
FinTech Foundry Projects
The GSMA Foundry is looking for exciting new collaborative projects that will benefit from collective expertise to address industry-level challenges.
We are looking for projects at all stages – from nurturing brand new ideas to initial commercial trials, through to scaling proven solutions at a regional and global level. Whichever point you are at in developing your project, we would love to hear from you such as:
Creating new propositions to power financial inclusion by entering or disrupting the fintech marketplace
Delivering enterprise solutions to the fintech vertical to support challenges and threats
Fintech products to help run business as usual operations – banking, payments, mobile insurance
You can contact us at fintech@gsma.com with an overview of your idea or existing project.
Example of existing project:
Enterprise Authentication for Financial Mobile Apps – JazzCash in Pakistan
Get Involved
Let us know if you have an exciting new idea, collaborative or existing project. All we need to a short description and we will be happy to discuss in further detail.