GSMA Foundry 5G New Calling whitepaper 2023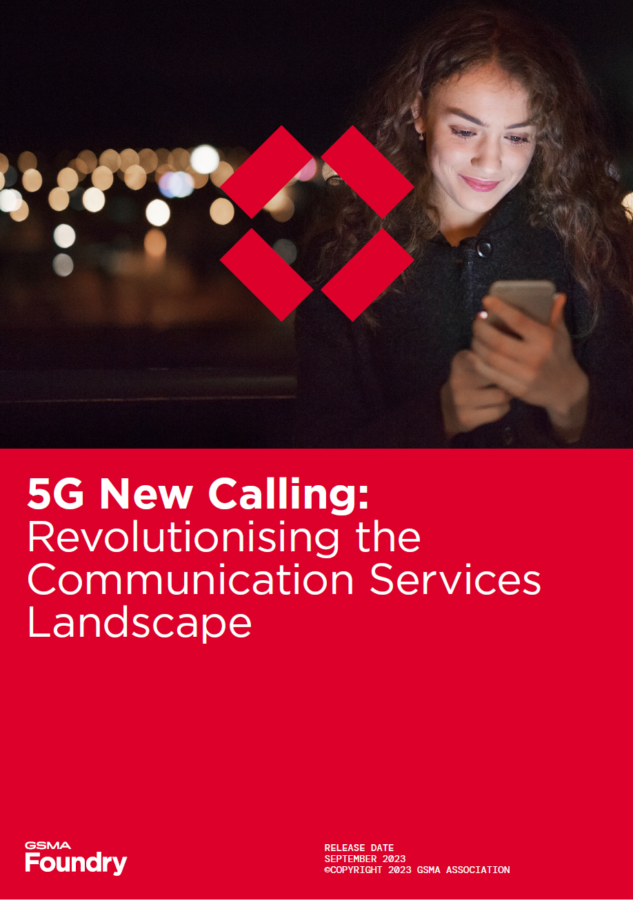 5G New Calling: Revolutionising the Communications Services Landscape
The communication services landscape is on the brink of significant and revolutionary change. Emerging onto the scene is "5G New Calling" (5GNC), a 5G network capability that will leverage the IP Multimedia Subsystem (IMS) and introduce the potential for ultra-HD, intelligent, and interactive personal and enterprise communication services. As a result, 5GNC will vastly expand mobile operator capabilities and stimulate groundbreaking innovations within the communication domain, by opening up opportunities to developer communities to create and distribute new services and applications.
To support 5GNC, there is an emerging new ecosystem involving operators, equipment suppliers, terminal and chip vendors, industry organisations, and content producers, leading the stride in the communications services landscape revolution.
This document, produced by the 5G New Calling GSMA Foundry project team, was edited, contributed and reviewed by CMCC, GSMA, AIS, Huawei, itaú, iFlytech, UNISOC, Xiaomi, Zain Kuwait, China Broadnet, Honor, MediaTek, Meizu and OPPO, takes a look at the role 5GNC will play in the global communications landscape over the next few years following 3GPP's Release 18.
This whitepaper covers the following topics:
An introduction and overview to 5GNC
5GNC use cases
Standardisation progress in support of 5GNC
Product readiness and evolution to support 5GNC
5GNC proof of concepts/pre-commercial trials
Discover more about the GSMA Foundry today and learn how you can get involved in the next Foundry project.
Download your copy of the whitepaper by completing the short form below:
Watch the full LinkedIn Live Webinar with some of the main contributors including CMCC/3GPP, Huawei, itau, Zain Kuwait and GSMA: