GSMA RCS Business Messaging Lab #25 Shanghai – Speakers' Presentations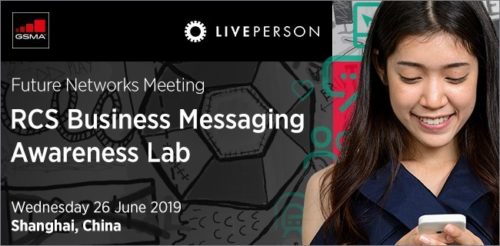 Download the speakers' presentations from the RCS Business Messaging Awareness Lab in Shanghai.
On Wednesday, 26th June, the Future Networks Programme hosted the twenty-fifth GSMA RCS Business Messaging Lab in Shanghai. High profile speakers from leading operators, aggregators, brands and technology partners provided key insights into the current global position of RCS, managing the life cycle of RCS, the use of chatbots, brand campaigns and much more.
Live videos and Presentations from 3C, China Unicom, KDDI, LivePerson, Meizu Technology, Mobilesquared, NTT DoCoMo, OpenMarket, Softbank, SummitTech, Union Mobile Financial Technology, WIT-Software, Xiaoyuan Technology and ZTE are now available to download by completing the short form below or click here.
To learn more about the GSMA RCS Business Messaging Lab series and to register your interest in an upcoming event please click here.
Please note the 3C presentation is not available at this time.
Presentations
| | | |
| --- | --- | --- |
| Company | Speaker | Presentation |
| LivePerson | Eddie DeCurtis, VP of Network Distribution | Correcting the mistakes of the past: Maven RCS was made for carriers |
| ZTE | Zhang Wanchun, Senior Vice President & Wireless BG President | New opportunities of information service in 5G era |
| Meizu Technology | Donghui Zhang, The General Manager of System Application Department | Smart messaging experience update of Flymes |
| Union Mobile Financial Technology | Wang Tong, Vice President | New opportunities for brand and customer communication |
| China Unicom | Guangxu Lyu, Network Technology Research Institute | Thinking on MNO Business Messaging Innovation |
| Mobilesquared | Nick Lane, Chief Insight Analyst | Why the opportunity for RCS is Now |
| 3C | Jeremy Martin, Chief Revenue Officer and Jeff Michaud, VP Client Strategy | Creating Valuable Conversations with RCS |
| KDDI, NTT DoCoMo and Softbank | Hideyuki Koto – KDDI, Shin Mitsuhashi – NTT DoCoMo and Eiko Tanka – Softbank | RCS/MaaP in Japan: Stats & Findings |
| Xiaoyuan Technology | Founder & CEO | The Construction Of Scene Private Domain Traffic Of RCS In The New Internet |
| OpenMarket | Ivan Maksic, Sales Director | Rich Communication Services (RCS): What is all the fuss about? |
| WIT Software | Pedro Andrade, Head of New Product Development | Adding value to the RCS Business Messaging |
| SummitTech | Ron Nessim, Chief Process Officer | Customers, Commerce and Chatbots – Rapid deployment strategies for e-commerce chatbots in RCS |
To download the presentations, please fill in your details in the form below: