GSMA RCS Business Messaging Lab #29 Tokyo, Japan – Speakers' Presentations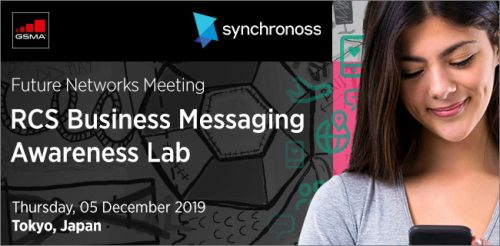 Download the speakers' presentations from the RCS Business Messaging Awareness Lab in Tokyo, Japan.
On Thursday, 05 December, the Future Networks Programme hosted the twenty-ninth GSMA RCS Business Messaging Lab in Tokyo, Japan, sponsored by Synchronoss. High profile speakers from leading operators, aggregators, brands and technology partners provided key insights into the current global position of RCS, managing the life cycle of RCS, the use of chatbots, brand campaigns and much more.
Presentations from IMImobile, Infobip, KDDI, Mobilesquared, NTTDoCoMo, SoftBank, Summit-Tech, Synchronoss, Weare8 and many more are now available to download by completing the short form below or click here.
To learn more about RCS, watch live use cases from GSMA MWC or register your interest in an upcoming event GSMA RCS Business Messaging Lab series.
Please note the presentations from IMImobile and Toppan Forms are not available.
Presentations
| | | |
| --- | --- | --- |
| Company | Speaker | Presentation |
| AI Cross | Soh Suzuki, CTO | RCS Business Messaging – how to fit into real business scenarios |
| IMImobile | Jeremy Martin, Chief Revenue Officer | The Value of RCS: How Enterprise Brands are Delivering Measurable Results with RCS Business Messaging |
| Infobip | Elma Serdarevic, Head of Operator Partnership APAC | How Infobip is driving global RCS roll-out and adoption? |
| KDDI | Toshimichi Kozawa, Group Leader, Product and Service Strategy Department, | The Transformational Journey to Messaging |
| KDDI | Yumiko Kanayama, General Manager of Service Planning Department | Commercial MaaP/RBM use cases & Biz Schemes |
| Mobilesquared | Gavin Patterson, Chief Data Analyst | Why should brands use RCS? |
| NTTCom Online Marketing Solutions | Kazuhiro Kuroda, Director of Mobile Service Department | NTTCom Online's Sales Strategy for RCS/+Message |
| NTT Docomo | Ryokichi Takahashi, Senior Manager – Smart Life Planning Department | MaaP/RBM service features |
| SoftBank | Junko Askura, Director | Overview of P2P service |
| Summit-Tech | Ron Nessim, Chief Process Officer | Chatbot Innovation: Beyond Ads and Customer care Gaming, IoT and interactive VR Chatbots |
| Synchronoss | Mary Clark, Chief Product Officer and CMO | A Look at The Near Future of RCS |
| Toppan Forms | Shuji Baba, General Manager Business Promotion Department, Digital Innovation Division | Introduction of standard operational platform for financial industries |
| Weare8 | Sue Fennessy, Founder and CEO | RCS in the Era of People |
| WIT Software | Pedro Andrade, Head of New Product Development | Why and how RCS can be a good channel to engage with consumers |
To download the presentations, please fill in your details in the form below:
Sorry, an error occurred.