América Móvil and VIAVI Solutions – Creating Business Value through Content Delivery and Analytics
Executive Summary
As part of the Future Networks Programme, Network Economics workstream, a series of case studies have been developed, exploring areas where Operators potentially can reduce their Operational Expenditure (OpEx) and Capital Expenditure (CapEx) while at the same time improve overall Customer QoE and drive new revenue streams. This case study focuses on both the challenges and business opportunities around Content Delivery (CD) delivered through Application User Plane Analytics.
Content Delivery to the subscriber is our focus – how Operator can deliver the best possible experience for the most popular content and services while optimising the OpEx and CapEx models behind the Content Delivery Network (CDN). In addition, and importantly, how Operators can look for new revenue models to monetise the data using Analytics to understand who is doing what and where on the network.
1. Introduction
América Móvil (NYSE: AMX) is the leading provider of integrated telecommunications services in Latin America. Excluding China and India, it is the largest company in terms of wireless subscribers. Through the development of an excellent integrated telecommunications platform, they offer customers a portfolio of value-added services and enhanced communications solutions in 25 countries in Latin America, the U.S. and Central and Eastern Europe.
Headquartered in Mexico City, Mexico, AMX as of Q1 2019 had 277.4 million wireless subscribers. Its Mexican subsidiary Telcel is the largest mobile operator in that country, and it operates under its Claro subsidiaries in many countries in Latin America. AMX revenues for 2018 were US $52.75 B
Content Delivery
With such a surge in Over The Top (OTT) traffic, many operators are trying to cope globally with data demands. AMX wanted to analyse which services and applications subscribers are using and look at how Quality of Experience (QoE) can be improved for those popular applications. In addition, the economic model of content delivery, both in terms of cost and revenue streams, needed to be better understood. Video and the rise of services such as Netflix® or Claro Video are good examples. Content is delivered through Content Delivery Networks (CDN), taking the original website media and copying it across hundreds of servers worldwide. For example, logging into Netflix in Mexico loads a copy of the content from a CDN server that is closest to Mexico, rather than the main Netflix server in the US. This greatly reduces the latency (time taken between a request and a response), meaning programs will load significantly faster, and customers gain improved QoE.
This case study explores the América Móvil (AMX) and VIAVI solutions [1] partnership that enabled AMX to define its analysis requirements including a strategy to capture what and where applications are being used and the effect they have on the network, both in the RAN and the Core.
2. América Móvil and the Solution
AMX collaborated with VIAVI to deploy NITROTM Mobile, enabling AMX to analyse subscriber and application behaviour. VIAVI (NASDAQ: VIAV) is a global provider of network test, monitoring, and assurance solutions to communication service providers, enterprises and the ecosystems, supported by a worldwide channel community including VIAVI Velocity Solution Partners. VIAVI delivers end-to-end visibility across physical, virtual and hybrid networks, enabling customers to optimise connectivity, quality of experience and profitability. VIAVI is also a leader in high-performance thin-film optical coatings, providing light management solutions to anti-counterfeiting, consumer electronics, automotive, defence and instrumentation markets.
With NITRO Mobile, the User Plane as well as the Control Plane, including the location of the subscribers in the network can be analysed, providing details of how a service is connected and working. By capturing this level of detail, AMX can analyse Throughput per OTT, Latency, and Payload of all applications on a local basis. AMX also gains a wealth of insight on usage, enabling it to optimise the customer experience, the investment needed to deploy and manage the network and the Business Model for a CDN.
3. Economic Benefits
Replacement of drive test was initially the main benefit América Móvil achieved from the VIAVI NITRO Mobile geolocation solution prior to implementing NITRO Mobile user plane analysis to analyse services and applications. A further five economic benefits were identified resulting in a Return on Investment (ROI) analysis, which was carried out and expressed below.
3.1 Operator ISP costs
In a standard wireless network, approximately 25% of the total traffic is generated by Video services, and the top two applications are often Netflix and YouTube, generating 86% of the overall total Video traffic. If we consider that most of the Netflix and YouTube traffic is generated by various viral shows and videos, this internet traffic could be significantly reduced by implementing a CDN inside the Telecom operator infrastructure.
In addition, a main use case of 5G will be eMBB (enhanced mobile broadband), meaning that fixed wireless internet access using this technology will be far more prevalent thereby resulting in even more video services being consumed over mobile networks.
3.2 New revenue streams
If telecom operators have "viral content" inside their infrastructure using CDNs, they could offer bundles to consume that viral content without having to pay extra for the internet traffic generated by the subscribers. For example, if the subscriber already has a Netflix subscription, the operator could offer a data plan associated with consuming the most popular series.
3.3 Better QoE for subscribers – Reduce Churn
By having content closer to the subscribers (using CDNs), the expected delays are shorter, and this means better quality of experience. Also, by having visibility on the services and the locations where those services are being used, the operator can spend less on network optimisation, prioritising the most important areas of high-value services.
Users with better QoE directly translates to less churn.
3.4 Reduce RF optimisation efforts
As mentioned before, having the visibility of where the top services are located gives the opportunity to sprioritise and optimise the most important areas where the high-value services are being used.
3.5 Data monetisation
Anonymized and aggregated geolocated information can be used to enhance marketing campaigns. The data can be fed into third-party applications, which creates new revenue streams with the focus on patterns and trends around services and locations as well as mobility.
3.6 ROI exercise
Traditionally, drive test has been used for network rollout (site verification), network s optimisation, and VIP troubleshooting. However, this approach is time-consuming and very expensive while based on synthetic data rather than actual subscriber content.
The ROI exercise focuses on VIAVI NITRO Mobile – which captures, locates, stores and analyses data from all subscriber events, giving operators a rich source of app-aware insight to significantly improve network performance and enrich the QoE. These geolocated events are used to create coverage plots, performance plots, integrity plots, and are then used by engineering departments to optimise the cellular network.
3.6.1 Site verification
Whenever a new site, sector or carrier is put on air, a single site verification (SSV) procedure needs to be performed. Typically, SSV consists of field tests performed to validate that services are up and running (voice, data, etc.) and that Radio Frequency (RF) conditions are not adversely impacted after installing the new element. Using geolocated information, the need for drive testing is significantly reduced:
– The average price for SSV in the LATAM market: $1500
– Depending on the network size, which can be thousands of sites (per technology) with each site normally having four carriers. SSV needs to be done each time a new site is put on air.
3.6.2 Network RF optimisation
After sites are installed and working, they must be optimised continuously. RF environments change (new buildings, obstructions, installation problems, etc.) so continuous monitoring is necessary. Optimisation is performed typically in clusters (a group of sites), and this again can be performed using geolocated subscriber generated insight.
The average price for cluster optimisation in the LATAM market: $10,000 (usually this includes three rounds of drive test around the cluster to validate the optimisation changes when complete)
Depending on the network size, each city can be divided into hundreds of clusters (again, this is per technology)
3.6.3 VIP troubleshooting
On a live network, part of the operation of the network is to address customer complaints, with a heavy emphasis on VIP subscribers. Traditionally this was performed by travelling to the site where the customer experienced poor performance and attempting to replicate the issue with synthetic data. Depending on the network size, this can be problematic (Telcel México alone has +70M subscribers). Using VIAVI NITRO Mobile, the operator can remotely troubleshoot the calls and events of all subscribers, both in real-time and historically.
– The average price for visiting a site: $200 (can be considered as a mini drive test). This is time-consuming because normally the engineer that visits the site must gain authorisation, perform indoor testing, etc.
– VIP subscribers are always prioritised. They typically are high data and content consumers.
With this use case focusing on content delivery and User Plane analysis (which applications the subscribers use in the network), the ROI analysis highlighted above can be enhanced by simply adding the "what" to the "where".
3.7 Network economics
Figure 1 below illustrates the biggest cost intensity saving can be achieved from mobile operators with network presence in Developed High Urban area.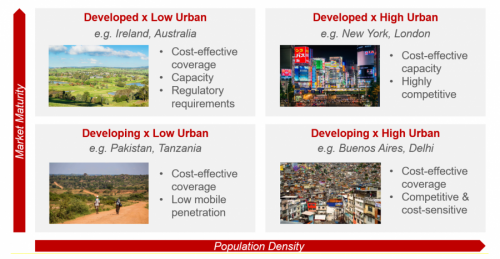 Figure 1 – OpEx and CapEx Savings and Revenues per geographical region
 4. Implementing the Solution
This chapter covers the detailed outcome of NITRO™ Mobile implemented on América Móvil's network highlighting how the data was analysed for the CDN solution.
 4.1 NITRO Mobile solution
NITRO™ Mobile captures, locates, and analyses all mobile events across the RF, RAN, xHaul and core, providing operators with unprecedented insight to optimise the customer experience and drive new revenue streams. Today's mobile service providers face enormous pressures: the evolution to virtualisation, cloud, network automation, IoT, and 5G, massive traffic increases, ongoing demands to reduce CapEx and OpEx. In response, operators are building ultra-dense, massively scalable, automated networks that are difficult to test, and challenging to monitor.
NITRO Mobile – the industry's first real-time intelligence platform meets these challenges head-on. NITRO Mobile solution uniquely connects virtual and physical VIAVI instruments with software-based assurance and optimisation probes, agents, and applications, sharing end-to-end intelligence throughout the network lifecycle.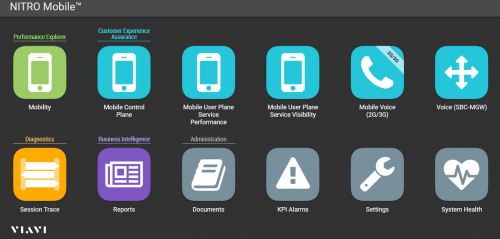 Figure 2 – Nitro Mobile GUI
In focusing on User Plan Analytics, Viavi used two modules of the NITRO Mobile platform:
Mobile User Plane Service Performance: Analysing multiple KPIs per service, including throughput, application success rate, retransmission, and delay. In this case study, Netflix and YouTube were the services compared.
Mobile User Plane Service Visibility: Analysing the applications that are demanding more traffic from our network gives visibility to the operator which applications should be the focus as part of their ongoing business.
In order to classify the User Plane traffic (which apps are being used), VIAVI employs a patented method as illustrated in figure 3 that increases the service classification to near 100%.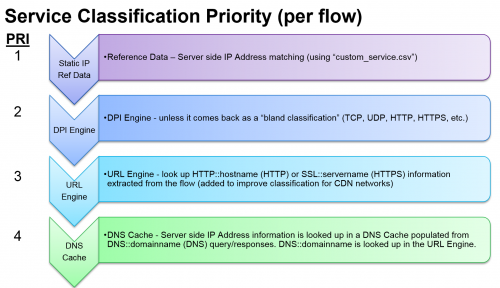 Figure 3 – VIAVI service classification
4.2 Motivation for analysing content delivery networks solution
Game of Thrones is an American fantasy drama television series from HBO with 73 episodes broadcast over eight seasons. The eighth and final season premiered on April 14, 2019, and concluded on May 19, 2019. Using NITRO Mobile, it was possible to see the impact users had on the network in terms of total traffic downloaded. The HBO application was downloaded nine times more than the average traffic, as demonstrated in figure 4: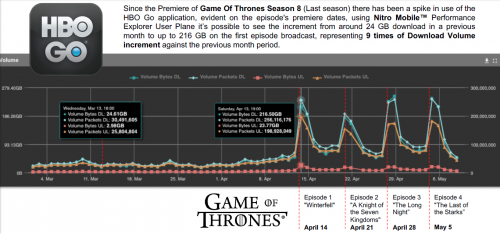 Figure 4 – Game of Thrones – HBO application analysis
The downlink throughput also increased by a factor of nine (demonstrated in figure 5). With this analysis, it is possible to see how a viral application can affect network performance, and could potentially cause bottlenecks in different network elements (RAN, core interfaces, Interconnection with ISP, etc).

Figure 5 – Game of Thrones – HBO throughput analysis
4.3 Video traffic in the operator
As mentioned in section 5.1, "Mobile User Plane Service Visibility" is used to analyse the services in the Long Term Evolution (LTE) network. Metrics can be aggregated by dimension (devices, services, services group, subscribers, etc.). For example, in figure 6, the Device B315s-519 (LTE modem for internet at home) is the most used in the network (in terms of metric=Volume Bytes DL).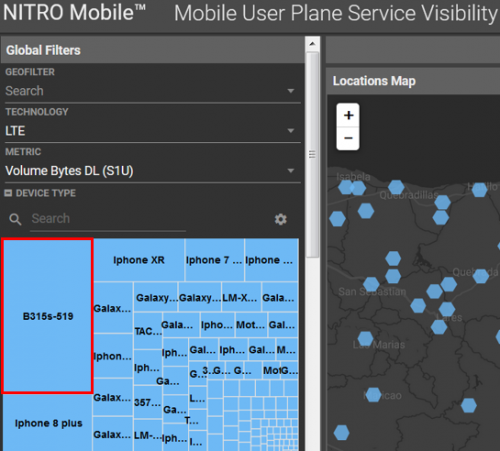 Figure 6 – NITRO Mobile – User plane service visibility
If the same Volume in bytes downloaded in LTE is analysed, but using the Service Category and Service name dimension, the following result in figure 7 is given: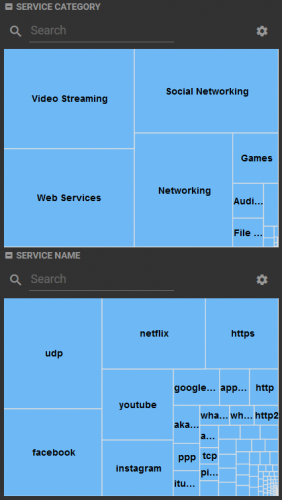 Figure 7 – NITRO Mobile – Volume by service category and service name
Filtering the service category = Video Streaming, the services being used in the network can be seen as illustrated in figure 8: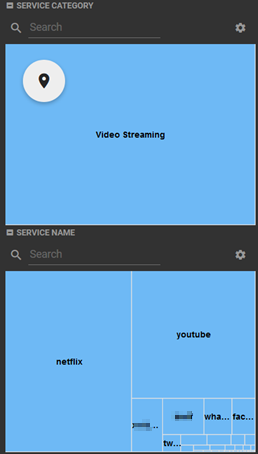 Figure 8 – NITRO Mobile – Volume by service category VIDEO STREAMING
In relation to the total video traffic of the network, 51% belongs to Netflix traffic, and 35% belongs to YouTube traffic as shown in figure 9, demonstrating how the Mobile User Plane Service Visibility can be used to analyse the services in the LTE network.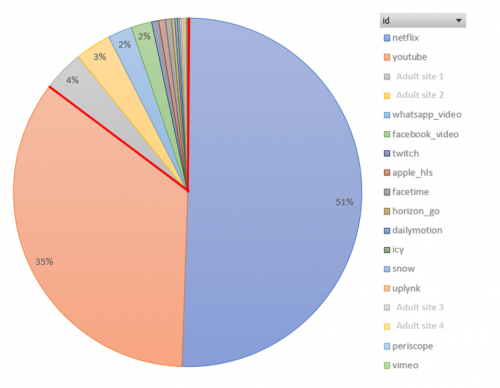 Figure 9 – NITRO Mobile – Volume by service category VIDEO STREAMING distribution
 4.4 KPIs related to video services
As indicated in figure 10, application KPIs can also be obtained using the "Mobile User Plane Service Performance" module. Indicators including Application Success Rate, Transmission Control Protocols (TCP) success rate, Throughput, retransmissions, and delays are available for different dimensions (services, devices, locations).
Figure 10 – NITRO Mobile – Mobile User Plane service performance
As demonstrated in figure 11, the TCP retransmission for YouTube service can be seen. Each column represents a 15-minute time period, the colour is the range of the KPI (in this case TCP retransmission DL) and the size of the colour represents the percentage of traffic.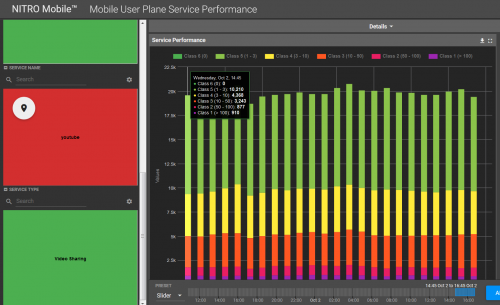 Figure 11 – Youtube TCP retransmission DL
In this example (figure 12), Netflix (same TCP retransmission KPI), has less of a percentage of retransmissions in the range of 0-1% and more in the range of 1-2% compared with YouTube.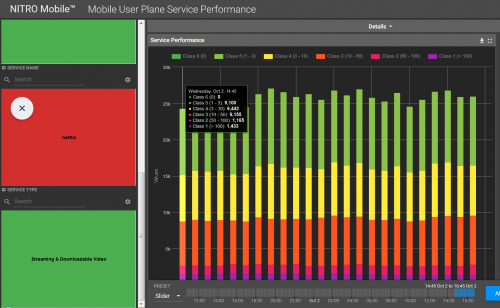 Figure 12 – Netflix TCP retransmission DL
Figure 13 shows the TCP delay for the YouTube service. Each column representing a 15-minute time period, the colour the range of the KPI (in this case TCP delay DL – measurers in milliseconds) and the size of the colour highlights the percentage of traffic.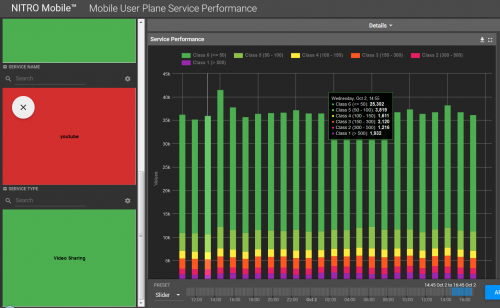 Figure 13 – Youtube TCP delay
In this example, figure 14 highlights Netflix (same TCP delay KPI) as having less percentage of delay in the range of 0-50ms when compared with YouTube.
Figure 14 – Netflix TCP delay
Using these metrics, operators can monitor the performance of all services, before and after implementing CDN solutions.
4.5 CDN solutions
A Content Delivery Network (CDN) takes the original website and the media content it contains and copies it across hundreds of servers spread all over the world, as displayed in figure 15.
CDNs are the reason why websites with a huge number of users, such as Google, Facebook, or YouTube, manage to load quicker irrespective of where the user is located or what the Internet speed is.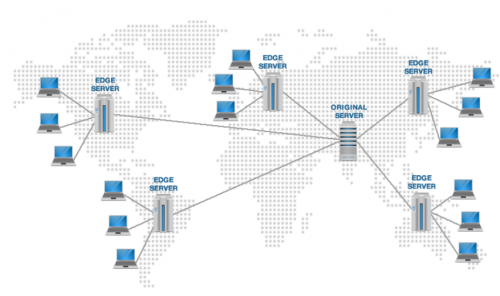 Figure 15 – CDN in a nutshell
Although the benefits of using a CDN vary depending on the size and needs as expressed in the following section by Google and Netflix, the primary benefits for most users can be broken down into four components:
Improving website load times
By distributing content closer to website location, visitors experience faster page loading times. As visitors are more inclined to click away from a slow-loading site, a CDN can reduce bounce rates and increase the amount of time that people spend on the site. In other words, a faster a website means more visitors will stay and stick around longer.
Reducing bandwidth costs
Bandwidth consumption costs for website hosting is generally an expense, through caching and other CDNs can reduce the amount of data an origin server must provide, thus reducing hosting costs for website owners.
Increasing content availability and redundancy
Large amounts of traffic or hardware failures can interrupt normal website function, but a CDN can handle more traffic and withstand hardware failure better than many origin servers, mitigating its disruptive nature.
Improving website security
A CDN may improve security by providing DDoS mitigation, improvements to security certificates, and other
4.5.1 Google solution
Various solutions for CDN exist. For example, the Google proprietary solution for CDN is called Google Global Cache (GGC).
GGC Features
Transparent to users
Google transparently serves user requests from caches inside the network.
Reduced external traffic
Typically, between 70-90% of cacheable traffic can be served from GGC. Cache hit rates will vary based on the unique consumption patterns of end-users on each operator's network.
Robust
GGC provides resilience through multiple levels of redundancy, which are transparent to users. Google ensures that users are always served from the best available data location, even in the event of a temporary outage.
Easy to set up
Google provides the GGC hardware. Operators need only to provide rack space, power, a keyboard & monitor, and a connection to the network. Once the initial setup is complete, Google takes care of the remote operation of the cache.
Configuration Overview
Google maintains a web portal for operators; however, operators need to provide Google with the following information:
Shipping instructions, contacts, and addresses
Technical point(s) of contact for node operations
IP subnet addresses (IPv4/IPv6) for the GGC node
Peer ASN and IP address (IPv4/IPv6) for a BGP feed to the GGC node
The maximum rate of traffic to egress from the GGC node towards your users
GGC install guide
Google provides complete documentation about how to install the necessary hardware. Information can be found in this link:
https://www.gstatic.com/isp/docs/ggc-installation.pdf
4.5.2 Netflix solution
Another CDN proprietary solution is Netflix, which is known as Open Connect Appliances (OCAs).
Characteristics
Provided free of charge to qualifying partners
Netflix appliances are provided free of charge for ISP partners who meet basic requirements, but they are not for sale to other parties.
Designed for high availability
OCAs include redundant system drives, power supplies, and network interface ports. If a hard drive fails, it is automatically disabled, and the system will continue to function normally. If enough hard drives fail, Netflix will replace the appliance by shipping a new one.
Have no user-serviceable components, with the exception of power supplies and SFP+ optics:
Netflix will ship replacement power supplies or optics in case of failure at no cost to the ISP.
Continuously monitored for health and performance by Netflix
Netflix will monitor the health and performance of each OCA as soon as it is reachable from our Network Operations Center (NOC). OCAs report health values and get their configuration from the Open Connect supporting services. Health and system load information feedback is automatically incorporated into Netflix content routing decisions.
4.6 Optimizing RF targeting areas where video services focus
NITRO Mobile geolocation solution can gain the advantage of User Plane monitoring as illustrated in figures 16 and 17 by showing coverage plots for the different services (Facebook, YouTube, Netflix, Whatsapp, etc.). This way, optimisation efforts can be focused on the areas where the most important services are being generated (hotspots).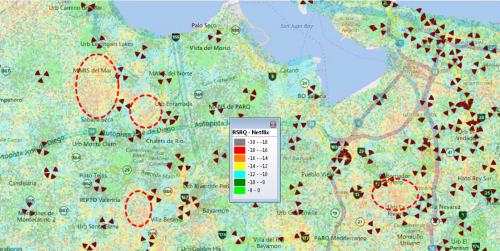 Figure 16 – LTE Quality when subscribers are using Netflix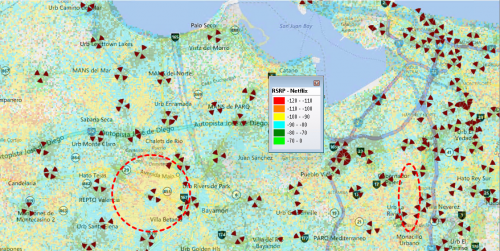 Figure 17 – LTE coverage when subscribers are using Netflix
Operators save time because the need to move teams throughout the network is eliminated. Rather, operators can prioritise clusters where subscribers demand more from the network.
 4.7 Video traffic and 5G
5G Fixed Wireless is generating a lot of interest as one of the main initial use cases for operators deploying 5G technology. This is partly driven by the fact that higher frequencies used for initial 5G services are well suited to deliver high-speed Fixed Wireless broadband as explained by figures 18 and 19.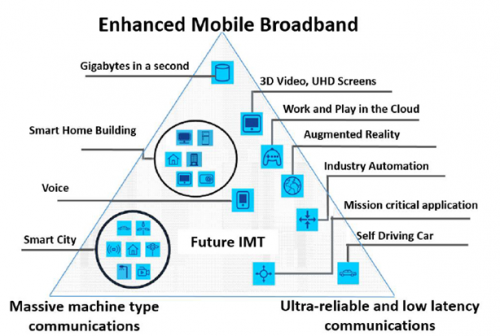 Figure 18 – 5G use case families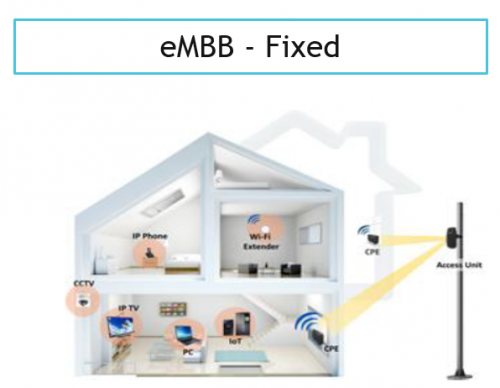 Figure 19 – 5G Enhanced mobile broadband
Network speed is one of the main selling points for fixed broadband services. Operators advertise headline speeds and differentiate offerings based on speed in a manner that does not happen in the mobile market. This creates higher user experience expectations and a sustainable minimum speed is, therefore, a must.
Fixed broadband will mainly serve HD televisions (4k, 8k), leading to an exponential increase in video traffic in the cellular network. This fact strengthens the need to install CDNs in the telecom infrastructure.
 5. Challenges / Lessons Learned
When carrying out any project, one of the most common challenges is always ensuring the right team with the right expertise is involved. Without this, it will be practically impossible to leverage the full potential of the NITROTM Mobile solution. In addition, a common challenge is applying data science skills to the right dataset enabling a smooth project delivery and maximum impact.
 6. Conclusion
The powerful NITROTM Mobile solution is able to reduce the costs associated with drive testing while at the same time enabling the business benefits of deploying a CDN. This was made possible through automation, and centralisation of information gathering as well as,  developing insight on where services are used, and what applications are being used. Insights gained include:
How to optimise the network
What QoE is being delivered and how to improve it
The impact of video on the network
How to best manage VIP customers
How would a CDN benefit the business and subscribers
Significant granular insight was gathered to address the OpEx issues associated with drive testing around RF optimisation, which América Móvil performed.
The Use Case also explored content delivery to the subscriber, highlighting how to create and deliver the best experience possible for the most popular content and services while optimising the OpEx and CapEx models behind the Content Delivery Network (CDN). In addition, new revenue models for monetising the data and using Analytics to understand what is happening on the network were identified, ensuring a shorter ROI for Site Verification and Network RF optimisation.
Disclaimer
The GSM Association ("Association") makes no representation, warranty or undertaking (express or implied) with respect to and does not accept any responsibility for, and hereby disclaims liability for the accuracy or completeness or timeliness of the information contained in this document.
The information contained in this document may be subject to change without prior notice.