Who: Jose Antonio Aranda, Cellnex
When: MWC19, Barcelona
DAS as a Service
The GSM Association ("Association") makes no representation, warranty or undertaking (express or implied) with respect to and does not accept any responsibility for, and hereby disclaims liability for the accuracy or completeness or timeliness of the information contained in this document.
Executive Summary
As mobile data consumption is growing at a compounded annual growth rate of nearly 40% at same time users demanding seamless experience, MNOs are intensifying the densification of the networks and preparing them for digital transformation and 5G. The neutral host model addresses the cost challenge of network densification and improves cost-efficiency.
This case study focuses on the cost-effective coverage and capacity solution provided with a DAS (Distributed Antenna System) as a Service (DASaaS) concept that enables two or more operators to use the same network infrastructure (i.e. enabling neutral host models).
With DASaaS, Cellnex assumes the role of neutral host and works together with the mobile network operators (MNOs) and venue managers/owners on a case-by-case basis to ensure that the service meets customer expectations from their initial concept to the end-of-life. This customer-focused engineering establishes an end-to-end approach in all areas; coverage, features, future-proofing, and cost. This solution is expected to facilitate the deployment and operation of mobile communications infrastructure, relieve some of the pain MNOs' experience and enable significant cost savings.
Cellnex offers flexible CapEx and OpEx schemes to fit MNOs' financial requirements better. The Cellnex model works in a personalised way for every project, which allows costs minimisation while fulfilling all the MNOs' needs. The cost of a DAS system varies depending on variables such as performance and the type of venue to be covered. For buildings, in most of the cases, CapEx of multi-operator solutions ranges between 2.5 €/ m² to 12.00 €/m². In any case, the DASaaS offered by Cellnex has many substantial advantages compared to a single-operator and even to a multi-operator deployed by the MNOs themselves.
The CapEx savings are highly dependent on the requirements, technology, and number of MNOs that share the infrastructure. According to Cellnex experience, the CapEx savings per MNO for a multi-operator DAS system compared to a single-operator one ranges from 35% to 65% per MNO, depending on these factors.
Please login above to view OpEx/CapEx saving figures.
1. Introduction
Cellnex Telecom is a leading infrastructure operator for wireless telecommunication in Europe, with a network of more than 28,000 sites. Cellnex has a presence in six countries and offers to its customers a range of services to guarantee the conditions for reliable and high-quality transmission of voice, data and audio-visual contents. Cellnex also possesses a multidisciplinary team of more than 1,300 qualified professionals that allow the company to progress as a successful and benchmark business project, becoming one of the main infrastructures and telecommunications operators in the European market.
Among the various products and solutions in its portfolio, Cellnex has a neutral host solution for DAS (Distributed Antenna System), as well as other wireless technologies to provide tailored capacity and coverage for mobile networks. DAS is a network of spatially separated antenna nodes connected to a common source via a transport system that provides wireless services within a geographical area or a building. DAS can be installed in buildings or even under certain conditions in outdoor premises, e.g., transport infrastructures, to boost wireless signals inside them. They are often located within large facilities such as stadiums or company premises.
Cellnex gained competence in DAS and Small Cells when it acquired CommsCon in 2016. CommsCon is an expert in the development of applications based on DAS and Small Cells and a benchmark for mobile coverage systems in areas of high attendance like large sports facilities, underground systems, hospitals, commercial malls, etc. The DAS and Small Cells systems are one of the core infrastructures from which the new 5G communications standard will be deployed, and therefore Cellnex will be able to supply state of the art and cost-effective solutions to its MNOs' customer base.
2. Business Imperative
Connectivity is becoming an additional utility and users are making data consumption grow at a compounded annual growth rate of nearly 40%. Mobile users are demanding first-class connectivity in all kinds of premises and situations to have a seamless experience. That means that connectivity is necessary anywhere and anytime.
Venue managers and companies have already realised that fitting buildings with optimal in-building cellular coverage improves employee productivity and is highly appreciated by their employees and companies. Building automation, assets tracking, and other IoT applications also require reliable wireless coverage. Good connectivity increases the value of the property, increases productivity, improves satisfaction, and boost commercial activity. Digital transformation will make reliable mobile connectivity even more essential.
Macro base stations are not enough to tackle this growing connectivity needs, MNOs' also need to densify their networks. Demanding scenarios like stadiums and hot-spots often suffer from a shortage of capacity, and other challenging scenarios such as subway and tunnels, which often suffer from a lack of coverage and poor quality. DAS is a reliable solution to meet the coverage and capacity requirements of today's wireless subscribers inside the most difficult-to-connect and crowded locations.
The wireless industry has been pursuing different service delivery models designed to offset the high costs while ensuring favourable coverage and capacity. With the neutral host model, the ownership and the management of the solution shift towards a 3rd party that assumes all financial, regulatory, legal and technical responsibility for designing, deploying, installing and maintaining the system. Cellnex, as a neutral and independent host, assumes the role of a single point of contact and works together with all MNOs and venue managers/owners to provide tailored solutions, while reducing the operational burden to the involved parties. Cellnex provides multi-operator solutions based on a shared infrastructure that is shared by the MNOs. As a result, the TCO per MNO is reduced. This, together with the investment capacity of Cellnex and the offering of flexible business models and improves the business case for the mobile operators.
3. DAS as a Service
3.1. DAS technology
DAS is a network of spatially distributed antennas and remote units connected to a common source, thus providing wireless service within a specific geographic area. The RF signals to and from the mobile operators macro base station are combined and piped through a system of multiple antennas.
There are different DAS technologies to fit particular needs better. The most usual DAS solutions are:
Advanced DAS is very low-power solutions with end-to-end IT structured cabling that enables advanced features by distributing radio functionalities to the antenna; this solution is also called DRS (Distributed Antenna System), C-RAN DAS, or even assumed to be Small Cells by some vendors or parties such as the Small Cell Forum.
Active DAS is a flexible and scalable solution that digitalises the RF signals and distributes them within the venue.
Passive DAS distributes the signal with passive elements and cabling. It also guarantees high performance in mid-size venues.
Repeater DAS is a solution that minimises the cost by using off-the-air donor signal from the macrocell network. This solution is appropriate for scenarios where extra capacity is not needed.
With DASaaS, Cellnex proposes a successful Neutral Host model based on the implementation of multicarrier and multiband DAS solutions. DAS systems provide the following advantages:
Coverage: small antennas are installed along the building to provide the most tailored and homogeneous coverage.
Capacity: flexible solution in terms of radio resources, sectors and bands.
Scalability: DAS is scalable to meet future capacity requirements, or include new operators, by adding additional bands or nodes.
Spectrum: DAS efficiently uses MNOs existing spectrum through multiple low-power transmission points.
Interference: DAS reduces interference through low radiation antennas and lower output power.
Environmentally friendly: Distributed and discreet low power antennas and tailored engineering lead to less power consumption and radiations.
The high capacity and net neutrality characteristics of DAS solutions have made them an accessible technology to be used in large and congested public venues such as stadiums, shopping centres, and skyscrapers. On the road to 5G, DAS solutions are continuously evolving to add new functionalities, improve cost-efficiency, reduce footprint and adapt to C-RAN and V-RAN typologies. End-to-end digital solutions with IT structured cabling is on the rise. Beyond Passive and Active DAS solutions, a new Advanced DAS is emerging in the market. This solution is also called DRS, C-RAN DAS, or even assumed to be Small Cells by some third parties. Advanced DAS is very low-power solutions that open the door to advanced features such as improved positioning by distributing radio functionalities to the antenna. There's also a shift towards C-RAN (Centralised RAN) architecture, where centralised baseband functionality is shared across a large number of distributed radio nodes to deliver benefits such as resource pooling, multi-cell coordination, and energy efficiency.
Other Heterogeneous Network or HetNet infrastructure technologies such as Small Cells and carrier Wi-Fi are also part of Cellnex and evaluated on a case-by-case basis to provide the optimal solution for each scenario. Some of these technologies are not mutually exclusive. On the contrary, they may be complementary. Some DAS vendors are developing equipment that allows other IP equipment like Wi-Fi APs or cameras to be daisy-chained to the DAS radio. That's why Cellnex's approach is integral.
In short, Cellnex does not only offer DAS systems but a wide range of tailored solutions for the increasing need for coverage in complex scenarios. Cellnex participates in several initiatives to boost innovation and adopt the most outstanding industry solutions and help operators and enterprises to prepare the smoothest transition to higher speeds and capacities in the near future.
3.2. Neutral host model
Cellnex plays the role of a real and independent neutral host and manages the complete life cycle of the solution: permits, design, installation, commissioning, O&M, and service quality assurance. Cellnex manages multi-operator solutions so that that different MNOs can use the same telecom infrastructure. The alignment with mobile operators is a speciality that requires a lot of experience, as well as in-depth knowledge of radio networks. Cellnex has a vast experience in DAS (more than 1.500 nodes implemented), and its role of coordination reduces the time to market while providing an excellent quality of service. Sharing infrastructure results in an improvement in cost efficiency and minimises the visual impact of the installations.
Cellnex business open model as a neutral host is beneficial for all parties in the value chain while providing the best solution for the end-user. Venue managers and owners can grant universal connectivity for all users no matter which MNO they subscribe. The neutral host model allows landlords to minimise operational and management burden while trusting a long-term technological partner with know-how on how to deploy the latest technology upgrades. They can also benefit from long-term contracts for the infrastructure, independent of the telecommunication services contract that can be re-negotiated more frequently. The value and the attractiveness of the venue are increased in consequence.

Figure 1. Improving venue value and desirability
Users and venue visitors benefit from excellent user experience no matter which MNO is their service provider. This directly impacts on the commercial activity carried out in the venue.
DAS antennas transmit very low power – typically between 20-100mW, that is around 100 times less than a traditional macro base station. Small antennas are installed along the building to provide the most tailored and homogeneous coverage. DAS systems are, therefore, ideal to avoid areas with high radiations. Mobile phones connected to in-building antennas usually transmit much less power, since they don't need to reach stations that are further away — reducing exposure to electromagnetic radiation.
Distributed and discreet low power antennas and tailored engineering can also lead to less power consumption. The fact that mobile phones need to transmit less power brings about another benefit: the mobile battery life is extended. In that regard, it's worth mentioning that the Integrated Management System implemented in Cellnex follows ISO 14001 for Environmental Management and OHSAS 18001 for Occupational Health and Safety, as well as ISO 9001 for Quality Management and ISO 27001 for Information Security Management.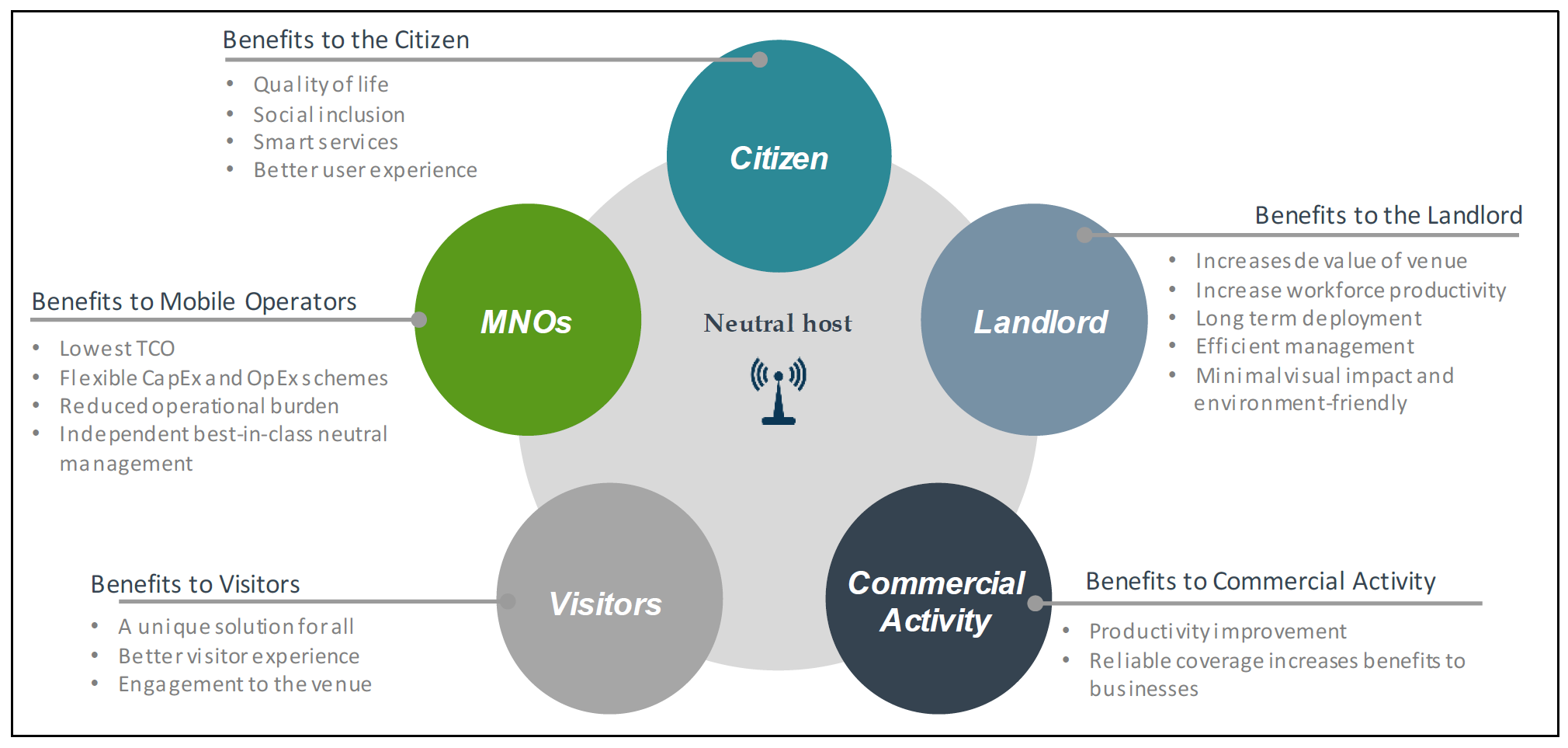 Figure 2. Benefit of DAS neutral host model for all stakeholders
3.3. Benefits for MNOs
DASaaS provided by Cellnex is beneficial for MNOs in terms of:
CapEx and OpEx savings and flexible business models

Flexible CapEx and OpEx schemes depending on MNO financial requirements and customised for each MNO,
Lowest TCO thanks to shared investment, efficient deployment and O&M.
Time to market to prime locations

Access to a portfolio of prominent and preferred venues,
Accelerate roll-out: significant less lead time for deployment thanks to efficient landlord negotiation and strict SLAs,
Desynchronisation of MNO deployment plans.
Reduced operational burden and quality of service:

Single point of contact,
Independent best-in-class neutral management,
Customised design for MNOs,
Non-discriminatory service,
Strict SLAs and 24/7 NOC,
State-of-the-art technology and reliable solutions,
Vast experience and references minimise risks.
With a long-term commitment to the infrastructure, Cellnex provides end-to-end solutions ensuring the best QoS for its operator customers. Cellnex remotely supervises 24×7 the coverage and capacity solutions from the Network Operations Center (NOC) run by DAS experts. These continuous monitoring of the system, together with on-site operations and maintenance by qualified personnel guarantees a high level of availability and the highest standard of quality of service. Cellnex works side by side with the owner/manager of the venue and the MNOs to define the specific SLAs that better fit for each scenario. Typical parameters that Cellnex considers to provide the highest levels of service are a percentage of annual availability, drop call rate, levels of the received signal, signal to noise ratio and percentage of covered area.
And last, but not least, MNO can benefit from improved financial KPIs and outsourced operation. CapEx and OpEx can be saved for MNOs with flexible business models offered by Cellnex.
3.4. DAS as a Service
Beyond the technical solution provided with the DAS architecture and the selected business model, Cellnex is committed to providing the full resolution in a worry-free manner, thus including all the needed services and activities to ensure minimal disturbance to the customer.
DAS as a Service minimises the operational burden to the customer, but in any case, the interaction with the MNOs and the landlord is essential especially during the requirements definition phase and also during the optimisation and fine-tuning of the service. Cellnex works together with the landlords and MNOs to ensure that the service meets customer expectations from their initial concept to the end of life. This customer-focused engineering establishes an end-to-end approach in all areas: coverage, features, future-proofing, and cost. It is also crucial to properly analyse which services will be implemented in the future to decide what kind of system and cabling is needed. This effectively circumvents the critical barriers to deployment for operators.
Operators can now relieve their concern on the barriers ranging from site acquisition, permits and approval process, power supply, backhaul network, OpEx and ROI on services.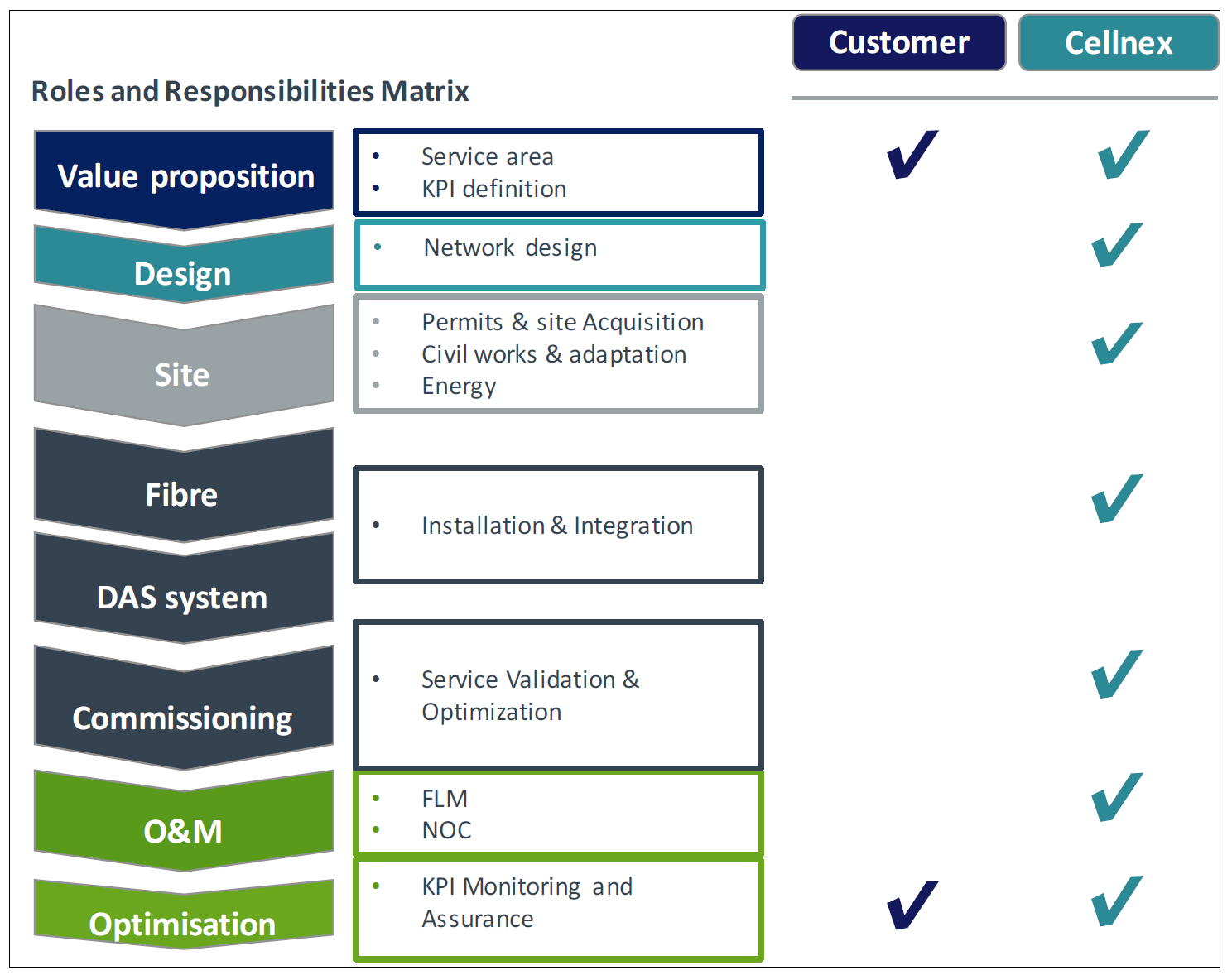 Figure 3. DAS as a Service
Cellnex covers all aspects in the business chain, from the initial pre-sales activities to the KPI monitoring, and the E2E technical implementation, from the initial design to the high-quality O&M once the solution is fully deployed.
To complete the conceptual design of the solution, Cellnex tackles the site acquisition and landlord agreements, the approval process for delivery, the cost and ability to supply power and air conditioning, backhaul connectivity, and the financial KPIs (OpEx and ROI expected).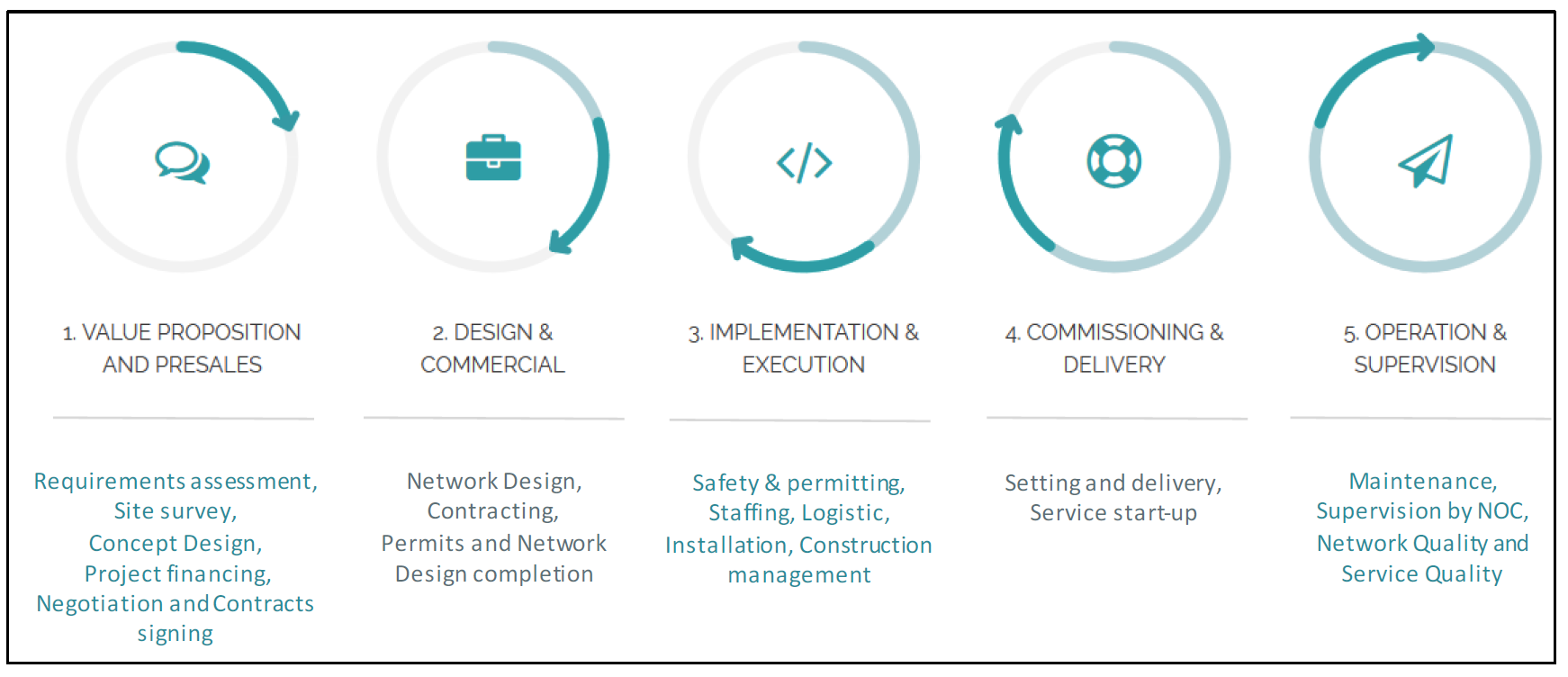 Figure 4. As a Service turnkey solution
Cellnex Business model is an open method flexible enough for each use case and focusing on DAS as a Service.
4. Economic Benefits
Cellnex works together with all the stakeholders to ensure that the service meets customer expectations from their initial concept to the end of their life. This customer-focused engineering establishes an end-to-end approach in all areas, offering the opportunity to share deployment cost and maximise synergies between all the MNOs. The technical solution is tailored for each MNO, mainly in terms of:
Number of sectors: Cellnex deploys the number of sectors required for the most demanding MNO and aggregate sectors for the other MNOs
Number of bands: from 1 to 6 bands, as a function of capacity and technology demand
Time requirements: sectors and bands can be deployed on-demand as MNOs need it.
A typical case is when an MNO gets a contract to provide SIM cards to a fleet in an office building. Then this MNO needs to improve the performance in the venue. These contracts are generally short in time (3 to 5 years is a characteristic example); however, Cellnex invests with long-term schemes, that way a specific MNO can adapt its needs in time without being bound to a short-term contract, driving the economic benefits for the MNO.
The model assumed by Cellnex reverts in a cost reduction for the MNO and a transparent service for the landlord, becoming an optimal solution for all involved parties.
Cellnex's vast expertise in DAS services has shown us that the cost of a DAS system deployment varies depending on the following factors:
Location and environment: Macro sites interferences from outside venues will affect the coverage inside the venue. In extremely interfered places, it will be required reinforcement of the internal radio signal meaning extra CapEx (up to a factor of x2), while in cases of total isolation the same equipment will give a better signal performance.
Performance: Expected technical performance, user experience, and future-proofing drive to the most suitable technology and approach to fulfil expectations. Parameters such as diversity (SISO, MIMOx2, MIMOx4), number of frequency bands or KPI related to signal quality and strength of the signal will have a strong influence on the kind of system to deploy. A top-performance system might make the CapEx differ up to a factor of x2.5 compared to very basic performing system.
Type of venue: The kind of building will influence the engineering of the solution; inner walls, types of construction or materials define the indoor radio structure. Constructions with thick inner walls and/or small rooms induce to improve the coverage by adding more radio equipment. On the other hand, venues with wide-open spaces facilitate the coverage and can reduce the CapEx up to half.
Area to cover: Considering the same kind of solution, large venues usually benefit from a lower CapEx per square meter (up to a factor of x0.8 compared to small sites). In any case, Cellnex proposes different technological solutions to meet customer expectations at the same time that minimises the cost.
User Experience: Moreover, venues will benefit from a better client/user experience with a unique intermediary.
Operational Management: At the operational level, infrastructure management of an intermediary facilitates and brings a differential added value for the venue in lead time.
Thus, the cost of a DAS system varies depending on the variables mentioned above. Cellnex model works in a personalised way for every project, which allows costs minimisation while fulfilling all the MNOs' needs. For buildings, in most of the cases, CapEx of multi-operator solutions ranges between 2,5 €/ m² to 12,00 €/m².
Therefore, the costs of a DAS solution are highly dependent on some factors and requirements, and also depends on the kind of technology to be used. In any case,  considerable efficiencies using shared DAS infrastructure can be achieved.
Please login above to view OpEx/CapEx saving figures.
5. Wanda Metropolitano Project
Stadiums are an excellent example of the data explosion phenomena and the adoption of new apps and functionalities by the user in the mobility environment. For instance, during the last Superbowl final, 55 TB of data was consumed over the mobile network. In recent years we have seen growth around 100% in the consumption of data traffic in stadiums. Social media is having a significant impact on sports. Today, fans use their smartphones to share their fan experience with the rest of the world. It has been reported that the top apps used during a match are usually related to social media, photo and video sharing.
Cellnex has a vast experience deploying these solutions in this kind of venues and has rolled-out multi-operator systems that can be used by all the operators and subscribers in stadiums such as San Siro in Milan, Juventus Stadium in Turin and Olimpico in Rome. Cellnex has recently deployed an advanced DAS in Wanda Metropolitano, the new Atlético de Madrid football club stadium with a seating capacity for 67,703 fans. To provide a seamless experience, not only the seating area was covered, but also the playing field for music concerts, the indoor areas, and outdoor premises.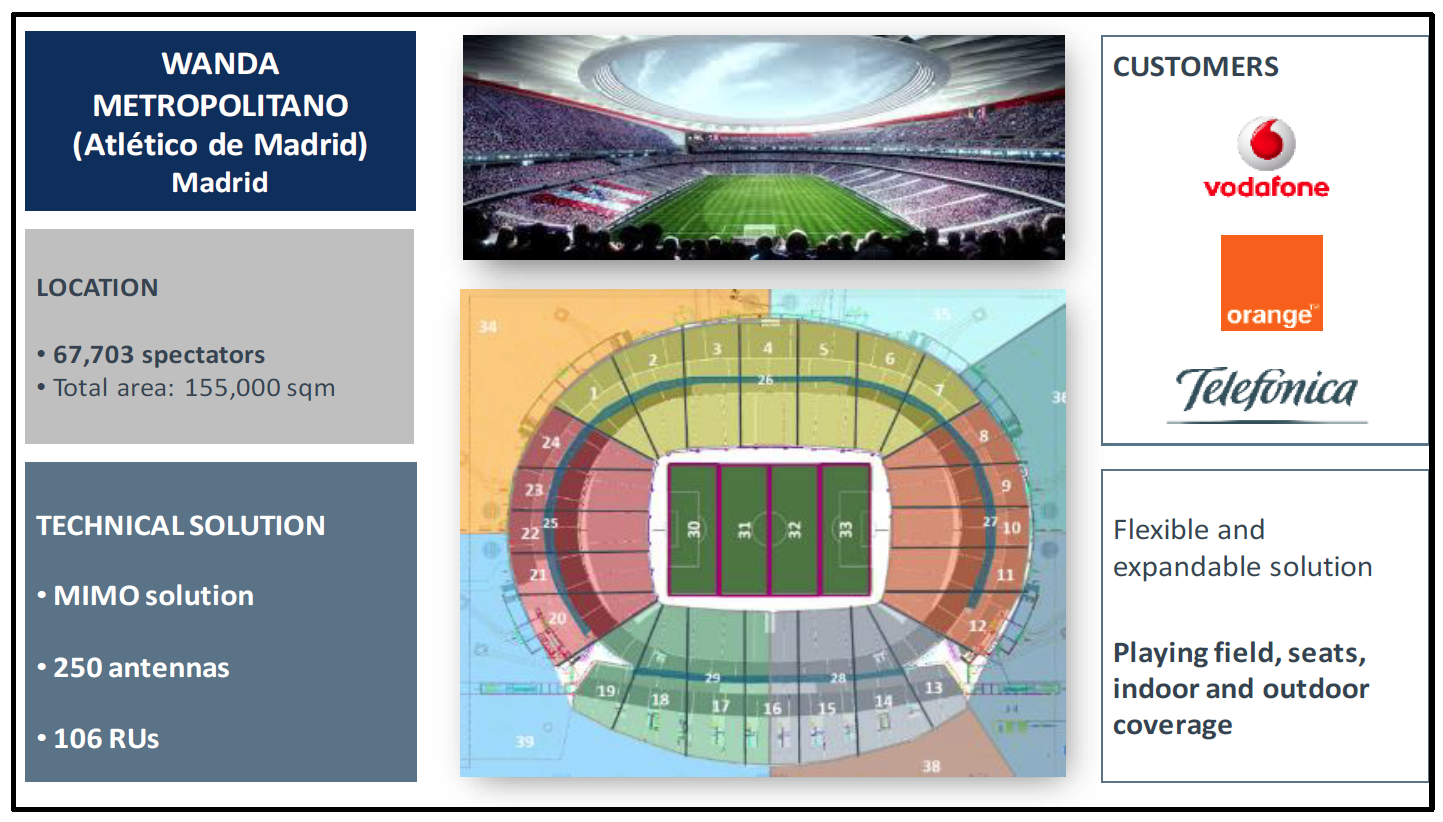 Figure 5. Overview of Wanda Metropolitano Project Solution
During Sports Events and Concerts, the high number of mobile devices trying to connect to the MNO's network congest the nearby Macros, making it extremely difficult to have data connectivity or even phone calls.
Some of the challenges Cellnex resolved were:
Appearance: the design of the Wanda spectacular and that implied strict aesthetic rules to be satisfied. All the antennas need to mimic the appearance of the stadium.
Timing: the deployment was to be completed in only six weeks.
Weight: in terms of performance, the best spots to place the antennas were those where the spotlights were located. However, the weight restriction to install equipment in those locations meant the design and weight of the equipment needed to be addressed.
The DAS infrastructure deployed is now shared by the three leading Spanish operators. The system is expandable, and the dedicated capacity per user is of an excellent standard. This has allowed Atlético de Madrid to open a vast world of digital experiences and imagine many kinds of innovative solutions to improve the customer's experience.
Some highlights of the DAS solution:
The stadium has a seating capacity for 67,703 fans. Wanda Metropolitano is among the three largest football stadiums in Spain.
The system provides around 30Mbps per user at peak time and 150Mbps at an off-peak time. This enables thousands of fans to send media via WhatsApp, make real-time video calls or share Periscope streams at the same time.
The system provides coverage in 4 different frequency bands for the three operators: Telefónica, Vodafone and Orange.
The stadium is divided into 43 sectors, which can provide the same capacity as 14 of those traditional macro cell stations usually installed on rooftops.
Coverage is provided with 250 high performance and ultra-low power antennas. These antennas are very directive to avoid interferences and transmit only a few milliwatts.
The core of the system is the technical room, where the master unit and the MNOs' base stations are located. From there, 10km of optical fibre transports the signals to the remote units. There are 250 antennas installed throughout the stadium with more than 100 remote units to provide excellent performance and seamless experience.
Two different systems were used to guarantee the most outstanding performance in all areas of the stadium. In the bowl and areas of high sectorisation, low power systems are used to reduce interference among adjacent sectors. Alternatively, in indoor areas and the stadium surroundings, high power systems are more appropriate.
6. Lessons learned
Cellnex neutral host model, through multiple use cases, has proven the potential of a third party that satisfies both operators and venue owners, offering a solution that meets the customers' expectations. Cellnex brings the neutral host offering to the excellence, by flexibly adapting this value proposition to particular technical and economic needs of each customer.
The critical differentiation points of the DAS as a Service solution are:
Convenience: outsource burdensome activities in deploying mobile network infrastructure (i.e. site acquisition, legalisations, installation, and integration of network equipment).
Financial risk optimisation: flexible and consistent CapEx and OpEx scheme with minimal financial risk.
Reduced operational burden: consolidated neutral host operation reduces operational costs and efforts for the operator.
Aligned interest with venue owners: venue owners prefer consolidated infrastructure deployment and operational management that offers better services to visitors.
In economics, the multi-operator model supported by a neutral host party relieves some pain of MNOs and enables significant cost savings compared to a single-operator model.
Following inputs and indicative cost reduction assumptions from a case study involving DASaaS, the GSMA Network Economics model estimated potential savings in CapEx for typical operators across four different segments.
The model estimates CapEx savings depending on how many operators share the infrastructure and how much percentage of infrastructure DASaaS has applied.
Please login above to view OpEx/CapEx saving figures.
7. Conclusion
Cellnex has implemented a cost-effective neutral host model, by leveraging on in its vast experience in DAS, investment capacity and risk management. The DAS as a Service offered by Cellnex has many substantial advantages when compared to single-operator or even multi-operator if implemented by the MNO themselves.
It makes sense to share a common DAS infrastructure to reduce costs and maximise synergies. This approach may have nevertheless had some issues that Cellnex has successfully resolved by working together with the MNOs. For example, MNOs are not always aligned in their technical needs and deployment plans. And all have different budgets and economic constraints.
The CapEx savings are highly dependent on the requirements, technology, and number of MNOs that share the infrastructure. Cellnex's experience has been that the CapEx savings per MNO for a multi-operator DAS system compared to a single-operator can range from 35% to 65% per MNO.
Cellnex has addressed these issues leaning on in its vast experience in DAS, investment capacity and risk management. As a result, Cellnex has incorporated these strong points to its value proposition:
Desynchronisation of MNO deployment plans
Customised design for each MNO, even though the DAS infrastructure is common
Flexible CapEx/OpEx offering depending on each MNO financial requirements
Cellnex has successfully deployed 1.500 DAS nodes and is anticipating to continue working together with all MNOs to help them prepare their networks for transitions to higher speeds and capabilities in the near future.
Cellnex provides DASaaS by acting as an independent, neutral host and providing multi-operator solutions. Based on an integral E2E approach, Cellnex assumes the role of a single point of contact to work together with all stakeholders to define the requirements of each project on a case-by-case basis. This approach can bring many benefits to all engaged.