The enclosed case study shows an operator who owns approximately 15000 sites, in low labour cost country in Asia, can save up to $9.7M in OpEX per annum.
Access Control Management Platform and Smart Padlock Solution
Who: Basil Byrne, Willowmore
When: MWC19, Barcelona
The GSM Association ("Association") makes no representation, warranty or undertaking (express or implied) with respect to and does not accept any responsibility for, and hereby disclaims liability for the accuracy or completeness or timeliness of the information contained in this document.
Executive Summary
Willowmore, a Singapore based company, provides an enterprise-grade multi-role access control management platform and smart padlock solution, to reduce the inefficient costs and time used to manage physical keys. Willowmore system provides remote virtual keys, tracking capabilities, compiling of data, activity analysis, lock's health and operations. The enclosed case study shows an operator who owns approximately 15000 sites, in low labour cost country in Asia, can save up to $9.7M in OpEX per annum. The system allows contractors get to the site faster, hence improve restoration time, network availability, customer satisfaction and revenue; on top of that no-show, contractors will be tracked and identified.
This case study focuses on the deployment of cost-effective smart padlock solution that transforms unstructured workflows into a measurable, trackable and transparent system. To evaluate the potential impact of Willowmore's multi-role access control management platform and smart padlock solution an analyst has been conducted. The Network Economics Model baselines a hypothetical tier 1 operator's cost structures, models innovation scenarios and identifies the delta in OpEx and CapEx terms these can deliver.
1 Introduction
Enterprises own and share access to more assets as the global sharing economy increases. Managing physical keys becomes a challenge among these enterprises especially when it comes to security, saving time and cutting costs. This is prevalent not just in Singapore but also globally as enterprises look to adopt a more efficient access control system.
Many Telcos store physical keys at a central location. Engineers and contractors spend hours in traffic to pick-up and return the keys during site visits. Managers are often unaware of illegal key duplications, stolen or lost keys. Estimates suggest that there are more than 7 million telecoms towers in the world that are either independently owned or co-shared. With mechanical locks, operators do not have a system that allows them to overview the real-time status of domestic and international sites.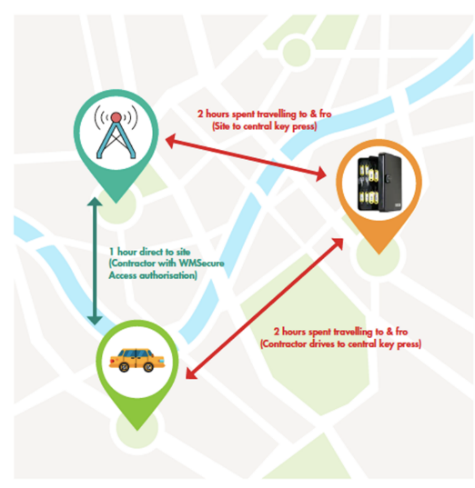 Figure 1 Provided by Willowmore Pte Ltd
Willowmore provides a solution to abolish the obsolete mechanical key system by delivering a rigorous enterprise-grade access control management system that digitalises the access acquiring process, tracking of all activities and monitors the access status remotely. With this transformation of manual to digitalisation, Willowmore provides a platform that greatly increases responsiveness, security and cost-savings.
2 Business Imperative
With decades of experience working in big corporations such as Telstra, Ooredoo and Maxis, the Willowmore team started a telecommunications consulting business to deliver optimal solutions to procure and design operator's networks. Focusing efforts on surveying, identifying latent problems, designing, documenting and monitoring innumerable networks. Over the years, Willowmore has identified that most operators continue to monitor their sites the conventional way. While vandalism and theft are commonplace, very often, it's too late once operators are aware of the problem and the site fails due to negligence. This highlights a deficiency of a transparent system to monitor access for the domestic and global remote sites that are impacting on operators' network financial budget.
The Willowmore smart padlock has been designed to address the challenges of managing access control and security systems by minimising the time and effort of collecting or dropping off keys. This eliminates the need for physical keys and allows users to lock/unlock via a virtual key using a smartphone app. The virtual key enables enterprises to cease illegal duplication of keys, theft and losses of keys and equipment at sites, and to maintain oversight of site operational activity. All transactions are logged to ensure systematic traceability. The solution is secure, scalable and easy to retrofit to existing infrastructure.
The virtual key is tied to a software system that supports multiple hierarchical workflows, allowing access to be requested, granted, accessed, and monitored by authorised personnel in the organisation(s).
Through the smart locks and accompanying software, managers can collect insightful data which is synchronised, stored and analysed through an access system as it monitors the sites in real-time. With the data collected from each access, organisations can benchmark productivity across the regions or discover common problems based on the numbers of access requests. The analytical data supports enterprises to reduce operational costs. Enterprises can compare contractors' performance and productivity by viewing the frequency of visits, time spent and performed tasks. The data also provides detailed information of who, what, when, where, and why of each access. This benefits managers with the ability to define problems, risks so they can implement mitigation action faster thus driving down OpEX costs. In cases of emergencies, businesses can immediately grant access to the closest technician to rectify issues quickly.
3 Willowmore and the Solution
Willowmore's vision is to transform the way businesses monitor and manage site access with IoT solutions. We leverage our expertise in telecommunication mobile networks to support leading telecommunication operators to manage their accesses efficiently, hence result in saving time, cutting operation costs and recovering services faster.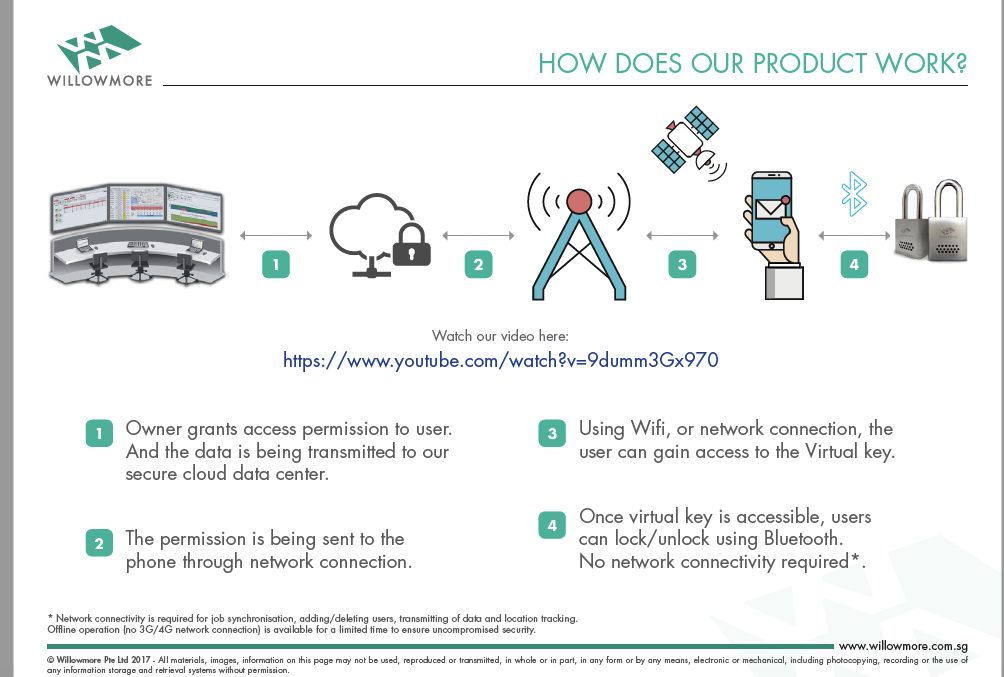 Figure 2.0. Product process flow
As mentioned, managing physical keys creates unwanted inefficiency thus Willowmore eliminate keys completely in their solution. The smart padlock is a keyless solution, managed by an enterprise-grade access control management system (WMSecure), which is operational in iOS, Android and a desktop back-end software.
Willowmore's software allows 2-way communications, managers can grant/schedule access (es) or engineer (or contractor) can request access (es). The virtual keys are granted via the web app. Once the virtual keys are issued to the authorised user, the application in the smartphone commands the lock to operate via Bluetooth. This means that even if the phone no longer has network connectivity due to a remote site, the application still works within an authorised offline timeframe. When an engineer (or contractor) locks the site, the application will enforce a picture verification feature, which means that a picture must be taken to ensure that the asset is secured properly.
Managers will be notified if there is any discrepancy. If the locks are operated in a wrong location or if there is no picture taken after the operation is done, there will be a system alert to notify the manager.
A sum-up of the features are listed below:
• Keyless smart padlocks
o No physical keys, which minimises duplications and lost keys. Instead, we create virtual keys that are stored in the mobile application.
o Virtual keys are granted/ approved/ rejected in real-time
o Allow managers to track who accessed the sites, for how long, how often, why, and who gives out the accesses. In summary, the manual management workflow with physical keys will be transformed into a digital system.
• Enterprise workflow
o We know how NOC works, hence we build a workflow that supports it. That means we create multiple roles for organisations, managers, 3rd party contractors, which will allow the corporation to track the details of each access (operation location, lock's location, lock's battery, who lock/unlock etc.)
o Integrating task and access management system, which allows corporations to analyse the task's frequency performed on each site; and benchmark productivity among other contractors or technicians. Our product works offline and comes with a unique "picture verification" feature which assures you that your property is locked securely.
• Data and action
o Track activities, trace responsibility and search for historical data in a second.
o Benchmark contractor's productivity by comparing different contractors' frequent visits, tasks and time spent. The operator can also use this time duration feature to negotiate with a 3rd party service provider based on performance
o With this data, we believe that we can help to reduce insurance premium by proving that the operators and service providers take the extra steps in improving site security.
4 Economic benefits
4.1 Investment rationalisation
Why do operators need a systematic way to monitor accesses for all telco sites? The current processes are time and cost consuming and there is also an absence of visibility for operators to monitor time spent on site or control accesses to sites. Most telecom sites are secured by mechanical locks, which means that the keys must be stored at a secure and easy-to-reach place. However, evidence suggests this is not always the case. Anyone that visits a remote site must first collect the key from the regional operation and maintenance centre office and return it back at the end of the day no matter work is completed or not due to security reasons. This total commute could take up to 4 hours and consume at least 5-8 litres of fuel (per visit) due to unforeseen traffic conditions besides expense from vehicle depreciation and Insurance. In addition, keys are often duplicated or misplaced which increases the risk of vandalism and theft. Some operators have reported that they use combination locks or store keys somewhere nearby the remote sites, resulting in managers at the monitoring centre having zero visibility on who is accessing the site, for what purpose and for how long.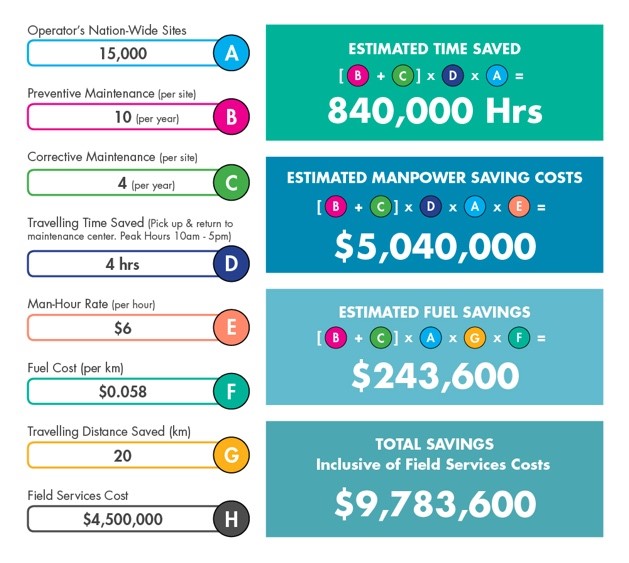 Figure 2.0. Willowmore's calculator highlights the results of trials conducted on sites in Asia.
5 Implementing the Solution
5.1 Benefits of Willowmore's solutions.
• Off-line Mode:
– No Network connectivity required to log in to the application or to lock/unlock
• Photograph verification feature:
– After locking, users, as part of SOP during training, are forced to take pictures of the locked door/ gate to ensure the NOC manager that the assets were locked properly.
• Emergency Mode:
– In the case a smart lock is out of battery, it can 'jumpstarted' one last time to unlock in case of emergencies.
• Manage Multiple Accounts:
– Support multiple level approvals, notifications for site access
– Role-based access control to isolate responsibility and visibility
– Configure accounts for multiple hierarchical organisation support
• 24/7 Support: Instantaneous in-App technical support to assure reliability
– Monitor remotely in real time: Monitor the status of projects, ad-hoc cases, scheduled cases or request process
– Monitor a locks health (Battery, status, timer or other events)
• Notification Alerts (SMS/OTP)
– Alert when a lock has less than 10% battery life remaining
– Virtual key expiry warning
– Alert on incomplete access logs
• Personalisation
– Specific menu bar and information personalised for different roles
– Customised monitoring dashboard
– Collective and customised high-level enterprise reports
5.2 Market context
Willowmore's B2B business model targets businesses that manage in excess of 200 assets. The model filters target customers by researching industry trends that wish to use IoT to transform everyday operations, e.g. Facility Management for Telecommunications, Real Estates, Power Companies, Water Authority, Railways, and Airports.
Willowmore has conducted numerous trials with businesses in Singapore and has acquired Indonesia's largest tower company, a billion-dollar company as our major customer. To date, the tower company owns overs 16,000 towers with over 26,000 tenants. In May 2018, this leading tower company deployed the first 2000 locks and with an additional 6000 locks to be deployed over the coming months.
Willowmore's current focus is the telco industry. With approximately 6 million towers/base stations in the world, the telco industry makes up 1% market-share worth USD20m. As workforce costs increases, businesses are seeking better ways to optimise headcount while assuring the same level of security. Willowmore's solution solves the information ambiguity and removes the inefficiency that the current system creates. Willowmore has an aggressive plan to increase their market share not only in telco sector but also in aforementioned industries, which have millions of remote assets that would benefit from being managed under a centralised and digitalised solution.
5.2.1 Plan
Market studies conducted on the smart locks industry revealed that the industry is likely to experience substantial growth in the coming years, expecting to reach USD24.20b by 2024.
Willowmore's expertise is grounded in telecommunication infrastructure, initially focussed on the Telco Industry in Asia Pacific region, in particular in Singapore, ASEAN countries and Australia. Willowmore plans to expand further into Asia Pacific, the U.S. and EU region within the next two years, Willowmore's plans are to aggressively cover 10% market share.
To reach this target in the B2B market, Willowmore is building strong networks with strategic partners and distributors around the region. Not just in Telco industries but also in other industries that have the potential to grow. The expectation is to expand services to facility management in real estates, security and powerhouses. In 2019, Willowmore will target construction, transportation, oil and gas industries. These industries have been identified as relying heavily on locks and keys to secure their assets although still use the traditional way to manage their assets.
6 Challenges
The main challenge faced have been the habits of the organisation. Executives and contractors are often hesitant to try new technology and move away from systems they have been operating even though they are well aware that the current system is bringing many problems. Hence, the biggest challenge is to reframe how businesses view their operation and what actions would be beneficial for them.
7 Lessons Learned
What Willowmore has learned and realised along the way is the huge impact that the system brings to an organisation.
There are 8 notable benefits:
1. Improved efficiency: contractors and engineers will no longer need to waste time to travel to key storage location to pick up and return keys.
2. Field Service savings: (mentioned above)
3. Improved revenue: down-sites are inevitable but can be fixed faster. Every minute counts when the crucial money making tool is not working.4. Improved security: Operators or NOC Managers now know exactly who, what, when, where, why someone enters the assets that he/she is protecting.
5. Improved customer service: decrease customer's complaint rate when service is down.
6. Reduced insurance premiums: if sites thefts, vandalism were decreased and the sites were safer with additional data on all activities in the application, the operator could use that and purchase less expensive insurance package.
7. Improved health and safety for vendors and contractors: there are lots of remote sites that contractors or staff need to visit and perform maintenance works. Travelling back and forth to sites is not a problem, but the last mile that contractors need to go to return the keys has resulted in many accidents due to fatigue. By cutting inefficient travelling time, operators don't have to compromise the site's security on contractor's safety.
8. Environmental benefits: less travel, less CO2 emissions. Pollution, global warming has become great problems globally. In developing countries, every vehicles and time on the road contribute to the health of its countries. Therefore, by cutting keys pick-up/returns will save fuel cost and the environment.
8 Testimonials
8.1 Protelindo
Protelindo is the largest independent tower company for wireless infrastructure which owns over 16,000 towers with more than 26,000 tenants.
Problem statement:
Protelindo was using a Smart key system with passive Padlocks. Major issues were theft of assets and smart keys management. Contractors still need to retrieve the smart keys from central locations; Without a real-time monitoring system, Protelindo had no control over personnel access which also meant that they could not trace or identify who was committing the theft. In addition, only historical data was available after the keys were synchronised once every month.
Benefits:
By implementing a keyless solution, real-time data was updated as soon as users were online, and allowed for commuting time to be reduced. It provided a record of activities such as granting and requesting permission and operational history. Furthermore, each lock has an in-built rechargeable battery that can last for 1000 operations.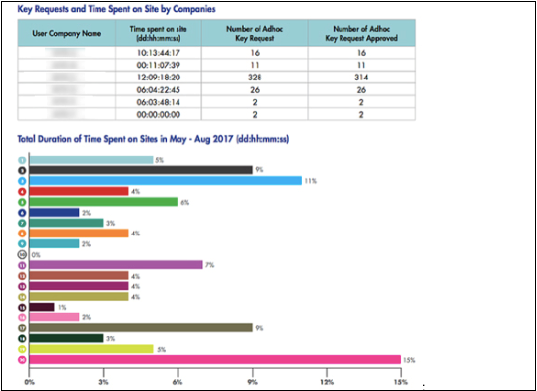 Figure 3: Example reports provided customer during trial
8.2 Prosegur
Prosegur is one of the largest providers in the private security industry worldwide with a presence in Europe, Asia Pacific, North, Central and Southamerica. With their three business lines –Prosegur Alarms, Prosegur Security and Prosegur Cash–, they provide companies, homes and businesses with trusted security based on the most advanced solutions available on the market.
Problem statement:
• Manpower cost is getting expensive
o Difficult to allocate headcounts optimally
• Time-consuming process to pick up smart keys from centre key storage locations; Especially for remote areas.
o Smart keys needed to bring back to the office to gain data (time and personal data of the access) from each access.
Solution:
Prosegur shifts its strategy from using man-power solely to integrating technologies. This allows the company to use its headcounts optimally while capturing detailed data and provide actionable insights.
To solve the access control problems, Prosegur searches for solutions that can trace every activity and be able to work both online and offline. Not just that, the system should be easy to integrate with the current in-house security system. Willowmore solution offers a unique virtual key that ties to each individual, each task. Every lock/unlock transaction allows Prosegur to track and monitor to every granular detail such as users ID, date and time, lock status, lock battery health, lock's location.
9 Conclusion
In the near future, Willowmore plans to expand its system by using its proprietary Sigfox-Bluetooth gateway and wireless sensors along with the smart locks to update operators for more information about the health of the assets. When it comes to saving and cutting costs, it is all about optimising effectively. To do this, the platform collects and analyse data with a supportive workflow that allows enterprises to run their businesses without a hiccup.
In conclusion, for businesses to stay competitive in the market, they must not spend money on any system that turns a blind eye on the money-making infrastructure. Willowmore provides a platform that gives managers a monitoring system with higher security over the current access control management. The benefits are remarkable for all players inside an organisation and 3rd party users. Operators can get their failed sites back online faster to protect revenue and public reputation, while contractors can retrieve virtual keys in real time, get to work faster with reduced travel time and fuel consumption