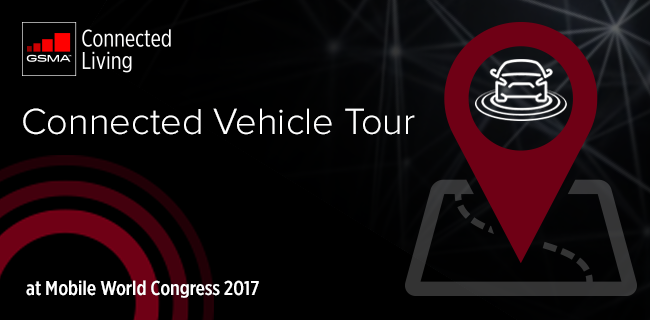 Connected Vehicle Tour
Autonomous driving functions are already available in modern vehicles: an increasing number of cars are equipped with driver assistance systems, such as lane keeping assistant, highway driving assistant, and Adaptive Cruise Control (ACC), already relieving the driver of some tasks. These partially automated cars are connected with cellular networks which are already available today. Existing LTE technologies, for example, provide fast connectivity for telematics and infotainment, as well as support for connected services.
Advances in V2X technology, 5G networks, the GSMA Embedded SIM Specification, and improved security for connected solutions will further aid and accelerate the realisation of fully autonomous vehicles.
This self-discovery tour of key demonstrations of connected car services allows attendees to see at a glance the technological advancements already available today, and where the automotive industry is headed in the future.
See below a list of demonstrations and where to find each participating company.
| | | |
| --- | --- | --- |
| Company | Demonstration | Location |
| Argus Cyber Security | Argus connectivity protection integrated in Wind Helix Cockpit Platform. The integration of both solutions on top of Intel processor enables car manufacturers to seamlessly introduce vital cyber security protection without impacting their production cycles | Hall 8, 4YFN, C3.1 |
| AT&T | Experience connected race cars in 3D augmented reality to see how AT&T helps with ever-improving telemetry and analysis. | GSMA Innovation City, Hall 4 |
| Cisco Jasper | IoT-connected electric vehicle charging, public transportation, smart scooters and connected car solutions | GSMA Innovation City, Hall 4 |
| Ford | From delivering favourite apps, to providing innovative solutions that connect your car to your home, to helping you order fuel on demand. Experience the latest in in-car technology demonstrated through SYNC 3 with AppLink. | Hall 1, 1A38 |
| Harman International | Connected car systems, audio and visual products, enterprise automation solutions | Hall 2, 2K30 |
| Huawei | Connected Car: Experience how 5G networks manage connected cars | GSMA Innovation City, Hall 4 |
| Oberthur Technologies | Keyless car entry: Offer greater flexibility and optimum security to share access rights to cars thanks to eSE-enabled devices | Hall 6, 6H30/ 6I30 |
| Safran Identity & Security | Demonstration of flexible and interoperable Embedded SIM connectivity management for automotive infotainment and telematics systems | Hall 6, 6G30 |
| Sierra Wireless | A chance to drive the world's fastest connected car and see what it's like to move at the speed of sound | GSMA Innovation City, Hall 4 |
| UNLIMIT | Indian auto-rickshaws fitted with emergency IoT | GSMA Innovation City, Hall 4 |
Back