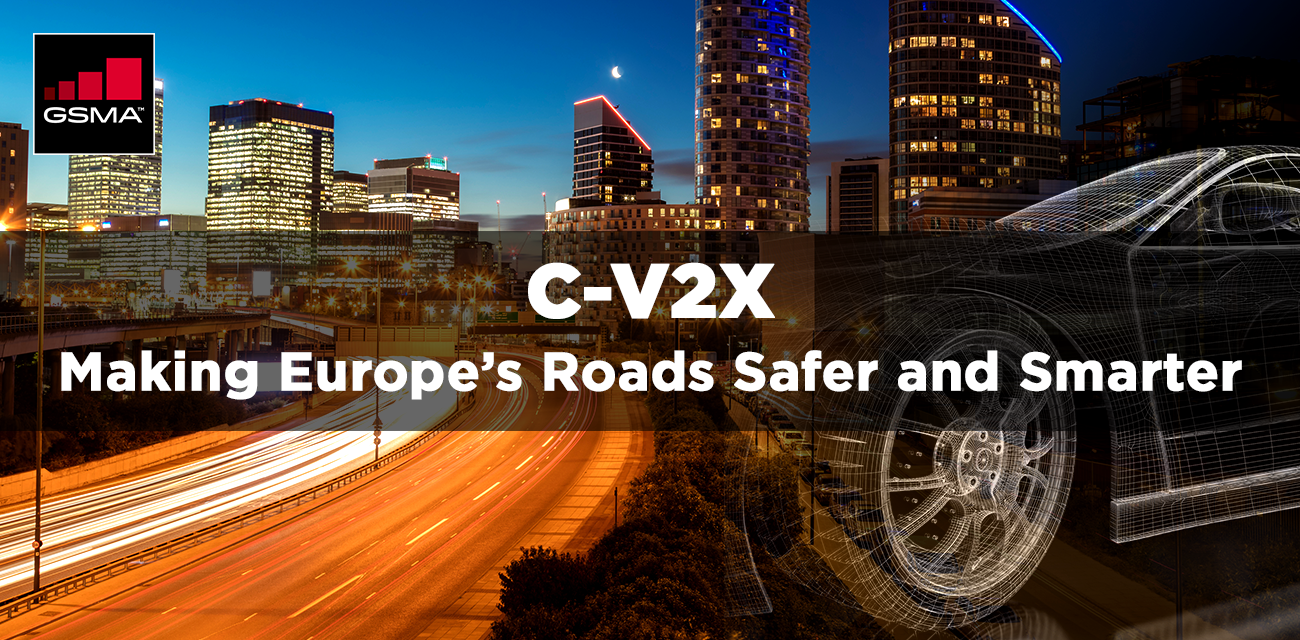 Tuesday, 10 September 2019
17:30 – 20:30
GSMA Europe Office
Regent Park, 1st floor, Boulevard du Regent, 35
1000 Brussels, Belgium
– This event is invitation only. Due to limited space, unapproved and unregistered show-ups on the day will not be able to join the event. – 
Industry Standard C-V2X
Connected vehicles will drastically improve traffic safety and efficiency, reduce air pollution, transform entire cities, and improve quality of life for millions of people – but only with a reliable, secure technology solution and the backing of a strong ecosystem.
C-V2X (Cellular Vehicle-to-Everything) is the official industry standard technology for vehicle communication and allows vehicles to talk to each other, roadside infrastructure, pedestrians, cyclists and the mobile network. It is capable of meeting the industry's need for secure, reliable, proven and scalable solutions for a number of reasons:
It is commercially available globally today by using the existing LTE network infrastructure
It is backed by a strong ecosystem of world-leading industry players, including mobile operators, automotive manufacturers, vendors and suppliers
It provides levels of security, range, latency and reliability that have been proven to vastly exceed the capabilities of alternative technologies
It is the only connected vehicles technology with a sustainable roadmap to 5G which is vital to the enablement of fully autonomous and cooperative driving.
Talks, Showcase & Networking
– This event is invitation only. Due to limited space, unapproved and unregistered show-ups on the day will not be able to join the event. – 
This exclusive event brings together industry experts from Ericsson, GSMA, Huawei, Qualcomm and others and provides a unique opportunity for politicians, policy makers and stakeholders:
To understand what C-V2X is and how it works
To learn about C-V2X in other regions and how it can transform Europe's roads
To talk to industry experts and understand the workings and benefits of C-V2X
To explore a small demo showcase of hardware and real-life use cases
Agenda
Time
Agenda
Speaker
17:30 – 18:00
Arrival & Registration
18:00 – 18:10
Welcome & Introduction
GSMA: Afke Schaart, VP & Head of Europe
18:10 – 18:20
Vehicle Testing
Millbrook: Peter Stoker, Chief Engineer – Connected & Autonomous Vehicle
18:20 – 18:30
The European Market
Ericsson: Marie Hogan, Head of Mobile Broadband & IoT, Business Area Networks
18:30 – 18:40
The Chinese Market
Huawei: Fabrizio Cortesi, Director of Policy and Public Affairs, Europe
18:40 – 18:50
The US Market
Qualcomm: Anne-Lise Thieblemont, Sr. Director, Government Relations
18:50 – 19:00
GSMA and 5GAA Sign Cooperation Agreement
19:00 – 20:30
Technology Showcase & Networking
with Complimentary Food and Drinks
Ericsson: Showcasing a number of C-V2X projects on 4G and 5G in Assistant Driving and Autonomous Driving conducted with leading partners in Europe and APAC.

Huawei: C-V2X: Safer, Faster and Greener. This demo showcases Huawei's C-V2X devices (RSU/Module/T-BOX) commercially deployed in China, and introduces their C-V2X solutions and large scale trial in Wuxi city.

Qualcomm: C-V2X short range OTA (over the air) demo showing V2V/V2I critical safety use cases as well as maturity of the ecosystem with European RSU vendor(s)