Unmanned Aerial Vehicles or drones are among the most recognisable technologies to have emerged in recent years, and one of the fastest-growing areas of the Internet of Things (IoT). As Head of APAC at the GSMA, Julian Gorman, notes, it's not hard to see why this burgeoning market is set for such tremendous growth: "the opportunity to positively impact people's lives and industries already seems limitless. Drones have already been successfully used for search and rescue, remote monitoring, industry inspection, safety and logistics." Yet it is precisely because this market spans so many sectors and industries that it is among the most complex and challenging areas of the IoT to develop.
Last year, the drones industry made major progress with the launch of DRZ Iskandar, which established Iskandar Puteri in Malaysia as the first drone and robotics zone in Southeast Asia. The initiative, launched by Iskandar Investment Berhad (IIB), aims to develop an ecosystem where talent is trained and certified, start-ups can network with established incubators to test and commercialise their innovations, and the wider drones industry can meet to share ideas and deepen cooperation. Similarly, the GSMA, an association representing the interest of mobile network operators and the broader mobile ecosystem worldwide, has been actively working for few years now with the telecoms and aviation industries to maximise the use of beyond-visual-line-of-sight (BVLOS) capabilities for drones, develop new use cases and help create an open and trusted regulatory environment through its Drone Interest Group and Aerial Connectivity Joint Activity.
On 19th August 2021, GSMA, and DRZ Iskandar co-hosted the first-of-its-kind major event with the mobile industry in APAC with a workshop called 'APAC Connected Drone Workshop: Integration of Mobile, Aviation and Drone Industries'. As the event opened, Julian Gorman observed that "drone technology, community concerns, legacy government policy, regulations and mobile networks, and the widespread availability of drones are on a collision course" – and that, as such, "the mobile industry has a huge role to play".
For the drone ecosystem, there are two key challenges at this stage: 1) the establishment of a regulatory framework at local, national and eventually, international levels that can support drones and assist to mitigate regulators' safety concerns; and 2) collaboration between the drone ecosystem and mobile networks to meet the technological requirements needed to support mass deployment of mobile-enabled drones, especially BVLOS operations. As one would expect, given the vast number of organisations and regulators involved in this ecosystem, deep and ongoing cooperation across the wider industry is essential. As Managing Director of IIB Ventures for the DRZ Iskandar initiative, Zulfiqar Zainuddin put it, "the mobile and telecommunications, aviation and drone industries are three industry pillars that need to converge".
Today, mobile networks are more than capable of supporting the growth of this sector, and are already being used to do so. As Chris Kucera at OneSky explained at the workshop, "you can use drones today to support your business and you can use LTE to do that". At the workshop, mobile industry experts underscored this point: "there's a lot more coverage in the air than on the ground, simply because there's nothing in the way between you and the tower. It's a trivial thing for a telco, if we're asked to, to point some of those antennas upwards and create a new type of coverage at altitude. It's a comfortable thing to light up jet-liners at 30,000 feet, we've just got to have a good reason to", said Telstra's Peter Jones.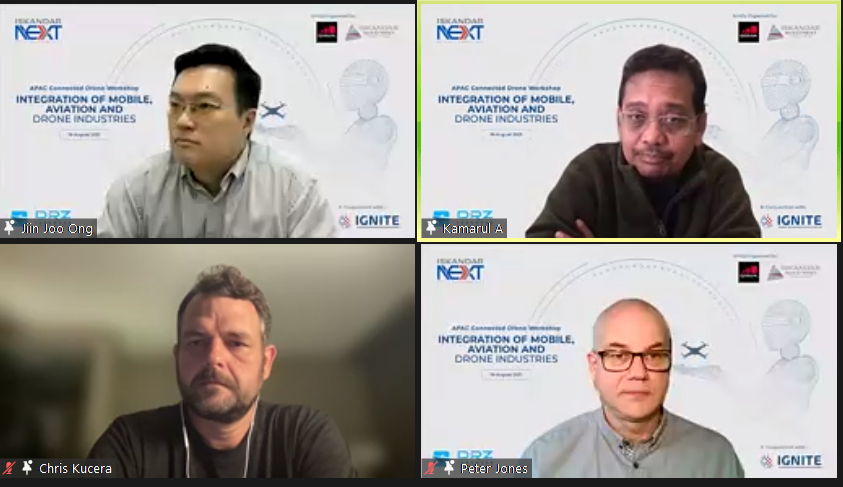 As we move further into the 5G era, advances in mobile networks will enable the industry to utilise this technology to deploy drones at far larger scales and support an increasingly diverse number of applications. One such advancement was highlighted by IMDA's Hai Thoo Cheong, "a key value proposition will be network slicing, which is important if your business operation is mission critical. Here you really need a dedicated part of the network set aside." By apportioning specific parts of the network to various segments and applications, the mobile industry can help to realise the potential offered by drone market by working with, and where necessary, educating the aviation industry and its policymakers and regulators. As put by Barbara Pareglio, Executive Director for Connectivity for Aviation and Drones for the GSMA, "we are the experts in telco, but not in aviation, so we do need to have this conversation and ensure we're speaking the same language."

From the perspective of the aviation industry, it's clear that mobile is viewed as the crucial enabler for drones and that this deeper alignment between industries will happen sooner rather than later. As Dato' Sri Azharuddin Abdul Rahman, Chairman of StratAero Malaysia (SAM) and former chairman of the Civil Aviation Authority of Malaysia (CAAM), explained "wide area network area coverage is needed to safely expand the low-altitude drone operations for the beyond visual line of sight operation." As such, he added, "aviation authorities around the globe have initiated programmes to define the rules for drone operation and safety operations regarding the commercial use of drones." Captain Illyaquila Fateen Ismail, who's currently in post at CAAM, also reported promising developments in aligning with the mobile industry and said that although the authority's "unmanned aircraft systems (UAS) are in their infancy stage, we've published a new civil aviation directive in March this year. We did this to respond to the surging use of drones in Malaysia."
Evidence from existing partnerships between the mobile industry and other sectors show the power of collaboration. As more 5G networks are deployed, the mobile industry will collaborate with different industry sectors to support new and innovative use cases. There seems to be little doubt that the aviation industry will receive such support with open arms, for as Dato' Sri Azharuddin Abdul Rahman remarked at the event's close "the potential of drone technology will be unleashed. We believe that enabler is the mobile network, which is well-suited to provide connectivity and can provide a proven and flexible communication channel to support drones use cases from low-latency to high-band scenarios."