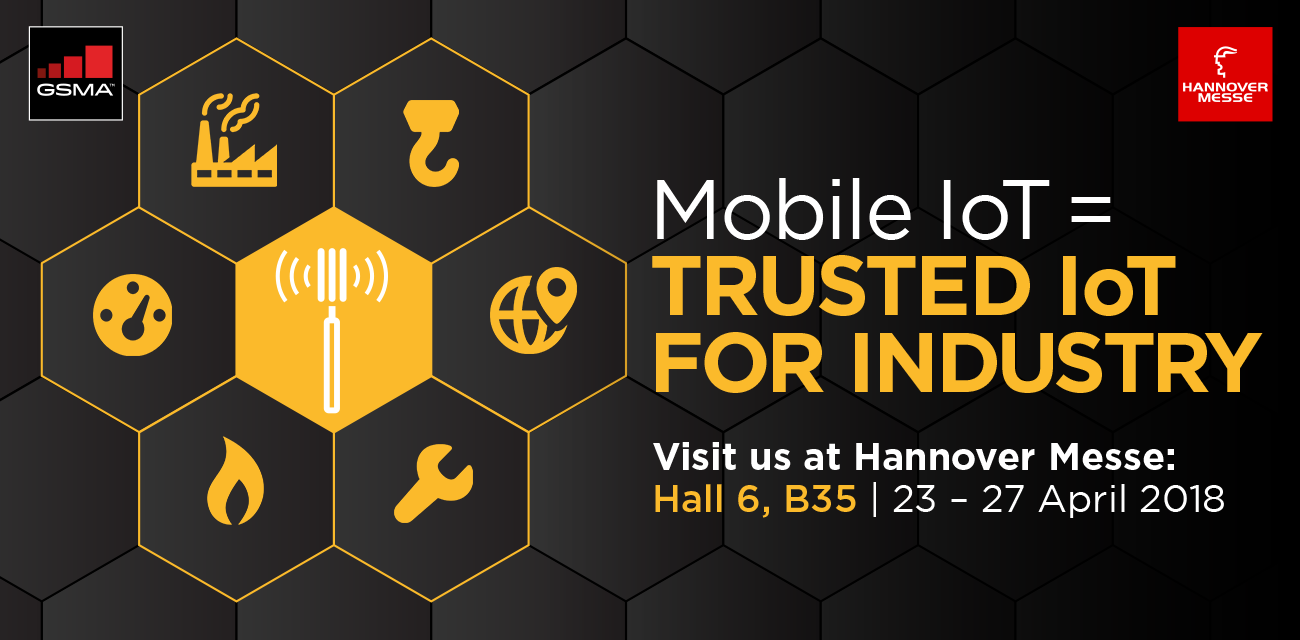 GSMA IoT at Hannover Messe 2018
Navigation
Start:

April 23 @ 9:00 am

End:

April 27 @ 6:00 pm
Venue:

Hannover Exhibition Grounds

Address:
Google Map

Messegelände




Hannover

,

30521

Germany
Mobile IoT networks are designed for Internet of Things (IoT) applications that are low cost, use low data rates, require battery lives measured in years, and often operate in remote and hard to reach locations, such as underground or deep inside buildings.
Mobile IoT, specifically LTE-M and NB-IoT, is the official 3GPP industry standard for secure Low Power Wide Area (LPWA) technologies in licensed spectrum, and with over 40 commercial network deployments around the world, Mobile IoT presents a huge opportunity for the industrial sector. GSMA Intelligence estimates that by 2025, there will be 1.9bn cellular licensed LPWA IoT connections – more than half of all LPWA connections.
Join the GSMA Internet of Things Programme team at Hannover Messe to find out more about the opportunities and rapid growth of Mobile IoT, and how these technologies can empower and shape the future of industry.

Entwicklung effizienter und verlässlicher NB-IoT-Anwendungen
Melden Sie sich jetzt an für unser NB-IoT Seminar, geleitet von führenden Experten der Deutschen Telekom!
Erfahren Sie mehr über die jüngsten Bemühungen und Erfolge der Deutschen Telekom im Bereich Low Power Wide Area, und über technische Aspekte und Eigenheiten von NB-IoT. Finden Sie auch heraus, wie Sie leistungsstarke NB-IoT-Lösungen entwickeln können, die effizient, verlässlich und sicher sind. Das Seminar wird sich speziell folgenden Themen widmen:
NB-IoT bei der Deutschen Telekom, einschliesslich Prototpyenentwicklung und Fortschritte der Telekom im letzten Jahr
Die technische DNA von NB-IoT
Deutsche Telekoms Zertifizierungsprogramm für Chipsätze und Module
Entwicklung und Optimierung von NB-IoT-Anwendungen für bessere UX und Batterielebensdauer
NB-IoT-Geräte mit Anschluss zur Cloud
Sicherheitsaspekte für NB-IoT-Geräte und -Anwendungen
Anwendungsfälle und Beispiele
Designing Efficient and Reliable NB-IoT Solutions
Join leading industry experts from Deutsche Telekom for a deep-dive into NB-IoT!
Find out more about Deutsche Telekom's recent work in the market, explore the technical aspects of the technology, and learn from technical speakers how to design high-performing NB-IoT solutions that are efficient, reliable and secure. In particular, this in-depth seminar covers:
NB-IoT at Deutsche Telekom, incl. prototyping approach and DT's work in the last year
The technical DNA of NB-IoT
DT's chipset and module certification programme
Designing and optimising NB-IoT applications for UX and battery life
Connecting NB-IoT devices to the cloud
Security aspects of NB-IoT devices and applications
Use cases and examples
Demo area
Join us in Hall 6, stand B35 to discover more about the accelerated growth and numerous benefits of Mobile IoT:
Explore a number of innovative demonstrations showcasing the benefits of Mobile IoT technologies for the industrial market
Meet our subject matter experts to learn more about the opportunities, requirements, and technical aspects of Mobile IoT
Additional Information and Directions
A valid pass for Hannover Messe is required to register for the seminars and visit our booth in Hall 6. Register for Hannover Messe now.
Download directions to the seminar room here.
For directions to Hannover Messe by car, taxi, or public transport, please visit the Hannover Messe Website here.
+ iCal Import
+ Google Calendar