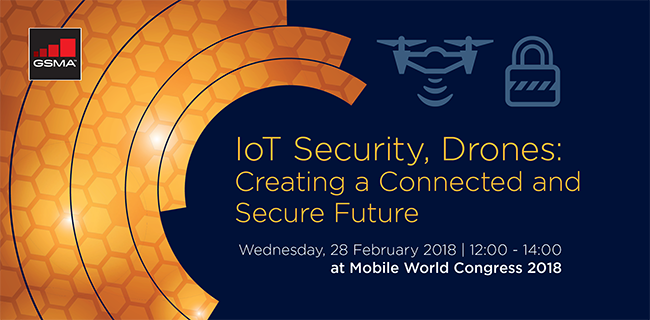 IoT Security, Drones – Creating a Connected and Secure Future
Navigation
Start:

February 28, 2018 @ 12:00 pm

End:

February 28, 2018 @ 2:00 pm
Venue:

Fira Gran Via

Address:
Google Map

Barcelona

,

Spain
Speaker Presentations
IoT Security – Ian Smith, GSMA
IoT Security – Francisco José Ramírez Vicente, ElevenPaths
IoT Security – Apostolos Malatras, ENISA
IoT Security – Katerina Megas, NIST
IoT Security – Carlos Carazo, Telefónica
Drones – Matt Fanelli, Skyward, a Verizon Company
Drones – Joerg Brinkmeyer, Globe UAV
Session 1: Securing a Better Future
With 25 billion connected devices by 2025, the risk of cybersecurity breaches, leaked customer data, destroyed reputations and costly remediation is increasing exponentially. Without security, the Internet of Things will cease to exist. IoT companies must avoid short cuts to guarantee end-to-end security and allow the IoT market to scale to create a connected, secure, intelligent and sustainable future.
Join leading industry experts to discover:
Live hack: witness how easily devices can be compromised if not secured properly
IoT security best practices and assessment frameworks
IoT security certification and recent regulatory developments in the EU and US
Session 2: Creating a Better Future with Drones
Serving numerous industries and use cases, drones are a rapidly emerging sector within the IoT. Their versatile application range and access to real-time data will make them valued additions to modern life, helping to make cities smarter to improve the quality of life for citizens.
Join leading industry experts to discover:
New connected commercial drone opportunities
New challenges for the drone industry and how to address them
Network coverage and secure communication enabled by mobile operators
SIM card capabilities to enhance safety and security
Speakers

Francisco José Ramírez Vicente
IoT Security Researcher, ElevenPaths
Education: University Degree in Computing Engineering and Certificate of higher education in Industrial and Digital Electronics.
Job experience: more than 15 years working as system administrator in a Spanish multinational company, working in USA from 2013 to 2016 as IT Senior System Engineer (New York City headquarters), consolidating all IT technologies and datacenters for all the subsidiaries companies throughout the country and Canada. Working at Telefonica and ElevenPaths from 2017 as Security Researcher with Pablo Gonzalez in the CDO team.
Publications and talks:

Dr. Apostolos Malatras
Network and Information Security Expert, ENISA
Dr. Apostolos Malatras is an Expert in Network and Information Security with the Secure Infrastructure & Services Unit at ENISA (European Network and Information Security Agency). His main areas of focus include Cyber Security of the Internet of Things and Smart Transport. He holds a BSc in Computer Science, an MSc in Information Systems and a PhD degree in Electronic Engineering. He has worked for many years in the industry, academia, and the EC. He is the author and co-author of more than 60 research papers and scientific reports on security of Internet of Things, botnets, smart environments, and network management.

Joerg Brinkmeyer
CEO, Globe UAV
Joerg Brinkmeyer is a self-made engineer that has 15 years of experience in the RC products world, creating new features. Now involved in the 4G LTE control and video streaming for 4 years, Globe UAV GmbH is leader in the market with the lowest latency delay ever.

Graham Trickey
Head of Internet of Things, GSMA
Graham Trickey is Head of the Internet of Things Programme at the GSMA. He works closely with network operators and the mobile ecosystem to help accelerate the delivery of new connected devices and services in the Machine-to-Machine (M2M) market. He oversees a number of industry focused initiatives designed to support the growth of M2M in the immediate future and the Internet of Things (IoT) in the longer term.
Graham has worked at the GSMA for 15 years. He previously led the GSMA's Future Networks Programme that aims to create global IP based services, such as VoLTE and RCS, and assist with the evaluation and adoption of interconnected operator IP services. Prior to that he led the GSMA's Open Network Enabler API (OneAPI) project, that defines a commonly supported set of lightweight and Web friendly APIs, enabling mobile and other network operators to expose useful network information and capabilities to web application developers.
Before joining the GSMA in 2001, Graham worked at Motorola for eight years as Director of End-to-End Solutions. He has also worked for major names like Inmos, ST Microelectronics, Texas Instruments and Intel.

Ian Smith
IoT Security Lead, GSMA
Ian is a technologist working for the GSMA, which represents the interests of mobile operators worldwide, uniting nearly 800 operators with more than 300 companies in the broader mobile ecosystem, and produces industry-leading events such as Mobile World Congress in Barcelona.
Ian is currently leading the GSMA's IoT Security project which has recently published a comprehensive set of IoT Security Guidelines. Prior to this Ian led the delivery of the GSMA IoT Connection Efficiency Guidelines and the GSMA Embedded SIM Specifications.
Before joining the GSMA, Ian has held senior technical positions within network operators including Hutchison and Orange where he oversaw the design and development of the first commercial 3G handsets and SIM cards.
Ian holds a B.Eng. with joint honours in Electronic Engineering and Computer Science from Aston University, UK.
Lars Wemme
Head of the Mobile Security, Infineon Technologies
Lars Wemme is Head of the Mobile Security department within the Chip Card & Security Division at Infineon Technologies. He has global responsibility for the development and delivery of tailored security solutions that meet the security needs of today's and tomorrow's mobile devices, targeting applications like mobile communication and payment.
Prior to this role, he worked for over 13 years in various business development, marketing and management positions within consumer electronics and industrial lines of business at Infineon, also acting as Executive Assistant to a Board Member.
Before joining Infineon in 2004, he held marketing and management positions at companies including Philips Semiconductors and Samsung Semiconductors. He has more than 20 years of experience in the semiconductor industry.
Lars Wemme holds a degree in electrical engineering from the Technical University Braunschweig, Germany.

Kat Megas
Program Manager Cybersecurity for the IoT Program, NIST
Kat Megas is the Program Manager for the Cybersecurity for the Internet of Things (IoT) Program and the Commercial Adoption Lead for the Trusted Identities Group at the National Institute of Standards and Technology (NIST). In her role as Cybersecurity for IoT Program Manager, she focuses on advancing and accelerating the development and application of research, standards, guidelines, and technologies necessary to improve the security and privacy of ecosystem of connected devices. As Commercial Adoption Lead, Kat works closely with private industry partners to advance the marketplace of secure, privacy preserving, and interoperable identity solutions. Before joining NIST, Kat led the development and execution of marketing strategies across multiple market sectors and deployed telecommunications, enterprise resource planning, and identity and access management solutions. Kat holds a MS in Information Systems from Virginia Tech.

Matt Fanelli, JD/MBA, Director of Strategy
Skyward, a Verizon Company
Matt is the Director for Strategy at Skyward, A Verizon Company. In this role, he leads the company's policy and regulatory efforts by working with the FAA on the Low Altitude Authorization and Notification Capability (LAANC) and on the recent Remote Identification and Tracking ARC as well as serving on numerous UAS committees. Prior to his work on the regulatory front, Matt was general counsel for Skyward and managed all commercial partnerships. He holds bar memberships in Washington and Oregon, and is an active recreational UAS pilot.

Carlos Carazo
Global CTO Internet of Things, Telefónica
Carlos is the Global CTO of Telefónica IoT Group since 2015, focusing on offering IoT solutions for the 20 countries in which Telefónica is operating. Prior to this position, Carlos was Board Member of Telefónica for 6 years, and delivered On The Spot Services as CTO & COO of the company. Carlos joined Telefónica in 1995 coinciding with the takeoff of the mobile industry, with responsibilities related to the launching of P&S in several sectors: intelligent networks, mobile internet, financial services and mobile advertising.
Registering your interest to attend this seminar gives you priority entry to the session. Places are limited and allocated on a first-come, first-served basis. Priority lane access closes 10 minutes before scheduled seminars.
A valid Mobile World Congress pass is required to access the seminars.
+ iCal Import
+ Google Calendar