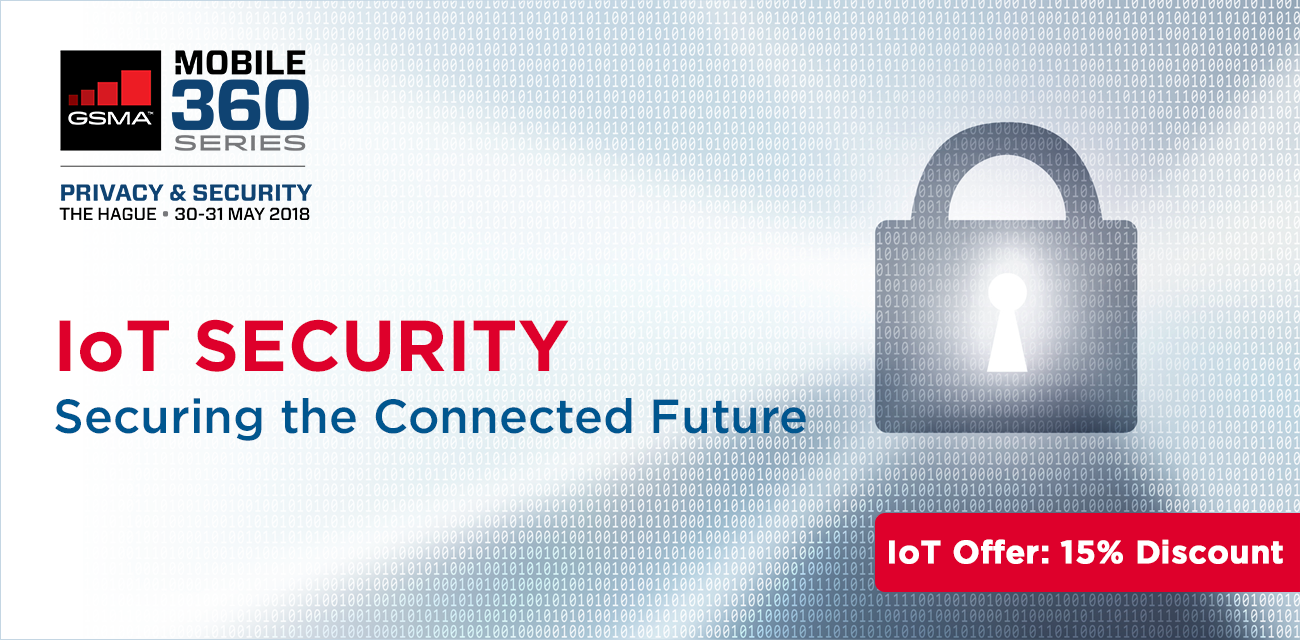 IoT Security: GSMA Mobile 360 Series – Privacy & Security
Navigation
Start:

May 30 @ 8:30 am

End:

May 31 @ 5:00 pm
Venue:

Hilton The Hague

Address:
Google Map

Zeestraat 35




The Hague

,

Netherlands
Exclusive IoT Discount
The GSMA Internet of Things Programme is offering an exclusive 15% discount for Mobile 360 Series – Privacy & Security. To receive the IoT discount code and registration instructions, please email iot@gsma.com.
Privacy and Security for the Fourth Industrial Revolution
The GSMA Mobile 360 Series – Privacy & Security is the only two-day event in the industry that explores the importance of security exclusively for the Fourth Industrial Revolution. With 25 billion connected devices by 2025 (GSMA Intelligence, 2018) and thus an exponentially increasing risk of cybersecurity attacks, a platform where IoT companies from across the value chain can come together to evaluate and explore security strategies, is now more important than ever.
The Internet of Things will take centre stage at this year's event, providing immense learning opportunities through keynotes and panel discussions as well as in-depth case studies and workshops. Here is why anyone working in the IoT or security space wouldn't want to miss Mobile 360 Series – Privacy & Security 2018:
Senior speakers from leading organisations, incl. AIOTI, Blackberry, Deutsche Telekom, European Commission, Huawei, KPN Telecom, Oracle, Orange, Qualcomm
200+ senior security leaders and experts from MNOs and the wider ecosystem
A packed agenda on IoT, 5G, Big Data, GDPR, Blockchain, Industry 4.0, and more
A start-up showcase featuring innovative demonstrations for mobile, cybersecurity, IoT, and privacy
The GSMA IoT Security subject matter expert Ian Smith will answer any of your questions related to the IoT and cybersecurity throughout the event
Click here to find out more and view the full agenda.
+ iCal Import
+ Google Calendar