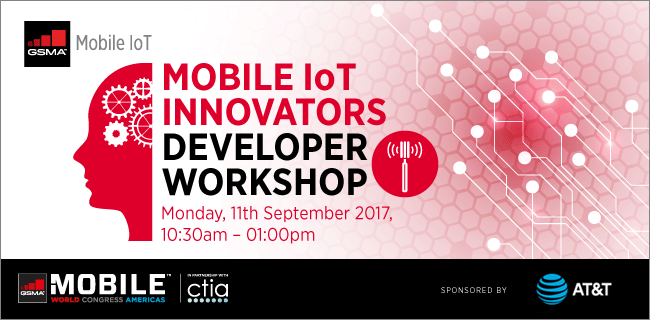 Mobile IoT Innovators Developer Workshop
Navigation
Start:

September 11 @ 10:30 am

End:

September 11 @ 1:00 pm
Venue:

The Village

Address:
Google Map

969 Market Street, San Francisco, CA 94103, USA
The Mobile IoT Innovators Developer Workshop provides a unique opportunity for developers interested in and working with LTE-M (Long Term Evolution for Machines), one of the 3GPP standardised Mobile IoT technologies. Find out about AT&T's latest work in the market, discover valuable insights about this emerging technology, and get hands-on experience in an interactive workshop.
Technical experts will give an overview of the rollout process and characteristics of the AT&T LTE-M network, which was launched in the US earlier in 2017. They will explain the operator's IoT Starter Kit, the certified modules they are using, RAN network characteristics, and how companies can efficiently develop and deploy new solutions using LTE-M technologies.
This is followed by an interactive session, giving attendees the unique opportunity to gain practical experience with the latest LTE-M development kits and learn about the technicalities of developing with Mobile IoT technologies under the guidance of versed AT&T experts.
Register now to learn about the LTE-M industry standard, get hands-on experience and engage with industry experts and other developers.
Mobile IoT Innovators Developer Workshop
Monday 11th September 2017
Mobile World Congress Americas, San Francisco
Time
Agenda
Speaker
10:30 – 10:45
Welcome and Introduction
Sunder Somasundaram, Director – Business Development, AT&T IoT Solutions
10:45 – 11:15
Overview of Industry Standard LTE-M
Silver Sponsor Keynote
Don Johnson, Lead Product Manager – Connectivity, AT&T IoT Solutions
11:15 – 11:45
How to Develop with the AT&T LTE-M Starter Kit
Sunder Somasundaram, Director – Business Development, AT&T IoT Solutions
11:45 – 01:00
Developer Tutorial & Demonstration
Jan Korycan, Principal – Product Development, AT&T Tech Solutions & Realization
01:00 – 02:00
Lunch and Registration for the 5th GSMA Global Mobile IoT Summit
Attendees of the Mobile IoT Innovators Developer Workshop are invited to join the Mobile IoT Innovators Networking Reception to enjoy a drink over an informal chat with leading industry experts and to network with their peers. Find out more
Register below
*Disclaimer – GSMA Ltd takes the privacy of your information very seriously. To view the GSMA Privacy Policy, click here.
+ iCal Import
+ Google Calendar