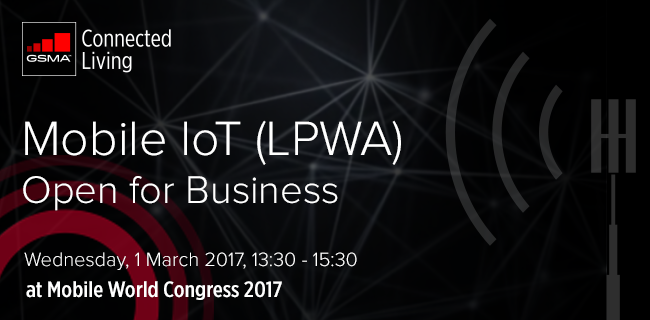 Mobile IoT (LPWA) – Open for Business
Navigation
Start:

March 1 @ 1:30 pm

End:

March 1 @ 3:30 pm
Venue:

Fira Gran Via

Address:
Google Map

Barcelona

,

Spain
Low Power Wide Area (LPWA) is an emerging part of the IoT and represents a huge market opportunity as the IoT scales. Analyst firm Strategy Analytics anticipate there will be 5 billion LPWA connections by 2022.
Join industry-leading experts in the Mobile IoT (licensed spectrum low power wide area) market to learn about the latest business opportunities including commercial rollouts, launches and pilots. And discover a variety of use cases including leisure, industrial and logistics tracking.
Download seminar presentations
Highlights of the seminar
Confirmed speakers include:


Dr. Alexander Lautz
Senior Vice President M2M, Deutsche Telekom AG
Dr. Alexander Lautz is currently in charge of the Business Unit M2M at Deutsche Telekom AG. In this role, he is responsible for developing innovative machine-to-machine products and solutions.
Mr. Lautz joined T-Mobile Deutschland GmbH in 2002, first as Head of Business Marketing, before taking over as Head of Consumer Marketing in 2004. When Deutsche Telekom launched congstar as its second brand in Germany in 2007, Mr. Lautz took over as Managing Director of the company. In 2011, he moved to the growth initiative Connected Car, where he was responsible for Marketing, Services and Technology.
Before his career at Deutsche Telekom, Mr. Lautz held different management positions at CNI GmbH and Mannesmann Arcor AG and was Managing Director of an IP provider for business customers.

Eric Parsons
Head of 4G & RAN Mobile Broadband, Business Unit Network Products, Ericsson
Eric Parsons is concurrently Head of RAN Mobile Broadband and Head of Product Line 4G RAN at Business Unit Network Products, Ericsson AB, Sweden. His main area of responsibility is the management and steering of mobile broadband technology across all RANs, ranging from Gbit LTE to Massive MIMO to IoT, as well as holding overall responsibility for Ericsson's 4G Product Line.  Eric Parsons has been with Ericsson since 2010, having notably led the introduction of VoLTE, Carrier Aggregation, and LAA into the market.

Axel Hansmann
Vice President, Strategy and Marketing, M2M Business, Gemalto
As vice president of strategy and marketing for Gemalto's industrial IoT business, Axel Hansmann brings more than 15 years of telecommunications and technology management experience to the management team.  In this role, he's responsible for developing strategies to drive business growth in new and existing IoT markets, enhancing the customer experience worldwide and building brand awareness as the market leader in M2M IoT technology.
Before joining Gemalto, Mr. Hansmann was with boardeleven Management Consultants where he focused on evaluating market entry and strategic growth options in the M2M industry.
Prior to that, he took on various responsibilities covering Network Technology, Product Management and Strategy over eight years at Telefónica, a leading telecommunications carrier in Europe.
Mr. Hansmann speaks multiple languages and earned degrees in electrical engineering and telecommunications management.

Zhu Cheng
Director Cellular IoT Product Line, Huawei

June-Keun Kim
Senior Vice President, Head of GiGa IoT Business Unit, KT
Mr. June-Keun Kim, Senior Vice President and Head of GiGA IoT Business Unit at KT Corporation is in charge of KT's IoT business.
He is working for KT to lead a new business landscape based on the IoT ecosystem called GiGA IoT Alliance, which is the first and largest IoT ecosystem in Korea currently with 400+ partners.
He has professional insights and experiences in big data analysis and emerging technologies, and also has abundant experience of enterprise-wide cost reduction leadership, design & execution capability of costing scheme and process optimization for large-sized companies through more than 15 years' experience in IT consulting area.
Prior to joining KT in 2010, Mr.  Kim served as an IT consultant in Earnest & Young Management Consulting and PricewaterhouseCoopers.
Also he worked at Samsung Electronics for seven years, where he started the professional carrier with a process innovation and global ERP project.
He is native in Korean and fluent in English and Spanish.

Martin Beltrop
Head of Portfolio and Strategy, Advanced Mobile Network Solutions, Nokia

Andrés Padillas
Director of New IoT Solutions, Telefonica
Andrés is responsible for new IoT solutions at Telefonica, a global area focused in selecting and nurturing new IoT opportunities and technologies with high growth potential. Some of the businesses included in this area are smart health, energy efficiency, industry solutions and new connectivity technologies. As part of new connectivity technologies Andrés leads Telefonica strategy on LPWA: demand assessment, use cases analysis, network roll out plans and integration in Telefonica existing connectivity offering.
Prior to running this area, Mr. Padilla was head of corporate development at Tokbox Inc., the leading video communications platform in WebRTC, and head of venture capital investments at Telefonica from San Francisco, leading investments and acquisitions of digital companies.
With more than 15 years of experience in new business, startups and corporate development, he contributed to create the Telefonica office in San Francisco and Telefonica venture capital program. Andres has an Executive MBA from the ICADE and holds a Computer Science MS degree.
Christopher Schmidt
Executive Director, Device Technology, Verizon
Executive Director in Verizon's Device Technology Group responsible for technology enablement for Consumer, IoT, and Telematics markets.  Chris has a wireless career spanning over 20 years at world leading organizations including Ericsson and Motorola prior to joining Verizon.

Luke Ibbetson
Chief Engineer, Group R&D, Vodafone; Chair of GSMA NB-IoT Forum
Luke Ibbetson has been with Vodafone since 1996 and currently heads the Vodafone Group Research and Development organisation, responsible for all aspects of network / IT research and strategy including Vodafone's participation in international standards, definition of the architectural blueprint for future networks, trials of emerging / disruptive technologies and concepts and long term spectrum matters. Luke is leading Vodafone's 5G programme and is a proud pioneer of Narrow Band IoT technology.
Download presentations from the event
Dr. Alexander Lautz, Senior Vice President, M2M, Deutsche Telekom AG – NB-IoT: the Game Changer for the IoT
Andrés Padillas, Director of New IoT Solutions, Telefonica – Mobile IoT Open for Business: Execution
June-Keun Kim, Senior Vice President, Head of GiGa IoT Unit, KT – Progress and Use Cases
Luke Ibbetson, Chief Engineer, R&D Group, Vodafone, Chair of GSMA NB-IoT Forum – Bringing NB-IoT to Market
+ iCal Import
+ Google Calendar