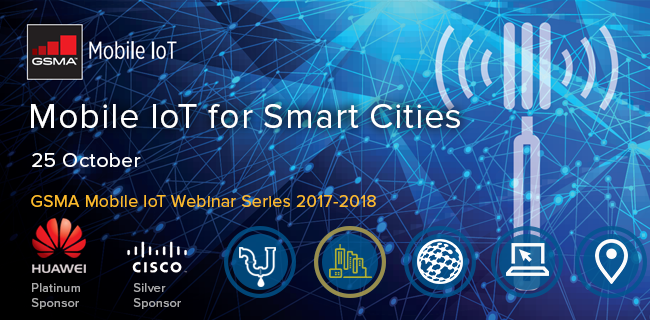 Webinar: Mobile IoT (LPWA) for Smart Cities
Navigation
Start:

October 25 @ 3:00 pm

End:

October 25 @ 4:00 pm
Mobile IoT, also known as Low Power Wide Area (LPWA) in licensed spectrum, is ideal for smart cities solutions. Benefited from its low power consumption, low device cost, long battery life (up to 10 years) and wide area cellular coverage,  cities can become more efficient and make their assets work harder. Mobile IoT networks offer a scalable, secure and standardised way to connect smart city assets across a wide variety of services in an economically sustainable way. As a result, high quality of service and effective management and integration of the IoT attributes can be efficiently implemented into a city's framework for service provision.
This webinar, delivered by mobile network operators, smart city developers and customers, will explore how Mobile IoT technologies help facilitate and speed up smart city asset implementation through use cases in various verticals, including smart lighting, smart parking, and smart waste management.
This hour-long webinar will take place at 3pm GMT / 10am EST / 7am PT
This is the second webinar in the Mobile IoT Webinar Series, sponsored by Huawei. To view the whole series visit https://www.gsma.com/iot/gsma-webinar-series-2017-2018/.
Featured Speakers:
Ron Malenfant, Global SP IoT & Mobility Architectures and Business Development, Cisco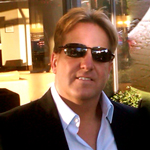 Ron is Lead Global Architect and Business Development for Cisco's Global Service Provider Group. Ron is looking at Service Provider solutions and architecture evolutions such as 5G, 5G Enterprise solutions, IoT, IoT security, Smart Cities, Wifi, Analytics and the various monetization models. Ron has been driving Smart City initiatives such as Smart City Wifi as a Platform working with Service Providers and Cities globally. Ron, prior was the Lead architect for the development and strategy of Tier 1 Mobile SP Innovation Centers focusing on IoT incubation solutions and development of such concepts as Connected Athlete, In building location and monetization models and Connected Soldier to name a few. Ron is a Member of Mass Challenge – world's Largest startup accelerator working with IoT startups, WBA – Wireless Broadband Alliance, working with MIT media labs, along with consulting, mentoring Boston and Cambridge areas tech startups.
Ron has extensive experience with Service Providers, Mobile and IoT Security, Enterprise – SP verticals such as Retail, Smart Cities, Public Safety networks, Analytics and Monetization. Ron has written numerous white papers around topics such as Connected Athlete and the Internet of Everything, Service Provider Connected Stadium Analytics and Monetization Evolution to name a few. Ron has been with Cisco for over 19 years and prior worked at Nortel, BayNetworks and Wang Labs.
Neill Young, Smart Cities Lead, Internet of Things Programme, GSMA

Neill is Smart Cities Lead in the IoT team at the GSMA. He has over 10 years of experience in building M2M and IoT services and ecosystems within both mobile network operators and vertical service providers. Neill has been involved with programmes such as the rollout of smart meters and smart grid, introduction of connectivity for the first connected cars and development of several IoT strategies and standards for the home and city. At the GSMA, he has worked on guides to smart city services including crowd management, street lighting and traffic management, and helped leading mobile operators build their smart city strategies.
+ iCal Import
+ Google Calendar