MWC19 Barcelona Seminar: Operator Capability – Unlocking the Value of IoT
Seminar Theatre 1, CC1.5, Hall 1, South Entrance (Level 1), Fira Gran Via
– Download Directions –
Learn about pioneering IoT industry achievements in China. The IoT is predicted to offer operators and partners a US$1.1 trillion market opportunity by 2025. The vast majority of the revenues associated with this market are provided by the value of services beyond connectivity.
This seminar session is focused on the successful roll out of the OneNET cloud services platform in Greater China. The session will include cutting platform deployment and network experience from China Mobile. In addition, live customer experience from Tendency, implementing NB-IoT low power solutions using the OneNET platform. Finally, the seminar will include the latest Edge Computing IoT applications delivering high performance localised solutions from IT industry leaders NXP.


Agenda and Speakers
Time

Speakers

17:30
Welcome and Opening Remarks
GSMA: Svetlana Grant, IoT Programme Director
17:35
Keynote: Unlocking the value of IoT
• China Mobile (CMIoT): Hui Qiao, General Manager
17:50
Case Studies from OneNET Partners and Clients
Session One Topic: Smart Fire Protection based on NB-IoT
• ZTEICT: Hongjian Xue, Chief Technology Officer, Director
Session Two Topic: 3 million E-bike projects with NB-IoT in Henan Province
• Tendency Technology: Chengjian Xu, Chairman
Session Three Topic: NXP Edge Computing for IoT
• NXP: Noy Kucuk, Semiconductor Vice President of Product Management
18:15
Panel Discussion: Operator Capability, Unlocking the Value of IoT
• China Mobile:Mr. Liu Yuan, Senior Technical Director
• NXP: Noy Kucuk, Semiconductor Vice President of Product Management
• Tendency Technology: Chengjian Xu, General Manager
• ZTEICT: Hongjian Xue, Chief Technology Officer, Director
Moderator: GSMA: Kevin Pang, Head of Strategic Engagement, China
18:30
Close
Hui Qiao
General Manager, CMIoT (China Mobile)
Hui Qiao is the chairman and general manager of China Mobile IoT Co., Ltd. He was the general manager assistant of CMCC Government and Enterprise Service Company, and the formal chairman and general manager of China Mobile Quantong System Integration Co., Ltd. With more than 20 years of experience in the fields of telecommunication management, system integration, and IoT technology development, he has made great achievements.
Mr Liu Yuan
Senior Technical Director, China Mobile
Yuan is senior technical director of China Mobile IoT subsidiary, in charge of development of China Mobile's IoT platform named OneNET and recently he is focusing on the building the cloud native IoT infrastructure that could scale out linearly across several data centers. Yuan has been an active code contributor to various open source projects, such as Sheepdog, QEMU, TCMU, Linux Kernel, XEN and Openstack. Before He joined China Mobile, he worked for Alibaba Groups on cloud infrastructure, such as kernel, distributed storage system, etc. Before Alibaba, he was working at OTC( Opensource Technology Center) of Intel Shanghai on x86 hardware assisted virtualization.
Noy Kucuk
VP of Product Management, NXP
Executive with over 25 years of experience across the wireless, networking and semiconductor industries. Broad experience leading and transforming large global organizations of diverse disciplines. Proven leader with balanced combination of strategic, financial, technical, and management expertise who creates an inspiring, fast-paced, winning team culture. Track record of developing innovative, leading solutions to address market needs.
Chengjian Xu
Chairman, Tendency Technology
Chengjian Xu founded Zhejiang Tendency Technology Co., Ltd. in 2001 and served as chairman. He is responsible for the overall management of the enterprise, especially in the R&D. He led Tendency to cooperate with CMCC and helped promote the precise management of the electric bicycle industry. Henan e-bike Project has achieved great success in the application of NB-IOT network in 2018, with a remarkable performance that over 3 million devices were connected.
Hongjian Xue
Chief Technology Officer, Director, ZTEICT
Hongjian Xue received his M.Sc. degree in System Engineering from Xidian University (XDU) in 1997. From 1997 to 2009, he worked in ZTE Corporation as IT system engineer, IT project manager, and IT director. In 2009, he joined other IT colleagues to co-found ZTEICT Technology, a subsidiary of ZTE Corporation, which focus is to bring IT and CT converged products and solutions to the government and enterprise customers, both inside China and overseas.He is the member of the director board, and CTO of ZTEICT since its founding. He has been working on the fields of information security, e-governance, green data center, and smart city for more than 20 years, and is the chief architect of several smart city projects in China.
Kevin Pang
Head of Strategic Engagement, China, GSMA
Kevin Pang joined GSMA in Feb 2016. In this role, Kevin is responsible for managing and developing impactful local industry executive relationships in China. He is also promoting GSMA P5B programme regionally. Prior to GSMA, Kevin held position of Head of Marketing at Nokia Networks Greater China.He has nearly 20 years of experience of management in telecom industry and he served in several technology, sales and marketing positions in Nokia Networks and Ericsson. Kevin received an MBA in Guanghua School of Management from Peking University.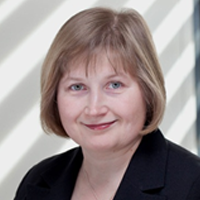 Svetalana Grant
Programme Director, GSMA
Svetlana has over 18 years of experience in mobile industry. She has been a part of the GSMA's IoT / Connected Living Program since 2009, working on the development ofthe Embedded Mobile Guidelines.Thereafter she has managed the Smart Energy and Smart Cities market development projects. Since March 2014, Svetlana led the IoT Networks project and the Mobile IoT Initiative, working with the industry to identify emerging IoT service requirements, with a focus on low power wide area technologies. She is currently the Director of the IoT Programme.
Registration
Registering for this seminar gives you priority entry to the session. Places are limited and allocated on a first-come, first-served basis. Priority lane access closes 10 minutes before scheduled seminars.